Houston GPS Equity Convening Paves Pathways for Student, Institutional Success
By Mike Emery, 713-743-7197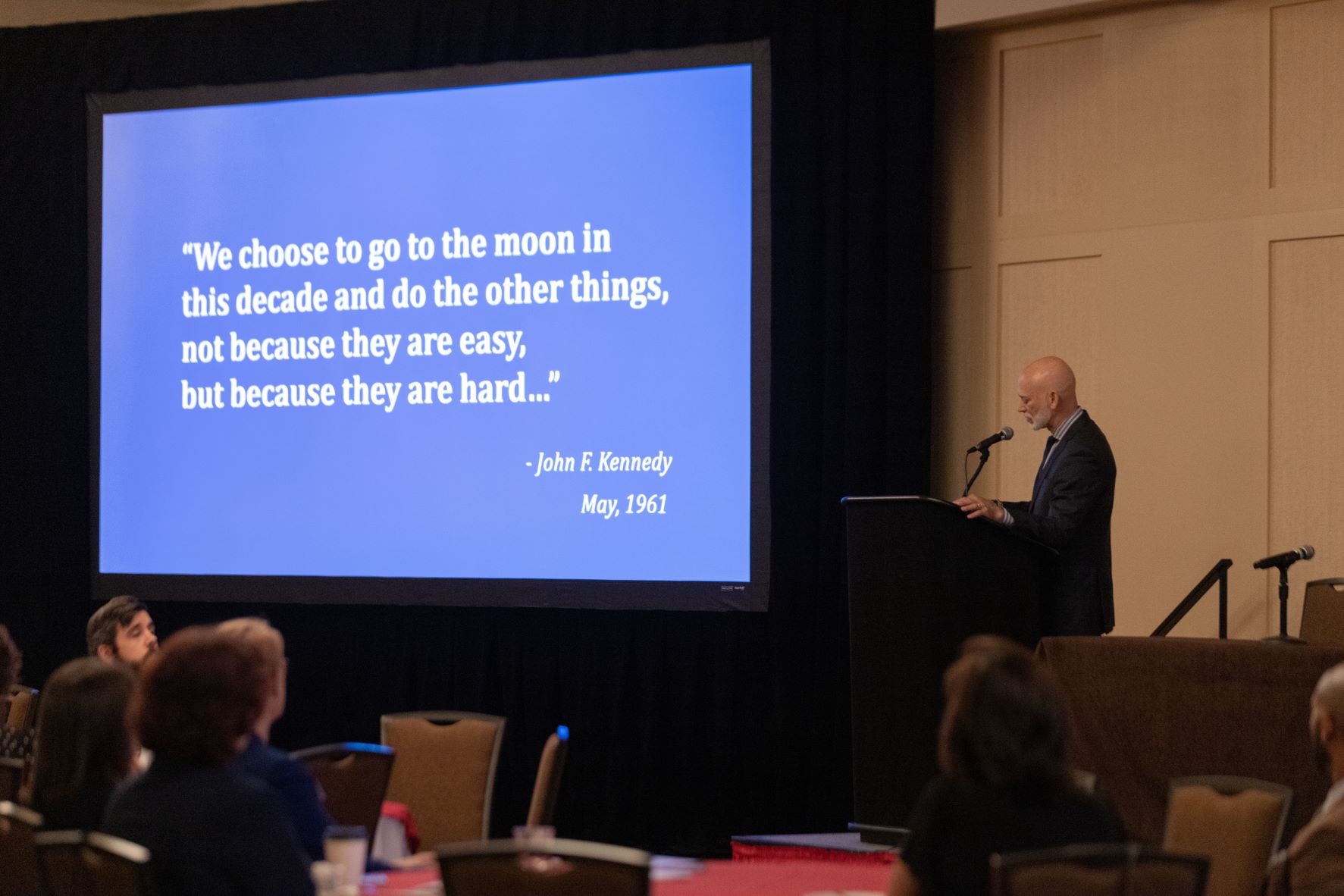 Houston has long been known for its connections to the aerospace and energy industries. Thanks to Houston Guided Pathways to Success (GPS), the city is also making its mark as a hub for higher education.
This initiative is raising the bar for institutions supporting student success and increasing graduation rates in the state's largest metropolitan area.
Houston GPS (launched at the University of Houston by Paula Myrick Short, UH senior vice president for academic affairs and provost) also is creating a model for higher education equity to better serve area students. Recently, UH hosted nearly 150 regional higher education professionals during its Equity Convening to address strategies and practices already being implemented to address equity at college and university campuses.
Leaders from the following Houston GPS partner institutions attended this event: UH, the University of Houston-Downtown (UHD), the University of Houston-Clear Lake (UHCL), the University of Houston-Victoria (UHV), Houston Community College, Lone Star College System, San Jacinto Community College District, Alvin Community College, Prairie View A&M, Galveston College, Texas Southern University, and College of the Mainland.
The daylong event allowed for dialogue and discourse on each institution's efforts to enhance on-campus equity, particularly as they relate to the Houston GPS Equity Walk Initiative.
Guest speakers included Tom Sugar, vice president of partnerships for the Education Advisory Board (EAB) and Estela Bensimon, professor emeritus of higher education at the University of Southern California Rossier School of Education and co-founder of USC's Center for Race and Ethnicity.
In his remarks to attendees, Sugar referred to John F. Kennedy Jr.'s remarks at another institution of higher education in Houston decades ago.
"We choose to go to the moon in this decade and do the other things, not because they are easy, but because they are hard …"
That statement, he said, reflects the very spirit of Houston GPS.
"The words were spoken here in Houston and were part of a bold goal set by the president." he said. "Audacity matters, and Paula Short is an audacious leader. Sometimes, the most important goals are those that seem impossible."
To accomplish such goals, everyone must contribute. That is why Houston GPS is making a difference for students in the region and continues to raise the bar nationally among colleges and universities, he said.
With respect to the topic of the day, "equity," keynote speaker Bensimon encouraged all Houston GPS partner institutions to look beyond student success and address institutional excellence.
"When we talk about equity gaps, we're usually talking about the students," she said. "For you, I believe the next step is establishing a vision of equity that is intended to strengthen the institutional capacity of the 13 Houston GPS partners to eliminate racialized outcomes."
Bensimon expanded on that thought by explaining how equity initiatives are often separated from the core work and/or missions of institutions. She indicated that that such initiatives should be brought from "the margins to the center" of colleges and universities.
The convening also featured a panel of leaders from Houston GPS institutions: UHD President Loren Blanchard, UHCL President Richard Walker, Lonestar College System Vice Chancellor Dwight Smith, and Alvin Community College President Robert Exley. Moderated by Sugar, the conversation focused on how these leaders' respective campuses are implementing equity initiatives.
When asked about prospective actions to be taken at their campuses, Walker led the responses and offered insights on some new programming at UHCL.
"Equity really starts with institutional values and strategy," he said. "One of the impact practices that we're undertaking is centered on implicit bias training. We're working on that with the Texas Association of Diversity Officers in Higher Education to design our curriculum. We'll start with senior leadership in going through this training. That's important because it's sending a signal that we, as leaders, are committed to being a part of this process."
Later in the day (following concurrent learning sessions), UHD Provost Deborah Bordelon supported Walker's assessment. In addition to leaders setting the example for their respective institutions, campus communities must be self-reflective in assessing how they serve their students.
"We can look at data and talk about equity all day. If we're not using it or looking at how it can be applied, then we're not going to see a change," she said.
By day's end, invigorated participants prepared to return to their campuses with new insights and information. Before departing UH, however, they paid tribute to the architect of Houston GPS.
Short, who was so instrumental in launching Houston GPS, is calling it a career by summer's end. The Equity Convening was her last Houston GPS event while serving as UH provost, and she was presented with commemorative gifts by Sugar and Teri Longacre, vice provost and dean for undergraduate student success.
First, she was presented with an official Houston GPS flag (displayed at previous convenings) signed by attendees. She also received a bronze astrolabe that symbolizes the way forward—or rather upward—for Houston GPS.
"You came together in 2014, and you agreed that you would work together on this very important mission in elevating students and removing all barriers to their success," Short told the audience. "Although I am retiring, I am committed to doing whatever I can do to help, and you have my full confidence that Houston GPS will continue to grow and continue to serve the students of our region. Thank you for all that you are doing!"