International Wheelchair Tennis Camp Making a Racket at UH
UH Adaptive Athletics Hosting Players for Week of Activities
By Mike Emery, 713-743-7197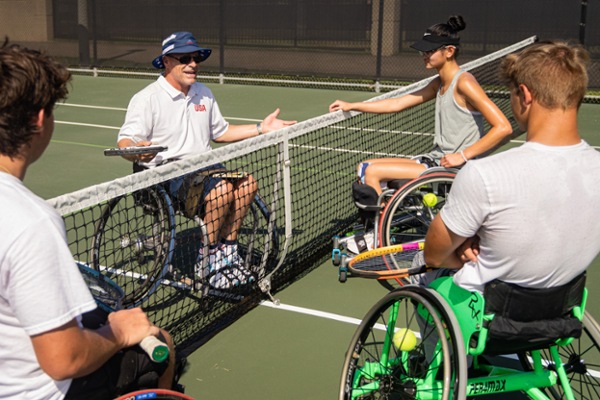 This week, all eyes are on Wimbledon, but another international tennis event is showcasing some true champions of the court.
The University of Houston is welcoming young players between the ages of 11 and 18 from around the globe for the U.S. Tennis Association/International Tennis Federation Junior Wheelchair Tennis Camp (July 6 – 11). Players are spending the week at the University, developing their skills on the court, bonding with fellow campers and exploring campus.
The University's Adaptive Athletics program is overseeing the event's day-to-day activities and assisting campers (who hail from different areas of North America and South America) during their stay on campus. The Junior Wheelchair Tennis Camp is supported by the University's Cougar Initiative to Engage (CITE), which provides grants to community engagement programming.
Michael Cottingham, associate professor of health and human performance, works directly with campers. He also provides guidance to the UH Adaptive Athletics students overseeing camp activities.
In addition to Cottingham and participating students, professional coaches from across the country are leading tennis drills to enhance players' swings, volleys, and court mobility. The event will culminate in a competitive tournament.
Beyond tennis, the camp also is aimed at bolstering confidence and independence for its participants.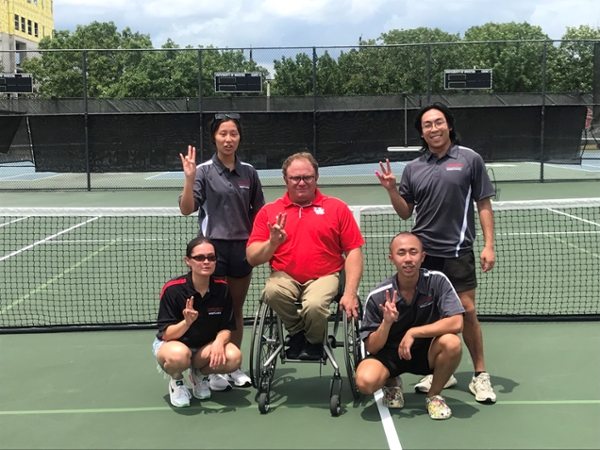 "These campers are part of a population that is socially segregated and is often ostracized," Cottingham said. "This will be the first time many of them have been away from their parents. It's an opportunity for young people with disabilities to come together, live independently and learn more about what they're capable of doing … on and off the tennis court."
UH students involved with the event are also learning new skills as they work closely with the visiting campers. According to Cottingham, they are gaining significant real-world experience that can be applied to future careers in medicine and health care.
Adaptive Athletics supports athletic opportunities for students with disabilities at UH. The student-run organization also sponsors national and international events such as this week's tennis camp and wheelchair rugby tournaments. Last year, Cottingham and students refurbished 40 sport wheelchairs for a nonprofit organization based in Bangladesh.
Cottingham credits CITE for its support of this week's event and other community-facing projects on campus. Likewise, he is particularly grateful for CITE providing resources for faculty to develop innovative curriculum.
"Thanks to CITE, both our visiting campers and student volunteers can have meaningful learning experiences," he said.
Based in the Office of the Provost, CITE is UH's Quality Enhancement Plan to increase the number of high-impact learning activities and the number of undergraduate students participating in these activities. Since its inception, CITE has made 91 grants, which have supported 66 programs. Approximately, 5,000 students have reaped the benefits of these CITE-supported projects.