FIT for Houston: UH's Food Insecurity Team Feeding Community Success
Bonner Leaders Contribute Time, Energies to Community Food Pantries, Distribution Efforts

By Mike Emery, 713-743-7197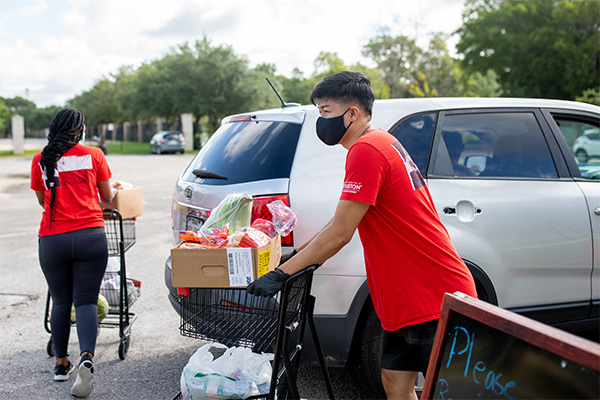 With its collection of diverse eateries, Houston is often touted as one of the nation's top restaurant cities. Still, families in Texas' largest metropolitan area struggle with access to fresh, nutritious meals.
According to the Houston Food Bank, food insecurity affects approximately one million people in southeast Texas. This number is startling to say the least, but the efforts of University of Houston students are making a difference in feeding many Third Ward families.
UH's Bonner Leaders have long contributed to community causes, and one of its signature initiatives is its Food Insecurity Team (FIT). FIT supports food pantries and distributions at Riverside Methodist Church, New Hope Housing Reed (which supports vulnerable families) and Yates High School.
Their tasks vary at each location, but students' primary duties include distributing food to community members and assisting in sorting, weighing and bagging items (contributed by Houston Food Bank and other sources).
At New Hope, families are permitted to shop within its onsite pantry while Riverside and Yates each host regular drive-through food distributions.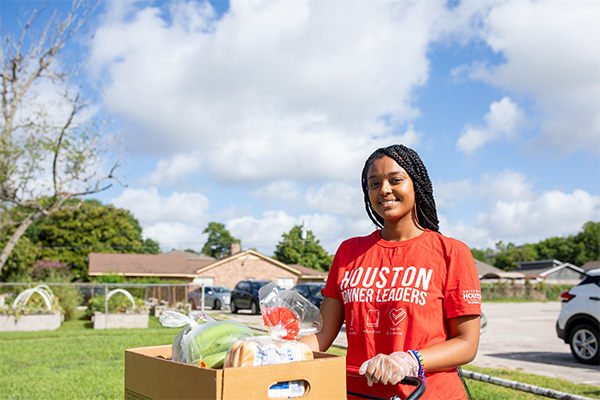 "It's important to support our community, particularly those residents in the nearby Third Ward," said Samuel Tran, junior biochemistry major. "UH is part of this neighborhood, and our students care about the people who live here. All of Houston, however, can truly benefit from our work."
Tran is indeed correct. Houstonians in other areas of the city can—and will—benefit from the services provided by Bonner Leaders. Neha Sunkara, senior economics and biology major, is planning to expand on the services currently provided by Bonner Leaders and lead nutrition workshops at New Hope Housing Ave. J starting this fall.
Sunkara is a recent recipient of an Albert Schweitzer Fellowship. As part of her fellowship obligations, she is required to lead a community engagement initiative. The nutrition workshop, she said, aligns perfectly with this award. It also extends Bonner Leaders' commitment to eradicating food insecurity in Houston.
"Providing food is very important, but it can only do so much in the short term," Sunkara said. "These workshops have the potential to provide more sustainable outcomes for our communities."
Community service is at the heart of Bonner Leaders' mission and complements the academic experiences of participating students. Students cite project management and communications as just some of the skills they have developed through their service to area food pantries. Teamwork also factors into their education as Bonner Leaders.
"I've learned how to work with team members and contribute ideas," said Isaac Benedict, senior biology major. "I've also learned how to receive other people's ideas and implement their contributions."
The biggest lessons learned, however, stem from the connections Bonner Leaders make with community members.
"You really gain insights into the needs of the community," Sunkara said. "As Bonner Leaders, we're committed to service, but we also are focused on gaining perspectives from working with the community."
The Bonner Leaders' community partners agree. Deborah Mitchell Serves as community outreach coordinator for Riverside Methodist Church. Over time, she has forged bonds with different students and feels a sense of pride when they graduate and carry a sense of community service with them. She said one former student has started a food pantry at her graduate school as a result of her experience with Riverside and the Third Ward community.
Ultimately, partners such as Mitchell pleased to work alongside students who are ready and willing to make a difference in the community. While she appreciates the professionalism displayed by Bonner Leaders, it is their spirit that truly enlivens each event they support.
"We truly appreciate the service of Bonner Leaders," she said. "It's been a great partnership that produces many rewards for the students, our church, and of course, our community. They bring energy and enthusiasm that not only helps with our food distributions but really inspires everyone involved."
The Bonner Leaders are based within the UH's Honors College. Comprised of some of the University's top students, Bonner Leaders respond to challenges faced by Houstonians and apply the lessons learned on campus to the betterment of the community. Projects are aimed at alleviating the effects of poverty in Houston and focus on education, as well as food insecurity.