UH Faculty Complete Effective College Instruction Certificates
Nearly 60 Professors and Instructors Recognized During Pinning Ceremony 
Feb. 13, 2023
By Mike Emery, 713-743-7197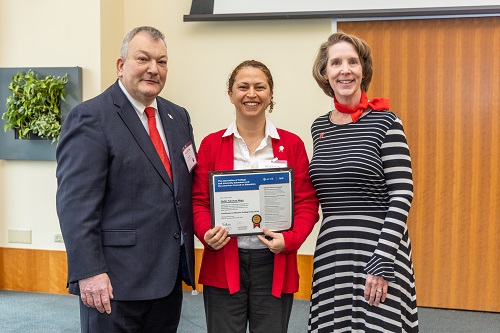 Each day, University of Houston faculty prepare students for the road ahead. That journey may lead to careers or graduate school. No matter the destination, Coogs can count on UH's committed professors to help steer them toward success. 
Credit UH's Office of Faculty Engagement and Development (the FED) for helping faculty further hone their talents in the classroom. Among the office's recent initiatives was a collaboration with the Association of College and University Educators (ACUE) to help faculty earn their Certificates in Effective College Instruction.  
Recently, a total of 58 faculty members and administrators celebrated their completion of this credential (co-endorsed by ACUE and the American Council on Education) during a pinning ceremony conducted in the Elizabeth Rockwell Pavilion. The event assembled all faculty who participated in the certification process, FED staff and representatives from ACUE. The ACUE Certification program was funded by the Bill and Melinda Gates Foundation. 
While earning their credentials, faculty were divided into three groups each led by two facilitators. Working together, they completed a 25-module course requiring them to learn about and implement new evidence-based teaching practices in their courses and reflect on the experience. Leslie Coward, director of Faculty Engagement and Development, led this campuswide initiative. 
Module topics included building class communities, creating an environment of belonging for students and supporting diversity and inclusiveness in the classroom.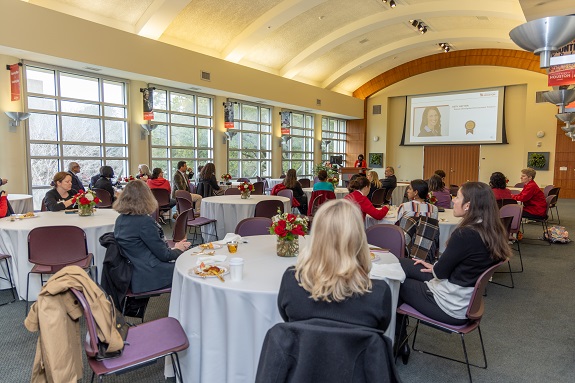 Susie Gronseth, clinical associate professor of curriculum and instruction in the College of Education, served as a facilitator while earning her certification. She, along with instructional professor of biology Donna Pattison, co-facilitated a group of 25 faculty members. According to Gronseth, group members would review module content then come together for virtual or in-person discussions on the topics that resonated with them. 
The modules challenged faculty to rethink how they engage with students, Gronseth added. 
"We were encouraged to brainstorm on how to more effectively develop and deliver class content," she said. "We also learned how to strategically align class activities with course objectives and outcomes." 
Beyond the knowledge gained from the modules, the certification process was an excellent opportunity to connect with colleagues from other colleges and exchange ideas on effective pedagogy, Gronseth said. 
"Getting to know colleagues across campus was a bonus," she said. "It also was beneficial to share ideas across disciplines. This helped make ACUE's content richer and more memorable." 
In addition to Gronseth and Pattison, facilitators included Je'Anna Abbott, professor of hospitality; Lauren Zenth, associate professor of English; Erica Jordan, clinical associate professor of psychological, health, and learning sciences; and Melissa Pierson, assistant vice provost in the Undergraduate Student Success Center. Back-up facilitators included Leslie Coward and Lacey Schmidt, executive director of the Office of Faculty Engagement and Development.  
Faculty earning the ACUE Certification in Effective College Instruction are as follows: 
 
Gulin Tulunay Aksu, Cullen College of Engineering 
Laura B. Ashley, Jack J. Valenti School of Communication 
 Burak Basaran, Cullen College of Engineering  
Driss Benhaddou, Cullen College of Engineering 
 Kristin C. Bennett, College of Education 
Daniel W. Burleson, Cullen College of Engineering 
Paul G. Butler, College of Liberal Arts and Social Sciences 
Matthew G. Caputo, College of Natural Sciences and Mathematics 
 Daniel Centeno, College of Liberal Arts and Social Sciences 
James A. Chang, College of Natural Sciences and Mathematics 
 Shuo Chen, College of Natural Sciences and Mathematics  
Anuj Chopra, College of Technology 
 Jeffrey Church, College of Liberal Arts and Social Sciences 
 Justin Dykes, College of Liberal Arts and Social Sciences  
Klavdia Markelova, C. T. Bauer College of Business 
Emese Felvegi, C. T. Bauer College of Business 
Stella Grigorian, College of Liberal Arts and Social Sciences 
Shahinda Hafeez, College of Natural Sciences and Mathematics 
 Beth Hattier, College of Technology  
Yan Huang, College of Liberal Arts and Social Sciences 
Tucker A. Johnson, Conrad N. Hilton College of Global Hospitality Leadership  
Jennifer La'Vonne, College of Liberal Arts and Social Sciences 
Donna Kacmar, Gerald D. Hines College of Architecture and Design 
Abdul Latif Khan, Cullen College of Engineering 
Yoonkyung Kim, McGovern College of the Arts 
Michael Kistner, College of Liberal Arts and Social Sciences 
Venkata Krishna Tulasi, Cullen College of Engineering 
Marsha Christine, Cullen College of Engineering 
 Holley Carole Love, Cullen College of Engineering 
Jennifer Austin Luna Singh, Cullen College of Engineering 
Robyn Lyn, College of Liberal Arts and Social Sciences 
Gregory C. Morrison, College of Natural Sciences and Mathematics 
Claire Elizabeth Mummert, College of Liberal Arts and Social Sciences 
Nancy Elizabeth Murphy, McGovern College of the Arts 
My Viet Ha Nguyen, College of Liberal Arts and Social Sciences 
 Beth M. Olson, College of Liberal Arts and Social Sciences  
Colby Ornell, College of Liberal Arts and Social Sciences 
 Vanessa M. Patrick-Ralhan, C. T. Bauer College of Business 
 Robin Ann Proctor, College of Education 
Saira Rab, College of Education 
Jennifer Radcliffe Andre, College of Liberal Arts and Social Sciences  
Deepa Ramachandran, Cullen College of Engineering  
Gary W.  Randazzo, C. T. Bauer College of Business 
Rana Ihsan Rifai, College of Technology 
Carlos Alberto Rincon Castro, College of Natural Sciences and Mathematics 
Piruz Saboury, College of Liberal Arts and Social Sciences 
 Sean-Patrick Scott, College of Natural Sciences and Mathematics 
Ronnie L. Self, Gerald D. Hines College of Architecture  
Elizabeth Simas, College of Liberal Arts and Social Sciences 
Rita Evelyn Sirrieh, College of Natural Sciences and Mathematics 
Christina Sisk, College of Liberal Arts and Social Sciences 
Kayce D. Solari Williams, College of Education 
Benjamin J. Tamber-Rosenau, College of Liberal Arts and Social Sciences 
Campus Project Director 
Leslie Coward, Faculty Engagement and Development