Months of Research Transformed into a 3-Minute Thesis During Annual UH Competition
3MT Celebrates Five Years of Engaging UH Grad Students' Communications, Presentation Skills
Nov. 21, 2022
By Mike Emery, 713-743-7197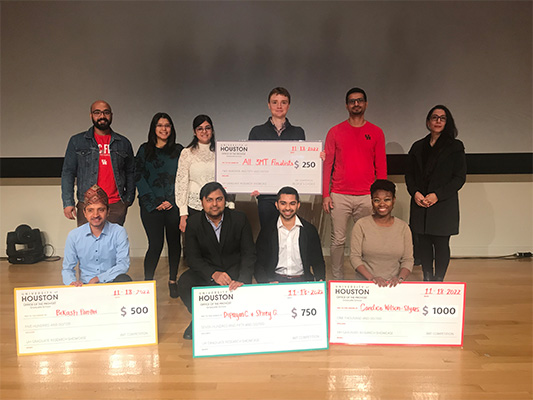 A thesis or dissertation is not an overnight project. The process of research, writing and discovery can be exhaustive, but it is ultimately very rewarding for students.
Despite the long hours spent gathering data and formulating theories, 10 University of Houston graduate students boiled down their findings in just three minutes and with one slide.
These rising researchers delivered concise yet clear research summaries to an audience of peers during the Nov. 18 Three Minute Thesis (3MT) competition.
Hosted by the UH Graduate School and conducted in the Student Center Theater, 3MT featured students covering a range of topics, including political science, physics, geophysics, biology and more. By the event's conclusion, Candice Wilson-Stykes took home the grand prize of $1,000. A graduate assistant in the College of Education's Education Research Center, her three-minute thesis addressed "Communicating Culture to Students Through Email."
"This was the biggest independent research project I was involved in," she said. "Participating in 3MT helped me develop a practical explanation of my work. I worked with an institution of higher education on this research, so I had to explain my findings in a way that was useful. I also think this competition helped me translate my research into practice."
The first-place finish was a perfect end to an incredible week for Wilson-Stykes, who had defended her dissertation a few days prior to the competition. Her complete thesis soon will be published in Strategic Enrollment Management Quarterly.
As the winner of the UH 3MT competition, Wilson-Stykes will advance to the regional competition at the Conference of Southern Graduates Annual Meeting.
3MT runners up included pharmacy student Shrey Gohill and chemical and biochemical engineering student Dipayan Chakraborty (tied for second place – each earning $750) and physics student Bikash Panthi (third place and People's Choice winner – earning $500). All finalists were awarded $250 for their efforts.
"The annual 3MT competition is a valuable professional development opportunity for graduate students," said Sarah Larsen, UH vice provost and dean of the UH Graduate School. "I am so impressed with each of our 3MT finalists. They all did a fantastic job communicating their research to a general audience using only one slide and a time limit of three minutes."
This year's event marks the fifth annual 3MT competition at UH and is based on a concept founded at Australia's University of Queensland. Since its inception, 3MT has inspired other universities around the world to engage their graduate students in taking their research a step beyond dissertations or theses. In preparing for these competitions, students gain confidence and communication skills that can be applied to future academic investigations.
The 2022 UH 3MT competition and previous events are available to view online. An undergraduate version of this event, exCITE Talks, is presented by UH's Cougar Initiative to Engage and is now in its fourth year.