Incoming Bauer Dean Pavlou Honored with Sheth Foundation Award
May 23, 2019
Dr. Paul A. Pavlou, incoming dean of the C.T. Bauer School of Business, has been selected as the winner of the 2019 Sheth Foundation / Journal of Marketing Award. The winning paper, titled "Marketing in Computer-Mediated Environments: Research Synthesis and New Directions," was authored by Paul A. Pavlou, senior associate dean for faculty research, doctoral programs, and strategic initiatives for the Fox School of Business at Temple University, and Manjit S. Yadav, Macy's Foundation Professor and professor of marketing in the Mays Business School at Texas A&M University, and will be presented at the American Marketing Association (AMA) Summer Conference in Chicago on August 9, 2019.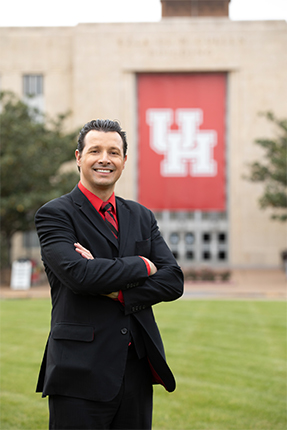 The Sheth Foundation / Journal of Marketing Award honors the best article published in the Journal of Marketing that has made long-term contributions to the field of marketing. Articles are eligible for consideration after their fifth year from publication, and selections are chosen for the quality of the article's contribution to theory and practice, its originality, its technical competence (if relevant), and its impact on the field of marketing.
"It has been a pleasure collaborating with Paul" said Dr. Yadav. "Early ideas related to this article started emerging around 1999 when I developed a new course focusing on digital marketing strategy. Market upheavals during these turbulent years led to a deepening intellectual curiosity in academic communities about computer-mediated environments. This article stemmed from our desire to understand the long-term trajectory of these early developments and how they would shape the marketing discipline." Dr. Pavlou added: "It has been a unique pleasure to collaborate with Dr. Yadav. Manjit is a world-class researcher and theorist, and the success in integrating our two disciplinary fields, marketing and information systems, into an impactful article on computer-mediated environments, was a valuable learning experience for me.
Dr. Pavlou also noted: "I personally place enormous importance to the broader impact of research across academia, practice, the classroom, and society and public policy. This is something I have pursued all my academic life. Accordingly, receiving this award for the long-term impact of my own research means a whole lot to me personally."
Paul A. Pavlou joins the University of Houston as the dean of the C.T. Bauer School of Business beginning July 1, 2019. His work as a researcher spans several disciplines focusing on data science, data analytics, and digital business strategy. His research has been cited about 36,000 times by Google Scholar, and he was recognized among the "World's Most Influential Scientific Minds" by Thomson Reuters based on an analysis of "Highly Cited" authors in Economics & Business for 2002-2012.
I am looking forward to working with Dr. Pavlou" said Paula Myrick Short, UH senior vice president for academic affairs and provost. "His past work leading the Fox School of Business to enhance their research visibility and showcase the impacts of research on academia led five of the school's disciplines to be considered top 10 in the nation for research productivity. He brings this vision to Bauer and I know it will enhance the college's reputation on a national and international scale."
The Sheth Foundation, formed in 1991 by Dr. Jagdish and Madhu Sheth, helps influence the future generations of marketing professionals by inspiring innovation in the field of marketing. The foundation supports the academic scholarship, publications, education, and research of tax-exempt, publicly-supported educational organizations primarily focused on the discipline of marketing.
###