UHCL Academics for Offenders Program Receives Academic Excellence Award
November 15, 2018
The University of Houston System Board of Regents presented the Regents' Academic Excellence Award to the University of Houston-Clear Lake's (UHCL) Texas Department of Criminal Justice Academics for Offenders Program. The award recognizes University of Houston System institutions' programs and initiatives that exemplify excellence in teaching, research and/or public service.
The Texas Department of Criminal Justice Academics for Offenders Program has offered classes to individuals incarcerated at Texas Department of Criminal Justice facilities since 1974. Housed in the College of Human Sciences and Humanities, the program offers four degrees: B.S. and M.A. in Humanities, B.S. in Behavioral Sciences, and M.A. in Literature.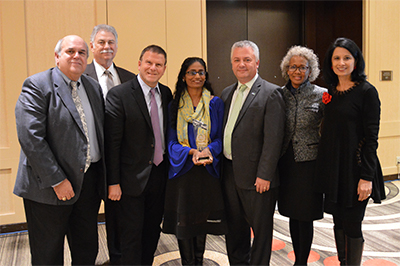 "Program participants graduate equipped to thrive in a competitive workplace and to make meaningful contributions to their communities" said Steven Berberich, UH-Clear Lake senior vice president for academic affairs and provost. "Additionally, these newly-educated individuals return to prison at rates markedly lower than those who do not have the benefit of education while incarcerated."
The commitment to investing in correctional education pays off for both the community and the institution. A 2017 RAND Corporation position paper revealed that "correctional education programs substantially reduced an individual's risk of being re-incarcerated and that such programs are cost effective—every dollar invested in correctional education saves nearly five dollars in re-incarceration costs over three years." Each percentage point drop in the number of offenders in Texas prisons represents almost $1,000,000 in taxpayer savings. 
By investing in these students, UH-Clear Lake has made a positive investment in its community. Students at both the undergraduate and graduate level can access assistance with paying their tuition and fees. UH-Clear Lake was one of the first universities to receive a Second Chance PELL Award, which will provide over $500,000 in tuition assistance for fiscal year 2019.
The program benefits both prisoners and the prison system itself. The RAND Corporation position paper further noted that "corrections officials...report that…[correctional education]…has a substantial impact on the prison environment…help[ing] to provide structure and lessen the need for supervision." 
And the students who participate note that the program allowed them "a sense of normalcy" and a "new outlook on life." To date, the program has awarded 391 Bachelor's degrees and 314 Master's degrees. Students have garnered numerous writing awards, including the prestigious PEN prison writing competition.
"Both students and faculty are passionate participants of the program" said Rick Short, dean and professor of psychology in the School of Human Sciences and Humanities at UH-Clear Lake. "Students spend time out of class thinking about and discussing their classroom experience, and sometimes request more work to complete. I'm proud of the work that has been done through the program thus far, and hope that work continues."
###