Dear UH Students, Faculty, and Staff:
I look forward to sending you COUGAR MILESTONES as a means to inform you of the great work of our Top Tier students, faculty, and staff as well as inform you of the initiatives underway in the Office of the Provost. I hope you will enjoy learning about our collective and continued efforts and contributions in ensuring academic and student success.
Paula Myrick Short
Provost
---
Allyson Plosko Acknowledged for Contribution to Global Healthcare Challenges Institute
The 4th International US-Turkey Advanced Institute on Global Healthcare Challenges was held June 15-22 in Antalya, Turkey. The Institute was sponsored by the National Science Foundation, endorsed by the National Academy of Engineering (NAE), and co-sponsored by Akdeniz University and the University of Houston. UH Biomedical Engineering faculty and staff members Metin Akay, Yasemin Akay, Andrei Dragomir, and Allyson Plosko organized the event. Plosko, who served as the Institute's coordinator, was recognized for her tireless effort and dedication in helping to produce the technical program and create and implement the logistics involved. She received a gift and an excellency certificate from three distinguished speakers: Ted Berger, director of the Center for Neural Engineering; Edward (Ted) Shortliffe, keynote speaker and director of the National Institute of Biomedical Imaging and Bioengineering; and Bruce Wheeler, president of the IEEE Engineering in Medicine and Biology Society.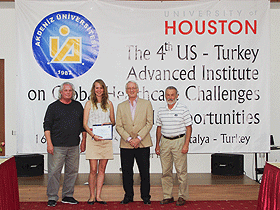 Ted Berger, Allyson Plosko, Ted Shortliffe, and Bruce Wheeler
The program consisted of four themes: Advances in Neurotechnology, Neurorehabilitation, Bionanoscience, and Biomedical and Health Informatics. The main objective was to focus on the latest advances in the areas of science, engineering, technology, and medicine, in addition to discussing some of the 14 Grand Challenges for Engineering set forth by the NAE. Among the challenges included were Reverse–Engineering the Brain, Engineering Better Medicines, and Advance Health Informatics. The NAE also praised biomedical and biological engineering as the research field to fulfill the promise of personalized medicine. Overall, the Institute provided a unique environment to discuss the emerging research areas, challenges, and opportunities.
---
William Art Conklin Selected
As ISSA Fellow
The Information Systems Security Association has recognized William Arthur (Art) Conklin, associate professor of technology and director of the Center for Information Security Research and Education, as a Fellow. His recognition as a Fellow stems, in part, from his involvement in national efforts to create applied technology curricula to address critical shortfalls in information security professionals.


William Art Conklin working with student
ISSA is a nonprofit, international organization of information security professionals and practitioners. With a membership of more than 10,000 information security personnel worldwide, ISSA is the leading professional society for information security professionals. Their primary goal is to promote management practices that will ensure the confidentiality, integrity, and availability of information resources.
To become a Fellow, members must have eight years in the association, three years of volunteer leadership, and five years of significant performance in the profession. Fellows must also be nominated and seconded by a Fellow or Distinguished Fellow.
Bauer "Just As Great 
As Harvard and Wharton"
The MBA program at the C.T. Bauer College of Business was recently recognized as one of "5 Top Business Schools Just as Great as Harvard and Wharton" from political news site PolicyMic, a startup that averages more than five million unique visitors each month. PolyMic cites the program's ties to Houston's booming economy, average starting salaries of graduates, and experiential learning opportunities available to Bauer students. "We have long been considered one of the best kept secrets in Houston," said Dean Latha Ramchand. "But, as our programs grow and the Bauer brand becomes nationally and internationally recognized, the secret is out. Our students receive an unmatched education, both in the classroom and through extracurricular activities and events designed to stimulate engagement and involvement. They go on to become active alumni who power the engine driving the Houston economy, one of the most robust in the nation.
PolyMic's list of "5 Business Schools Just as Great as Harvard and Wharton" was designed to provide a list of universities whose business schools prepare students "just as well as more highly touted Ivy League universities with tuition at least half of the annual $56,175 HBS price tag." Also making the list were BYU Marriott School of Management, Manderson Graduate School of Business at University of Alabama, San Diego State University College of Business Administration, and CUNY Baruch College Zicklin School of Business.
---
Graduate College of Social Work Honored for Social Work Education Program
The Council on Social Work Education has selected the Graduate College of Social Work  to receive the 2013 Partners in Advancing Education for International Social Work (PIE) Award. The award recognizes the college's degree-granting social work education programs and their outstanding work and longstanding history in the global community. The award is also due to the leadership provided by professor Patrick Leung, director of the Office of International Social Work. Leung and the Graduate College of Social Work have contributed to the field through a conceptual curriculum developed to advance international social work, innovative programs, promoting exchange activities, and their work and leadership on the Council on Social Work Education's China Collaborative Project. Dean Ira Colby was appointed coordinator for the project.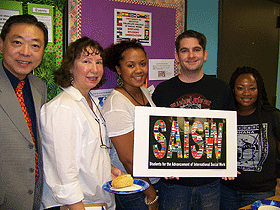 Patrick Leung and "SAISW" Students for the Advancement of International Social Work
The Council on Social Work Education (CSWE) is a nonprofit national association representing more than 2,500 individual members and graduate and undergraduate programs of professional social work education. CSWE initiated the PIE Awards to recognize the contributions of their partners in the advancement of conceptual, curricular, and programmatic innovations in education for international social work. The Graduate College of Social Work will receive a plaque during CSWE's Annual Program Meeting in October.
---