Pre-Health Resource Library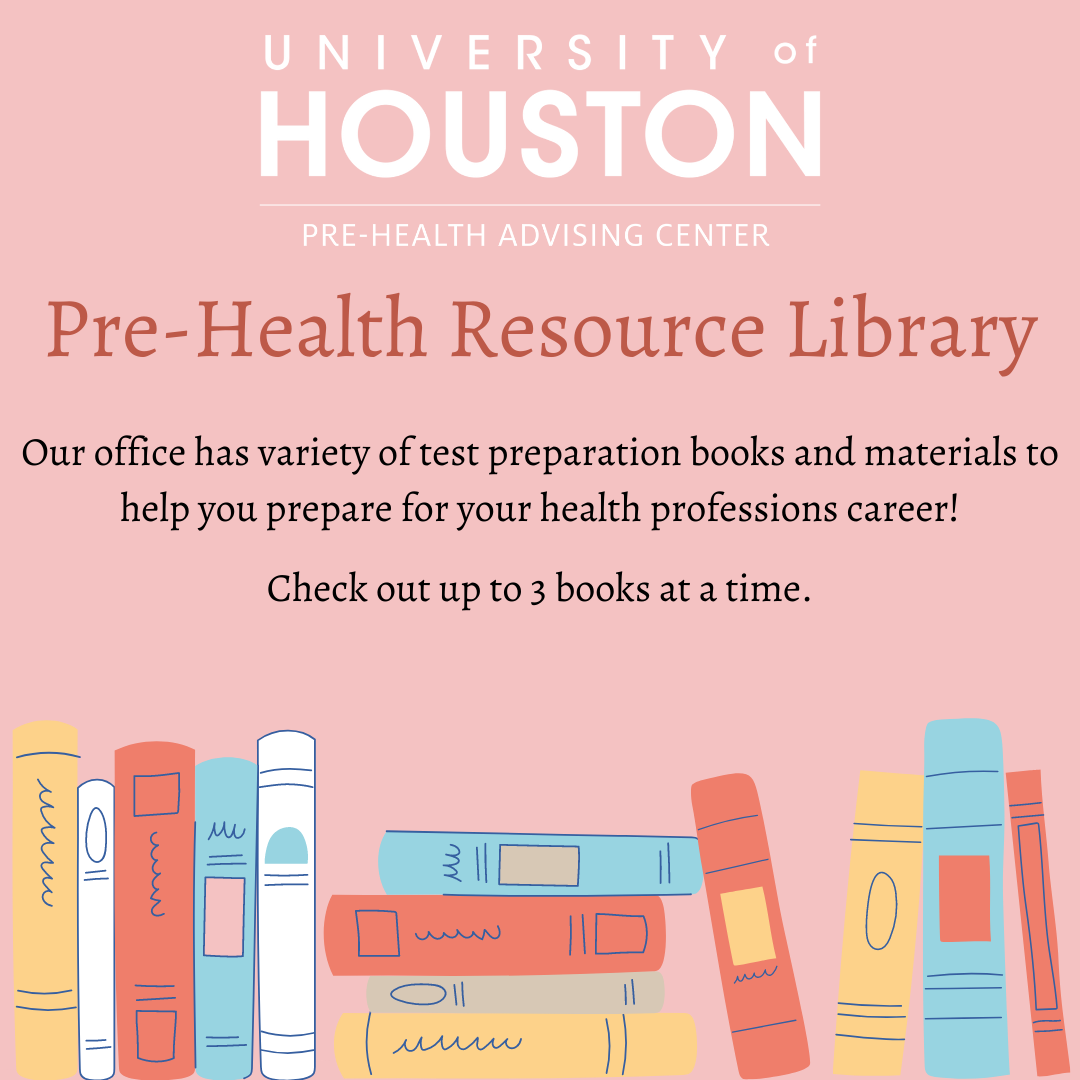 The Pre-Health Advising Center has a Resource Library for students who are preparing for entrance exams for their respective professional schools. The resources include various books for MCAT, DAT, OAT, PCAT, GRE, TEAS, HESI as well as other resources such as flashcards and quicksheets. Students who wish to check-out a book may do so by completing the form below. Books may be reserved for up to 6 weeks at a time, extensions are typically granted as long as there is not a waitlist for a particular resource.
Current Inventory of Study Materials
The current list of study materials and availability can be found here.
You will need the title and listing number of the resource you wish to request. You may select up to 3 items at a time to check-out.
Check-Out Procedure
To check-out resource materials, please complete the Request Form.
You will receive a confirmation email letting you know when the book is available for pick-up.
If you are interested in checking-out resources, please read over the policies and procedures below.  By checking-out a resource, you are agreeing to adhere to all of the policies and to pay the fine for overdue or damaged goods if applicable.
Returning Checked-Out Items
You can return any items you have checked-out to CBB 215/217 between 8:00AM-4:00PM M-F.
Overdue Item Policy
For any item that is not returned on the appropriate due date:
A hold will be placed on your student account until the item is returned.
If an item is more than 10 days past due, you will be required to pay the total cost of the item.
Damaged Item Policy
If an item is returned damaged, you will be charged the price of the item.  Damage can be defined as the following:
Writing/highlighting/markings on or inside the resource
Pages torn
Pages folded
Damage to the outside covers (ripped, missing, etc.)
The Pre-Health Advising Center reserves the right to add to this list without warning or notice to the student.
Donating Items
The Pre-Health Advising Center welcomes any donations of study materials and other resources that may be of use to pre-Health students.  Any donated items will be made available for other students to check-out.
If you would like to make a donation, please contact us at prehealth@uh.edu.