Cougars in Cancer Research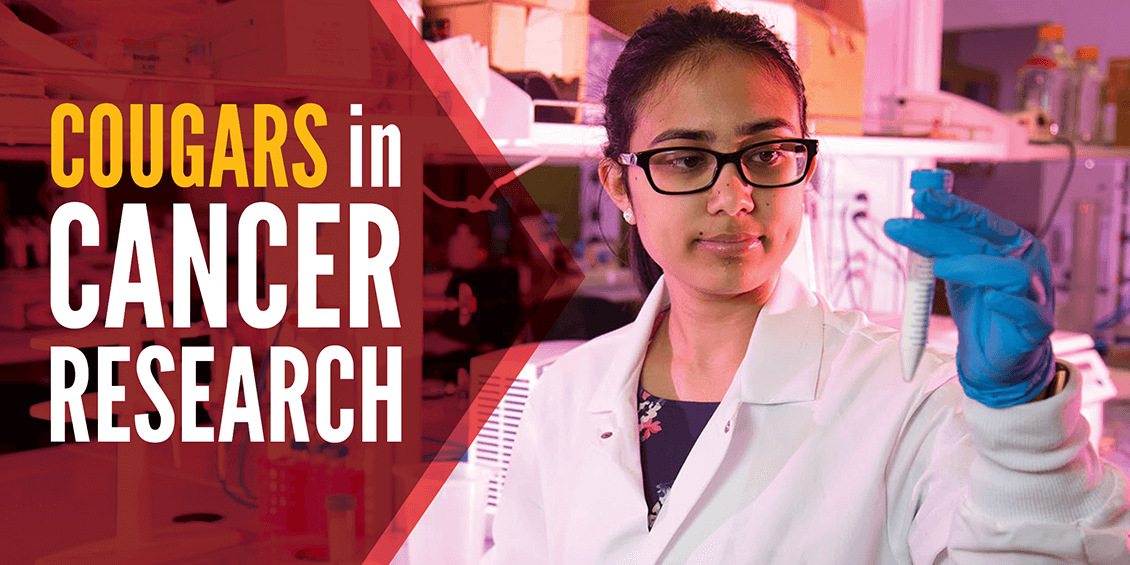 TheCougars in Cancer Research (CiCR) program provides transdisciplinary, real-world research experience and mentorship combined with professional and career development activities to prepare UH undergraduate participants for future careers in cancer research.
Up to six fellowships will be awarded to rising UH sophomores, juniors, and seniors to participate in a focused, one-year longitudinal research experience under the direction of a UH faculty mentor conducting cancer research. Participants will receive a $5,000 stipend through incremental disbursements over the course of the yearlong program.
Note: Students enrolled in any graduate or professional program are not eligible.
The CiCR is supported by a Cougar Initiative to Engage (CITE) grant from the UH Office of the Provost.
Expectations/Workload (May 31, 2022-May 19, 2023)
Full-time (40 hours) participation in research during the 10 weeks of summer and 6-7 hours of research per week (total of 100 hours per semester) in Fall and Spring.
Students are expected to attend the CiCR orientation during the first week and complete surveys and short reflection essays at the start, mid-point, and end of the program.
Participate in all CiCR programming
Present a research poster at PPS symposium and UH undergraduate research day. CiCR participants are encouraged to submit an abstract (due date in November) to American Association for Cancer Research for a poster presentation (meeting in April).
Present an oral presentation at the End of CiCR Program Celebration.
NOTE: The CiCR participants' names, faculty mentors' names, research descriptions, and photos may be included in any promotion material in print or online. Accepted students will be expected to fill out a UH Photo Release and FERPA Release.

Students must submit the complete Online Application by Friday, April 15, 2022.
Application Requirements
A complete application includes:
Personal statement (One page, 500 words max)
Statement of research objectives and goals (One page, 500 words max)
Description of prior research experience (Optional, One page, 500 words max)
Name and email of the UH faculty mentor (or faculty member) who will be providing a letter of recommendation
Updated CV or Resume
Official Current Transcript(s)
Completed application (all fields completed unless denoted as optional)
A Recommendation Letter sent from the faculty mentor (or a faculty member) directly on this webpage
Personal Statement
The personal statement should:
Discuss applicant's stated interest in cancer research
Highlight academic and professional accomplishments
Any educational barriers that have been overcome
Describe research career goals and how CiCR fellowship can help applicant achieve these goals
Statement of Research
The statement of research should:
Be composed in consultation with the faculty mentor if one is identified or include the area of cancer research of interest and how it ties to the career goals if no faculty mentor is identified.
Discuss the relative importance of the proposed research and how it relates to cancer research.
State the specific tasks to be accomplished during the research program.
Define the scope and goals of the proposed research.
Description of Prior Research Experience
The description of prior research experience should:
Include the years of research experience, the name(s) of faculty mentor(s), area(s) of research, familiarity or expertise on any techniques, authorship on publications (abstract or manuscript), presentations, etc.
Faculty Letter of Recommendation
The UH faculty mentor (or faculty member's) letter of recommendation should:
Describe the student's qualifications, aptitude, commitment, and potential to succeed in research careers
Identify the area of research in which the mentor will engage the student (or areas of likely success for the student)
Describe the faculty member's role as mentor to the student, including a description of how the proposed research is related to their ongoing research
Be on official letterhead and signed
Uploaded to this webpage by the application deadline
Working with Human Subjects: If your research proposal includes working with human subjects, then you must receive approval from the University's Institutional Review Board (IRB) prior to initiating your research. Please reference the University's IRB policy before submitting your research proposal.