Vision 2020 Strategic Plan
Vision 2020 Strategic Imperatives
The University of Houston College of Pharmacy's strategy will preserve and enhance the College's strengths and leverage opportunities for revenue generation and competitive ascendancy. For this to be accomplished, the College will undertake nine Strategic Imperatives.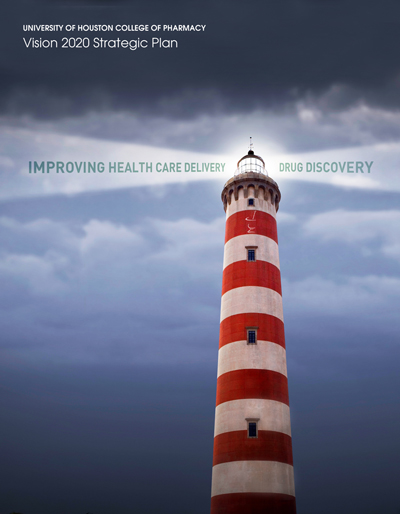 Strategic Imperatives
Grow, Diversify and Expand the College's Revenue Base


Increase Research-Based Scholarly Activity and Collaboration


Strengthen College of Pharmacy political positioning relative to other health professional programs in Texas


Develop and enhance the College of Pharmacy educational programs to the point where the graduates become leaders and agents of change


Develop the University of Houston Center for Drug Discovery that will provide a foundation for bringing together the strengths of many research disciplines across the UH campus and beyond


Raise awareness of the value of pharmacy among consumers and patients, among elected officials and policymakers, among the media and among all healthcare partners and stakeholders


Contribute significantly to the systematic improvement of health care delivery and the health of our communities


Build a new state-of-the-art Pharmacy building that will provide all of the facility and technological resources that will be necessary to meet the extensive goals of a Tier One Pharmacy College


Become innovators in the delivery of pharmacy education
To view/download the complete UHCOP Vision 2020 Strategic Plan (.pdf), please click here.