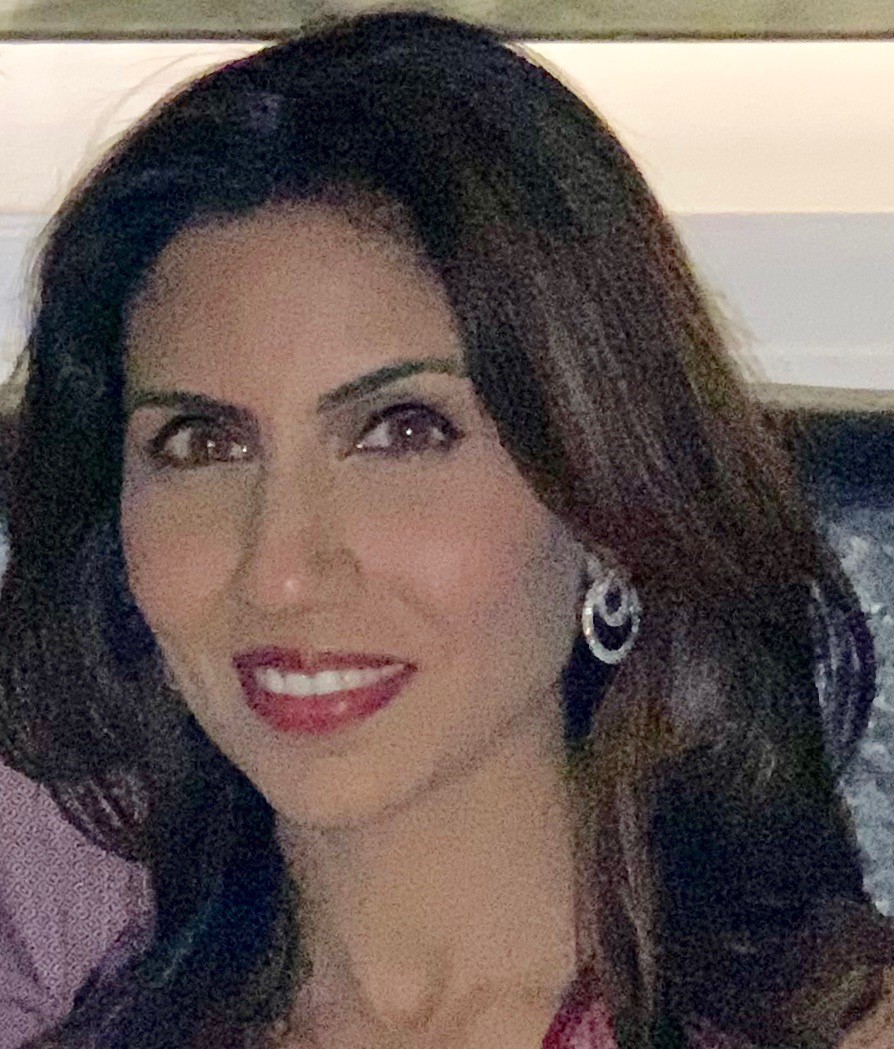 Pinky Shani, PhD, MSN, RN
Assistant Professor
Postdoctoral in Integrative Nursing, Dana-Farber/Harvard Cancer Center, Boston, MA
PhD in Oncology Nursing, University of South Florida, Tampa, FL
Master of Science in Nursing, University of South Florida, Tampa, FL
Bachelor of Science in Nursing, University of South Florida, Tampa, FL
Bachelor of Science in Biomedical Sciences, University of South Florida, Tampa, FL
Phone: 713-743-7181
Email: pshani@central.uh.edu
Office Hours:
Mondays & Wednesdays: 12 p.m. - 2 p.m.
Clinical Interest, Research Interest, Professional Expertise, Professional Accolades:
I am an integrative medicine researcher with extensive training in mind-body exercise interventions, objective and subjective measures of symptom outcomes, and health disparities, all within a bio-behavioral approach to cancer survivorship. My research trajectory is centered on the development and implementation of mind-body interventions and symptom outcome assessment. I was awarded the first Integrative Therapies Post Doctoral Fellowship at the Dana-Farber Cancer Institute's Phyllis F. Cantor Center for Research in Nursing and Patient Care Services. I am interested in designing internet-based interventions for cancer survivors and their caregivers. For instance, in my National Institutes of Health R34 funded work, I designed and pilot-tested a Qigong e-intervention for caregivers of cancer survivors. Under this award, I am currently conducting a randomized controlled trial to establish the feasibility of this e-intervention using a multi-method assessment strategy including subjective, physical and cognitive outcomes. I now seek to expand this program of research to minority populations with limited access to supportive care strategies. My commitment to translating my research to educate my peers is reflected by my work with the Belize Cancer Society through the education of nurses on cancer survivorship care and clinically through the implementation of a survivorship program for the underserved population of Belize.
Publications/Scholarly Work:
Mind-body exercises and cancer survivorship

Budhrani-Shani, P. & Cherian, N. (2020). The Rationale and Evidence for Virtual Methods of Training for Caregivers: A Narrative Review. Journal of Nursing Research and Scholarship, 4(2).
Budhrani-Shani, P., Berry, D.L., Chau, N. G. (2018). Psychosocial distress and preferred method of delivery of mind-body interventions among patients with head and neck cancer. Patient Related Outcomes Measures. 2018(9): 129-136. Doi.org/10.2147/PROM.S149978
Lengacher, C.A., Reich, R.R., Paterson, C.L., Shelton, M., Shivers, S., Ramesar, S., Pleasant, M.L., Budhrani-Shani, P., Groer, M., Post-White, J., Johnson-Mallard, V., Kane, B., Cousin, L., Moscoso, M., Romershausen, T.A., & Park, J.Y. (2018). A large randomized trial: Effects of mindfulness-based stress reduction (MBSR) for breast cancer survivors (BC) on salivary cortisol and IL-6. Biological Research for Nursing, 1 11.  https://doi.org/10.1177/1099800418789777 PMID: 30079756 
Reich R.R., Lengacher C.A., Alinat C.B., Kip K.E., Paterson C., Ramesar S., Han H.S., Ismail-Khan R., Johnson-Mallard V., Moscoso M., Budhrani-Shani P., Shivers S, Cox CE, Goodman M, & Park J. (2017). Mindfulness-based stress reduction in post-treatment breast cancer patients: Immediate and sustained effects across multiple symptom clusters. Journal of Pain Symptom Management, 53(1):85-95. Doi: 10.1016/j.jpainsymman.2016.08.005.
Lengacher, C. A., Reich, R. R., Paterson, C. L., Jim, H. S., Ramesar, S., Alinat, C. B., Budhrani, P.H., ... Kip, K.E. (2016).  Examination of broad symptom improvement resulting from mindfulness based stress Reduction in breast cancer survivors: A randomized controlled trial. Journal of Clinical Oncology. 34(24):2827-34. doi: 1200/JCO.2015.65.7874
Lengacher, C. A., Reich, R. R., Paterson, C. L., Jim, H. S., Ramesar, S., Alinat, C. B., Budhrani, P.H., ... Kip, K. E. (2014). The effects of mindfulness-based stress reduction on objective and subjective sleep parameters in women with breast cancer: A randomized controlled trial. Psychooncology. doi: 10.1002/pon.3603
Lengacher, C. A., Reich, R. R., Kip, K. E., Barta, M., Ramesar, S., Paterson, C. L., Budhrani, P.H., . . . Park, J. Y. (2014). Influence of mindfulness-based stress reduction (mbsr) on telomerase activity in women with breast cancer (bc). Biol Res Nurs, 16(4), 438-447. doi: 10.1177/1099800413519495.
Lengacher, C., Reich, R., Le, N., Barta, M., Ramesar, S., Purcell, S., Buck, H., Araya, W., Budhrani, P.H., Paterson, C. (2012). The effects and moderators of mindfulness-based stress reduction: A meta-analytic examination. Journal of Psychosomatic Research.
Lengacher, C., Hogue, D., Paterson, C., Ramesar, S., Carranza, I., Barta, M., Millette, L., Budhrani, P.H., Wooten, K., Mogos, M., Cartwright, J., Kelly, L., Foresh, M., Irby, K., Reich, R. (2012). State of the science of mind body therapies: Mindfulness based stress reduction and yoga in oncology. Psycho-Oncology 21(Suppl.1): 56 doi: 10.1111/j.1099-1611:2011.03029.
Lengacher, C., Jim, H., Reich, R., Ramesar, S., Carranza, I., Paterson, C., Budhrani, P.H., Millette, L., Hogue, D., Wooten, K., Mogos, M., Johnson-Mallard, V., Cullaro, V., Mierzejewski, A., Roberto, K., Kip, K. (2012). Examination of objective sleep quality within an R01 mindfulness based stress reduction symptom cluster trial for breast cancer survivors.  Psycho-Oncology 21(Suppl.1): 55-56 doi: 10.1111/j.1099-1611:2011.03029.
Lengacher, C., Jim, H., Reich, R., Pracht, E., Craig, B., Ramesar, S., Carranza, I., Paterson, C., Budhrani, P.H., Millette, L., Hogue, D., Wooten, K., Mogos, M., Johnson-Mallard, V., Santiago, S., Miglore, M., Dameron, M., Kip, K. (2012). Improving quality of life in breast cancer survivors: the cost-effectiveness of mindfulness based stress reduction. Psycho-Oncology 21(Suppl.1): 55 doi: 10.1111/j.1099-1611:2011.03029.
Lengacher, C. A., Reich, R. R., Post-White, J., Moscoso, M., Shelton, M. M., Barta, M., Le N., Budhrani, P.H. (2012). Mindfulness based stress reduction in post-treatment breast cancer patients: an examination of symptoms and symptom clusters. Journal of Behavioral Medicine, 35(1), 86-94. doi: 10.1007/s10865-011-9346-4.
Lengacher, C., Reich, R., Barta, M., Le, N., Ramesar, S., Araya, W., Buck, H., Purcell, S., & Budhrani, P.H. (2011). Comprehensive meta-analysis of Mindfulness Based Stress Reduction outcomes, clinical status and other moderators of effect size. Psycho-Oncology, 20 (S1), 38

MBSR and sleep disturbances

Becze, E. (2015). Measure and Treat Sleep Disturbances in Breast Cancer Survivors. ­ONS Connect, Five-Minute In-Service. Budhrani, P. H. et al., (2015). An Integrative Review of Subjective and Objective Measures of Sleep Disturbances Breast Cancer Survivors: Implications for Practice. Clinical Journal of Oncology Nursing.
Budhrani, P.H., Lengacher, C.A, Kip, K.E, Tofthagen, C.L., Jim, H. (2015). An Integrative Review of Subjective and Objective Measures of Sleep Disturbances Breast Cancer Survivors: Implications for Practice. Clinical Journal of Oncology Nursing.
Budhrani, P. H., Lengacher, C. A., Kip, K. E., Tofthagen, C., & Jim, H. (2014). Minority breast cancer survivors: The association between race/ethnicity, objective sleep disturbances, and physical and psychological symptoms. Nursing Research Practice, 2014, 858403. doi: 10.1155/2014/858403

Mind-Body exercises and nursing.

Budhrani-Shani, P., Berry, D., Langevin, H., Arcari, P., Wayne, P. (2016). Mind-body Exercise for Nurses with Chronic Low Back Pain: An Evidence-Based Review. Nursing Research Practice. doi: 10.1155/2016/9018036