EAS Holiday Party – Dec. 6

Annual Event for Friends and Family of EAS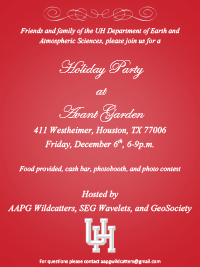 View Invitation (PDF)To All Friends and Family of Department of Earth and Atmospheric Sciences Students,Staff, and Faculty,
Please join us at AvantGarden, 411 Westheimer, on Friday, December 6, from 6-9 p.m. for the Annual EAS Holiday Party!
We will serve brick-oven handmade pizzas, gourmet tacos, and have a cash bar. Valet service is also available, as parking can be difficult around the venue.
At 8 p.m., we will have a short award ceremony to honor EAS faculty advisors and outstanding alumni, as well as announce the winners of the annual departmental photo contest!
Hosted by AAPG Wildcatters, SEG Wavelets, and GeoSociety.
For questions please email aapgwildcatters@gmail.com.
We look forward to seeing you there!