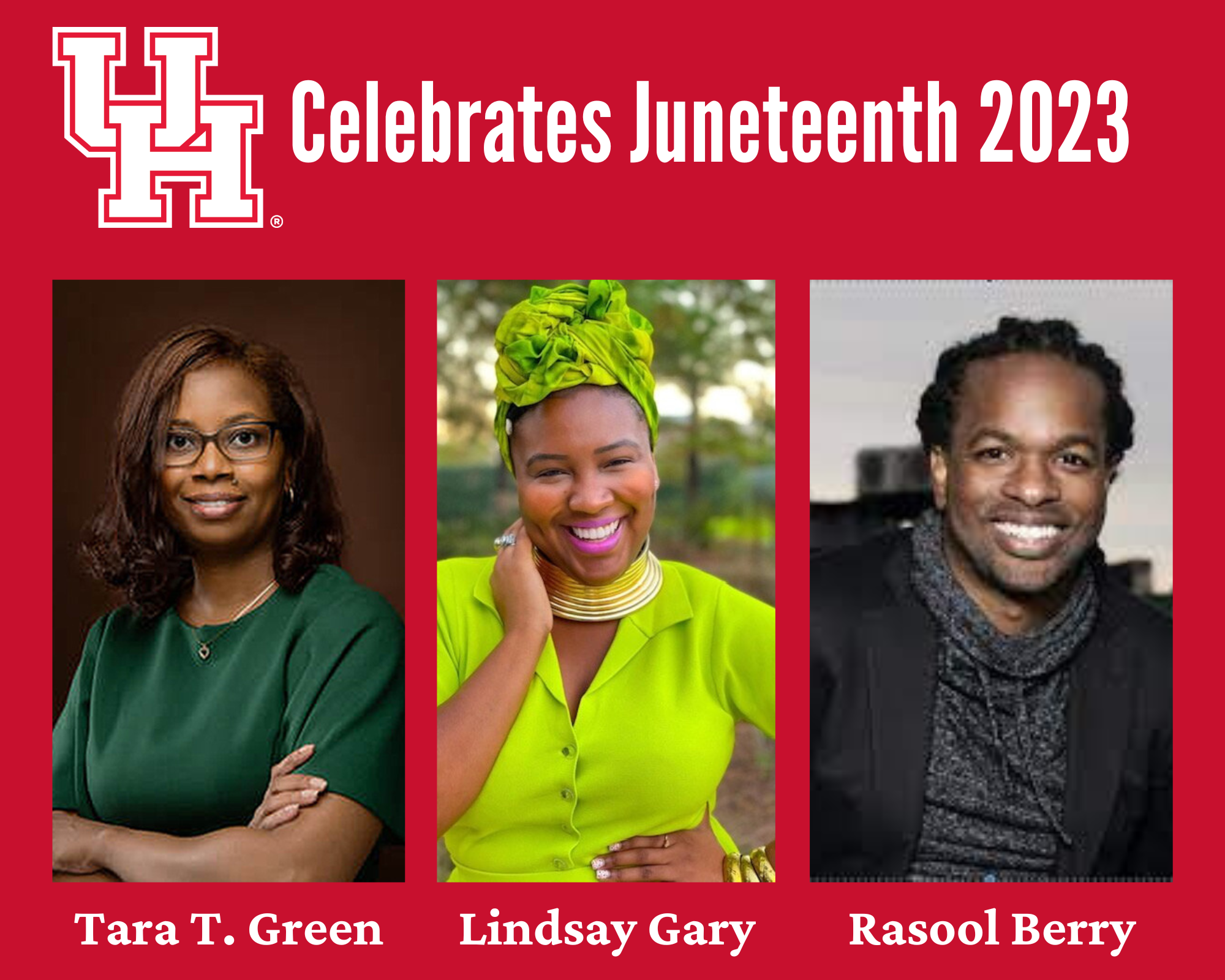 Juneteenth holds special meaning for communities throughout the U.S., but the relevance of this holiday hits close to home for Houstonians.
It was on June 19, 1865 that Union General Gordon Granger and troops reached Galveston and declared that all enslaved people were emancipated by General Order No. 3. This event took place more than two years after President Abraham Lincoln signed the Emancipation Proclamation. Still, Granger's order was a catalyst to free more than 250,000 enslaved Texans.
Although the University of Houston will close on June 19 in observance of Juneteenth, the Cougar community will still commemorate this special day through campus events and activities.
These events include a special screening of the documentary "Juneteenth: Faith and Freedom" presented by UH's Faculty and Staff Black Leadership Network in collaboration with HCA Healthcare and The Voice Black Colleague Network. This event will take place at 6 p.m., June 15 in the Elizabeth Rockwell Pavilion (second floor of the University's M.D. Anderson Library). Attendees can RSVP online.
The film's producer Rasool Berry, a teaching pastor at The Bridge Church in Brooklyn, New York, will be on hand to answer questions and moderate a conversation on the film. A panel of experts will also discuss the film and Juneteenth. Panelists include Tara T. Green, chair of UH's African American Studies Department; Elwyn C. Lee, UH vice president for Neighborhood & Strategic Initiatives; Tremaine Gibson, vice president of operations, HCA Houston Healthcare Northwest; Tashauna McCray, chief nursing officer, HCA Houston Healthcare West; and Robert "RUEROB" Jackson, Third Ward Cultural Arts District Manager with Project Row Houses.
In the film, Berry focuses on the roots of Juneteenth by visiting nearby sites in Galveston and in the neighboring Third Ward. Emancipation Park, in particular, is showcased in the film. That location is a staple of Houston's history and has long hosted Houston Juneteenth events.
"Before it was a national holiday, Houston held Juneteenth events that brought families and communities together," said Tara Green, chair of the Department of African American Studies. "Emancipation Park was established for that purpose when formerly enslaved persons bought the land in 1872. Today, the community continues to reflect on the meaning of freedom and to share stories about the past with new generations of the community."
Green's department also is connected to other Juneteenth-related events. African American Studies lecturer Lindsay Gary is curating "The New Red Book Exhibit" at The Heritage Society at Sam Houston Park. This exhibition, focused on Houston's Black history, will officially kick off at 5 p.m., June 16. Curated by Gary, it is inspired by her book "The New Red Book: A Guide to 50 of Houston's Black Historical and Cultural Sites."
Other UH-related Juneteenth events include an exhibition in the Student Center South spotlighting Juneteenth's history and other notable Black history moments. This informational gallery with photos will be on view June 15 – 20 in the first-floor hallway leading to the Student Center Theater. Free commemorative T-shirts will be handed out starting at 11 a.m. on June 15 to kick off this exhibition.
Cougars can also capitalize on the many activities taking place near campus, including the annual Juneteenth Celebration on June 17 in Houston's historic Emancipation Park.
In 1980, Texas began recognizing Juneteenth as an official holiday. By 2021, June 19 became a federal holiday. Its popularity continues to grow as does its significance in the lives of so many Americans.
"When I think of what Juneteenth means to me, I reflect on Maya Angelou's poem 'Still I Rise," said Lateki Lewis, an academic adviser with UH's Exploratory Studies office based in the Undergraduate Student Success Center and member of the Black Leadership Network.
Lewis cites a specific verse within Angelou's popular poem summarizing her connection to Juneteenth.
"The last verse states 'Bringing the gift that my ancestors gave, I am the dream and hope of the slave,'" she said. "My paternal family is from Shepard, Texas and my mother's family resided in Huntsville, Texas. They struggled tremendously because of slavery, but we have preserved and become stronger as a result."
---