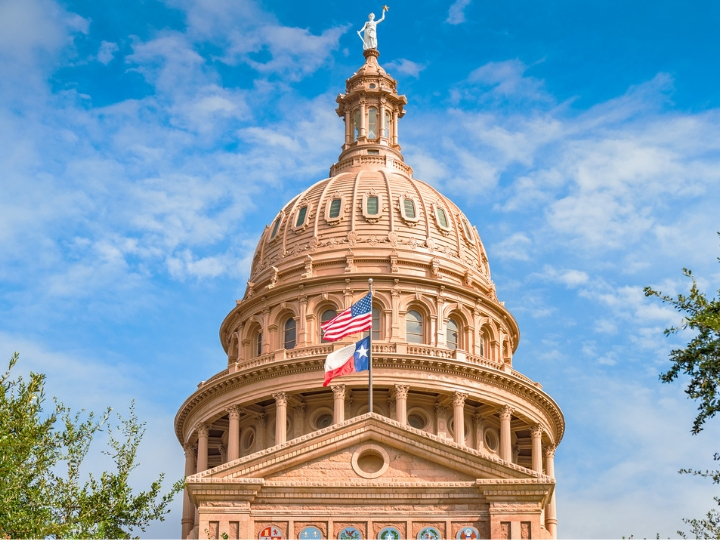 The Texas Legislature has approved strong support for continued growth and student success throughout the University of Houston System, including startup funds for the UH College of Medicine, funding for new facilities for the UH Law Center and Hobby School of Public Affairs, and increased funding for general operations and hurricane recovery at all four UH System universities. In addition, lawmakers authorized a dedicated student fee to pay for new wellness centers at University of Houston-Downtown and University of Houston-Victoria. Each initiative passed now awaits Gov. Greg Abbott's signature.
"I am extremely grateful for the support of Gov. Abbott, Lt. Gov. Patrick and Speaker Bonnen throughout this session and to all of our state lawmakers for making higher education such an important priority," said Renu Khator, chancellor of the University of Houston System. "Building great public institutions is truly a partnership with our elected leaders. Their support will help our system's 74,000 students succeed, which in turn creates a qualified workforce, healthy communities, and a prosperous Texas."
$20 Million to UH College of Medicine
Focused on training more primary care physicians to practice in underserved urban and rural communities, the medical school will receive $20 million in state funds next biennium to help with start-up costs. The University plans to ask the legislature for an additional $20 million over the next four sessions. Earlier this month, lawmakers passed a bill that recognizes the medical school in state statute. It hopes to admit its first class of students in Fall 2020, pending accreditation by the Liaison Committee on Medical Education.
"We are thrilled and thankful that our lawmakers recognize the need to build Houston's first medical school in nearly 50 years. The startup funding is another critical milestone necessary to help us achieve our mission of training more primary care physicians to address a significant statewide shortage," said Dr. Stephen Spann, founding dean of the UH College of Medicine.
Senators Joan Huffman and Borris Miles and Representatives John Zerwas, Chairman of the House Appropriations Committee, and Garnet Coleman were particularly instrumental in their support for the College of Medicine.
UHS General Revenue Increase
The legislature provided strong support for enrollment growth for public universities across Texas, including the UH System. The UH System will receive nearly $18 million in general revenue increases. Formula funding is state-financed enrollment-driven funding crucial to limiting students' financial burden. The formulas assess the cost of delivering a semester credit hour to a student. It accounts for about one-third of revenue of UH System universities.
$45 Million for New UH Law Center and Hobby School of Public Affairs Facilities
The state budget designates $45 million for new facilities for the UH Law Center and the UH Hobby School of Public Affairs. Established in 1947, the UH Law Center is home to three top 10 law programs, according to the latest U.S. News & World Report rankings. The new UH Law Center building, with its modern technology and flexible space, will enhance student learning and faculty teaching capabilities while mitigating problems associated with the previous flood-prone structure. The Hobby School, named in honor of former Lt. Gov. Bill Hobby, was originally founded as the Hobby Center for Public Affairs in 1981. The Texas Higher Education Coordinating Board granted its approval as a school in 2016.
"We are very thankful to our state leaders, particularly Representatives Zerwas, Coleman and Walle, and are also very grateful for the generosity of our alumni and friends. A world-class institution in a world-class city requires a world-class building. The current facilities have proven over and over again to be inadequate, holding us back in rankings and our ability to attract more of the brightest and best faculty, students and staff," said Leonard M. Baynes, Law Center dean.
Hurricane Harvey Recovery Aid
UH System universities will receive more than $26 million for Hurricane Harvey recovery not covered by insurance or the Federal Emergency Management Agency (FEMA). Sixty percent of the buildings throughout the UH System suffered damage. The funding will also help restore lost revenues sustained from students not returning, in addition to fees, services and wages incurred that were not reimbursable by insurance.
· University of Houston: $20.3 million
· University of Houston-Downtown: $4.0 million
· University of Houston-Victoria: $1.7 million
· University of Houston-Clear Lake $83,668
Campus Improvements at UHD, UHV
The legislature has authorized a dedicated student fee to pay for a new wellness and success center at UH-Downtown and a new recreation and wellness center at UH-Victoria. Students at each University have already voted to approve the fees for these projects. The amount of the fee charged may not exceed $150 per student for each regular semester. The facilities are expected to improve student recruitment and retention.
"We had critical needs throughout the UH System coming into this legislative session and our elected leaders could not have been more supportive," said Jason Smith, UHS vice chancellor for governmental relations. "The state of Texas has innumerable competing interests that have to be juggled and, from the outset, from Gov. Abbott on down, our leaders made it known that higher education was a priority. The support provided this session will strengthen each of our universities, the communities around us, and the state."
---