The University of Houston's Brown Foundation professor of Hispanic Studies, Nicolás Kanellos, will receive one of the Spanish government's highest distinctions. With the Royal Sanction of Spain's King Felipe VI, Kanellos will receive the "Cruz de la Orden de Isabel la Católica" in a private ceremony at the Houston residence of the Consul General of Spain.
"With the distinction conferred to Dr. Kanellos, Spain wishes to recognize his contribution to the knowledge and dissemination of the Spanish language and Hispanic culture in the United States," said Consul General Enric Panés Calpe.
The Order of Isabella "Cruz de Oficial" is one of the highest ranks within the Order created in 1815 by King Fernando VII in honor of Queen Isabella I of Castile.
The medal is decorated with a red enameled cross and a golden frame. At the center of the medallion is the inscription "A La Lealtad Acrisolada" (To Proven Loyalty) and "Por Isabel la Católica" (For Isabella the Catholic). While the honor rewards Spanish citizens for exceptional services and allegiance to Spain, many foreigners also receive the honor.
"Centuries of Hispanic history and its importance to the development of the United States have often been ignored or forgotten. Now more than ever, it is important to recognize our country's Hispanic heritage," Kanellos said. "This award is made possible because of the work of many, and I accept it on behalf of our entire community."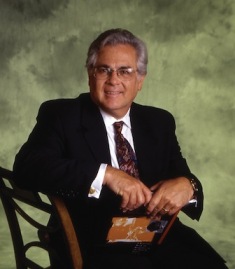 Kanellos directs Arte Público Press, the nation's largest and most established publisher of contemporary and recovered literature by U.S. Hispanic authors, and the Recovering the U.S. Hispanic Literary Heritage project, which reconstitutes the literary and historical legacy of Hispanics in the U.S. from colonial times to 1960. Kanellos has been recognized with numerous awards for his scholarly achievements, including the Denali Press Award of the American Library Association, the American Book Award in the Publisher/Editor category and the Hispanic Heritage Award for Literature presented by the White House. He also is an elected member of the Spanish American Royal Academy of Literature, Arts and Sciences in Spain.
Others who have received the distinction include Eva Duarte de Perón, the iconic former First Lady of Argentina; Carlos Fuentes, Mexican author; Ashok Seth, Indian cardiologist and Samuel Morse, American inventor and painter.
---