The University of Houston campus has long been regarded as a green jewel in the heart of the city. With its lush green spaces and public art collection, Cougar Country offers the campus community and visitors a unique oasis for learning and socializing. Among the most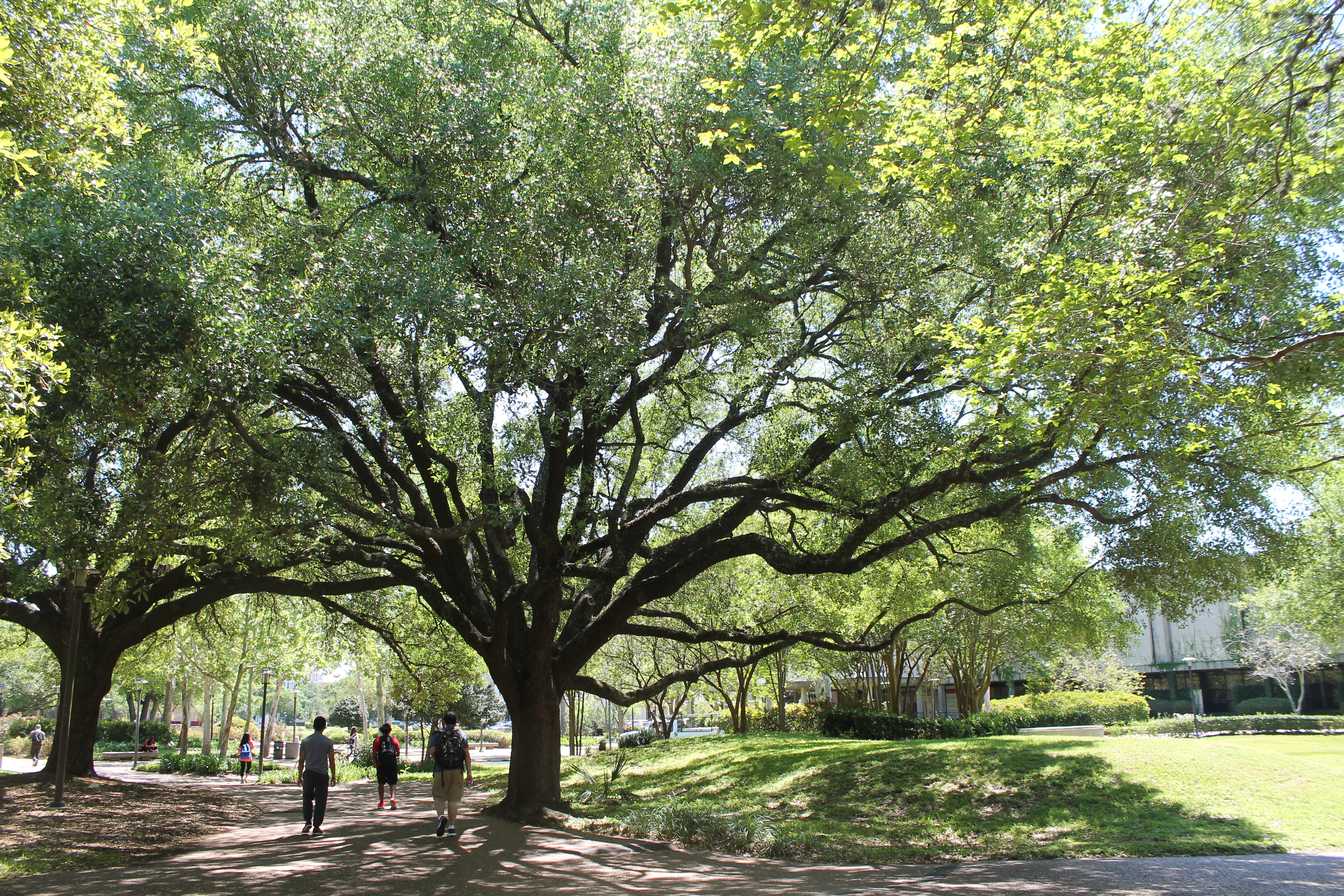 defining elements of UH's landscape are the many trees that occupy its landscape.
Recently, UH earned a Tree Campus USA certification from the National Arbor Day Foundation for its commitment to sustaining healthy trees and engaging the campus community in conservation efforts.
The University has approximately 5,000 trees of varying types. These include a 40-foot tall southern magnolia that sits between the M.D. Anderson Library and Student Center and an equally robust honey mesquite behind the Campus Recreation and Wellness Center. Both are listed on the Harris County Tree Registry. The honey mesquite is ranked as the largest of its kind in the county.
UH is among the universities across the nation that earned Tree Campus USA honors for meeting the five standards set by the National Arbor Day Foundation:
Hosting a tree advisory committee
Implementing a campus tree care plan to preserve and protect trees
Focusing a portion of its budget on a campus tree program
Observing Arbor Day on campus
Engaging the campus community through a service learning program
All of these initiatives have been essential in keeping UH's trees strong and intact. In 2008, Hurricane Ike destroyed many campus trees – including several 100-year old oaks. UH's trees suffered another blow during the intense drought of 2011. In spite of such challenges, UH's efforts will help grow new trees and maintain existing ones for future generations of Cougars, said Sarah Kelly, UH sustainability manager.
 "In just a short walk through any area of campus, you can easily find as many as 30 species of trees," Kelly said. "Being recognized as a Tree Campus USA shows that we care about our trees, the environment and the beauty of our campus."
In addition to contributing to the visual aesthetics of the campus, trees have other advantages, she said. They contribute to cleaning the air and sequestering carbon, and offer the University many cost-saving benefits.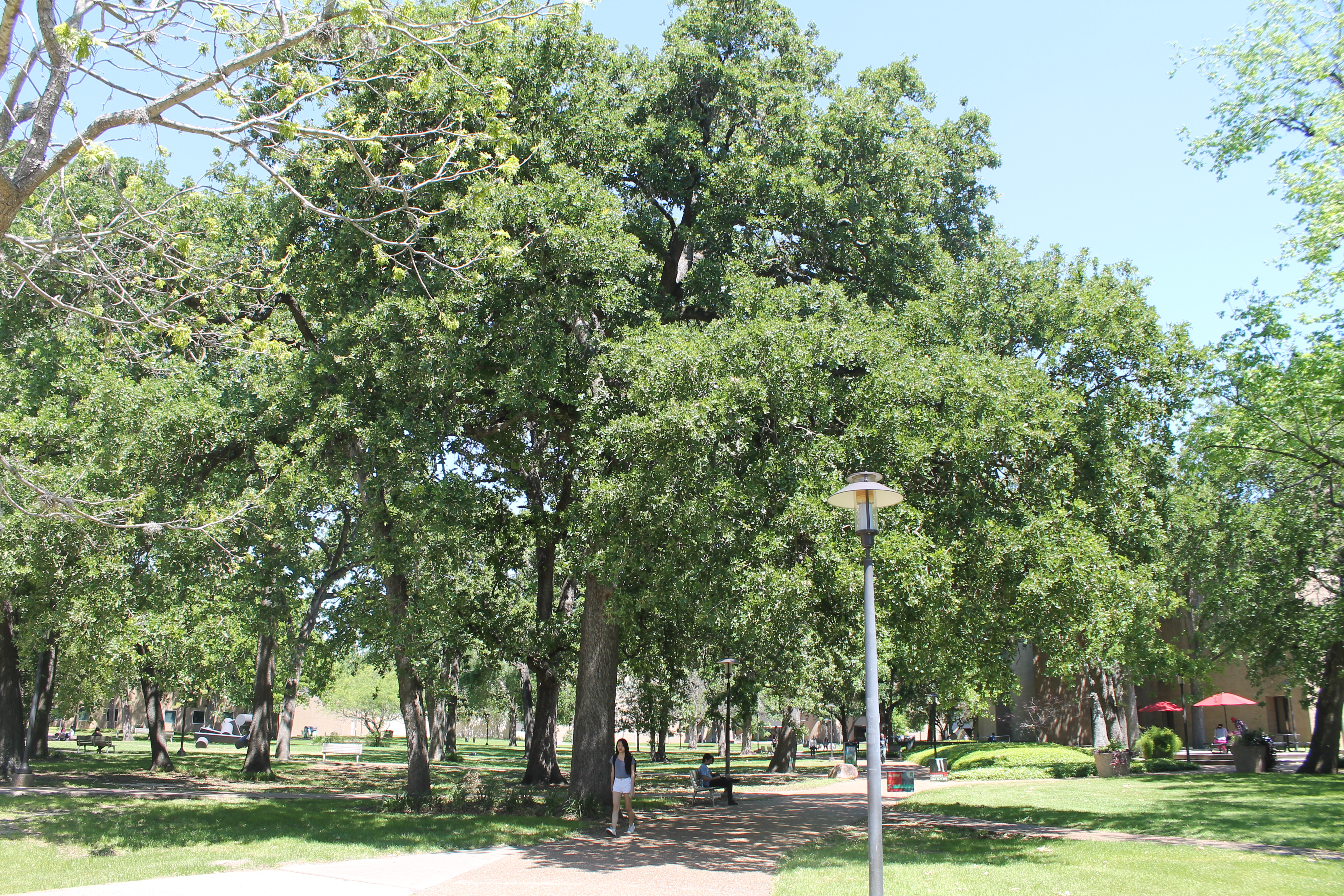 "Having trees throughout campus helps reduce the energy load of our buildings," Kelly said. "In many areas of campus, the shade provided by these trees helps cool UH's buildings."
Thanks to the Office of Sustainability, UH's Campus Tree Committee and other partners, the campus community has become more engaged with tree care and preservation. During Texas Arbor Day in November 2015, UH hosted Rock the Campus. During this event, volunteers participated in a campus cleanup, tree planting, mulching and work in the Campus Community Garden. Earlier in 2015, the Office of Sustainability hosted a tree scavenger hunt during National Arbor Day to promote awareness of the types of trees on campus.
UH's designation as a Tree Campus USA complements other recent accolades related to sustainability. Earlier this year, UH earned a Gold rating in its Sustainability Tracking, Assessment and Rating System (STARS) report. UH is the only institution in Texas to achieve Gold STARS status from the Association for the Advancement of Sustainability in Higher Education. UH also was named among the 35 Great Value Colleges with Beautiful Campuses for its lush greenery and other attributes.
"Students are eager to volunteer in their communities and become better stewards of the environment," said Matt Harris, chief executive of the Arbor Day Foundation. "Participating in Tree Campus USA sets a fine example for other colleges and universities, while helping to create a healthier planet for us all."
The Arbor Day Foundation has helped campuses throughout the country plant thousands of trees, and Tree Campus USA colleges and universities invested more than $36.8 million in campus forest management last year. More information about the program is available at arborday.org/TreeCampusUSA.
---