The C. T. Bauer College of Business at the University of Houston announced today a ranking for its entrepreneurship program indicative of the college's role in growing businesses and creating jobs in Houston.
Bauer College's Cyvia and Melvyn Wolff Center for Entrepreneurship is ranked No. 2 on The Princeton Review's 2013 list of leading undergraduate entrepreneurship programs in the U.S. for Entrepreneur magazine. This marks the seventh consecutive year that Bauer has been included on the top of the list.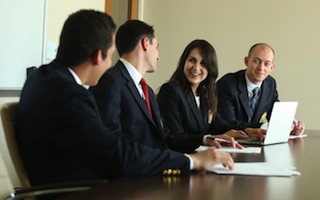 "The Bauer College is proud to be Houston's business resource, and this ranking positions not only the college but the city as a leader in entrepreneurship nationally," Bauer College Dean Latha Ramchand said. "Houston is a city that celebrates and rewards initiative. Here, if you want to achieve something, you are given the resources to do so."
Ramchand added, "The 'can-do' mentality that we see here at the Bauer College is part of the fabric of Houston, a city built on the spirit of entrepreneurship. If the nation's fourth largest city can be built on the banks of a bayou, I think that shows the kind of entrepreneurial mindset that is part of Houston's culture, and in turn, the culture here at Bauer."
The program again lands a top spot on the list of the Top 25 Undergraduate Schools for Entrepreneurs, released by The Princeton Review and Entrepreneur on Sept. 19. The program was ranked No. 1 in 2008, 2010 and 2011, No. 2 in 2007 and 2009, and No. 3 in 2012.
"The center's continuing recognition, year after year, is a clear indication of its fundamental excellence," said UH President Renu Khator. "This is certainly not surprising, and it's perfectly appropriate since Houston itself is such an entrepreneurial city. Our students are acquiring the practical skills and academic background that prepare them to succeed in a highly competitive arena — and play a vital role in maintaining Houston's robust economy."
Ranking first and third on the list are Babson College and University of Southern California, respectively. Bauer College's entrepreneurship program tops Syracuse University, Baylor University, The University of Oklahoma and others that round out the Top 25 list.
"We are proud of the students, faculty and staff of the Wolff Center for Entrepreneurship at the Bauer College," Ramchand said. "This is quite an achievement — The Princeton Review is one of the country's premier ranking surveys for colleges, and Entrepreneur is the top business title in the U.S."In the last year, Bauer College has extended its entrepreneurial reach across the University of Houston campus and the city of Houston with additional course offerings and events designed to promote entrepreneurship and innovation.
In the last year, Bauer College has extended its entrepreneurial reach across the University of Houston campus and the city of Houston with additional course offerings and events designed to promote entrepreneurship and innovation.
"Through both curricular and extracurricular activities, for both graduates and undergraduates, we are allowing students to experience what it truly means to be an entrepreneur," Ramchand said. "We are connecting students across campus, while connecting the university to the business community."
In addition to offering competitive enrollment for undergraduates in the Wolff Center for Entrepreneurship to earn bachelor of business administration degrees, Bauer also offers experiential education in entrepreneurship for all University of Houston students.
Launched this year, RED Labs is housed in Bauer College and serves as the university's technology startup accelerator, giving accepted students access to resources typically unavailable to fledgling companies. During the three-month program, students connect to mentors and learn best practices for legal issues, fundraising, user experience and business models as they grow their companies.
In addition to academic programs, Bauer serves as the hub for entrepreneurial activity on campus and in the city through events designed to promote innovation. Each fall, Cougar Pitch challenges students, faculty, staff and alumni to present business ideas in two-minute pitches to judges. The best ideas advance to the finals, with the winners in each category taking home a cash prize to invest in their ventures.
Another competition, 3 Day Startup, requires students from different disciplines to form teams as they spend the weekend on campus and create plans for technology companies. On the final day of competition, teams sell their ideas to judges, who give feedback on the viability of their plans.
"We are spreading our nets wide with several different offerings, all meant to create, nurture and foster the spirit of entrepreneurship," Ramchand said.
The ranking for the city's business school is the latest of a string of national recognitions of the strength of the Houston job market and economy, including top spots on lists from Forbes, Entrepreneur and U.S. News & World Report.  And, in the 2012 installment of its annual report, The Kauffman Foundation ranks Houston among the fifteen leading cities in the U.S. in terms of entrepreneurial activity.
Bauer College bolsters job creation and entrepreneurship in Houston, with the Wolff Center for Entrepreneurship serving as the college's foundation for academic programming and events surrounding entrepreneurship. Created in 1993, the program began offering Bauer students entrepreneurship as a major in 1995 after approval from the Commission for Higher Education. Since then, the program has flourished and developed courses for entrepreneurship majors as well as business minors and students from all disciplines at the University of Houston, now attracting more than 1,900 students a year.
Faculty teaching in the entrepreneurship program at Bauer have a combined 280 years of experience in business and are themselves experienced entrepreneurs who have landed, bought and successfully run their own ventures. About 52 percent of undergraduate students at Bauer participate in the program, along with students from other majors across the university.
The program has also gained respect from members of the Houston community, who mentor students in the program. Longstanding and highly respected Houstonians Cyvia and Melvyn Wolff became the namesakes of the program in 2008. Wolff is a 1953 graduate of Bauer College, a member of the Dean's Executive Board and chairman of the board for Star Furniture, a Berkshire-Hathaway company.
Students from the program have gone on to start successful companies in a range of industries, including nonprofits, technology, food service and retail.
"The recognition from The Princeton Review and Entrepreneur validates what we do in our program, as do the success stories of Wolff Center graduates, who have transformed their passions into viable startups, not only employing themselves but countless others," Ramchand said.
Bauer College offers its entrepreneurship students a complete and comprehensive program that includes a six-course lockstep program as well as several enrichment activities to supplement the academic instruction. Each year, between 30 and 35 students are selected through a rigorous application process to take the Wolff Center's major program in entrepreneurship.
In addition, the WCE certification program in corporate entrepreneurship is the foundation of the college's global business minor for non-business students. Nearly 1,000 non-business students take WCE courses each year and have an opportunity to see how entrepreneurial thinking can be applied to their interests in engineering, science, social science or the arts.
Each year, an average of 65 percent of WCE students started a business while in school or shortly after graduating. Others go on to join existing ventures and to apply the entrepreneurial lessons learned at UH Bauer to innovate and expand those businesses. WCE students have also won numerous awards in national business plan competitions — even outperforming MBA teams from other schools including Carnegie Mellon. Students in Bauer's executive MBA program have also had the opportunity to take elective courses in entrepreneurship and corporate entrepreneurship.
The Princeton Review determined the rankings of both graduate and undergraduate programs by evaluating key criteria in the areas of academics and requirements, students and faculty, and outside-the-classroom support and experiences from more than 2,000 programs that were surveyed.
For more information and a complete listing of the schools included on the list, go to www.entrepreneur.com/topcolleges.  Full details also appear in the October issue of Entrepreneur available to subscribers today.
---