Good preparation of your holiday food will ensure a happy holiday. These tips are offered by Jay Neal, assistant professor of food science. 
FRESH VS. FROZEN: 
•    The main difference is when you buy the bird. If you're buying fresh, make the purchase one or two days before you plan to cook it. If frozen, keep frozen until you are ready to thaw it.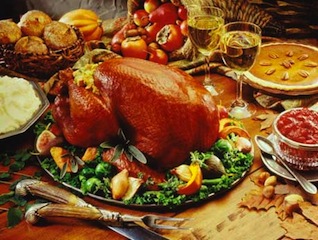 •    There are three ways to defrost a turkey: in the refrigerator, in cold water or the microwave (if it will fit). If defrosting in the fridge, allow 24 hours for every four to five pounds (four- to 12-pound bird—allow one to three days, 12 to16 pounds—three to four days, 16 to 20 pounds—four to five days, 20 to 24 pounds takes five to six days).
•    If you are defrosting in cold water, plan for two to six hours for a four- to 12 pound turkey, 12 to 16-pound turkey takes about six to eight hours, 16 to 20-pound turkey takes about eight to 10 hours, so plan ahead.
PREPARATION:
•    Wash your hands before cooking, but don't wash the turkey as juices can splatter over many surfaces
•    Drain the turkey bag over a trash can
•    Remove liver, neck and gizzards. Pat dry (don't rinse) and prepare as usual
•    Dressing is safer because it is cooked outside the bird
•    Don't let food sit out for more than four hours (two if there are elderly people)
•    Reheat all leftovers to 165°F
PROPER TEMPERATURE: Use a thermometer for everything! You should get a reading of 165°F for 15 seconds  for turkey. Place the thermometer in the breast and the thighs. If you are stuffing the bird, both the turkey and dressing must reach 165°F. The conventional pop-up thermometers are reasonably reliable.
SAFETY TIPS FOR FRYING THE TURKEY:
Be very sure the turkey is thoroughly defrosted and dry (if it's too wet, the frying will cause more pops and splashes when submerging it). Heat the oil, but do not fill the stock pot fully.  Remember the oil will rise when you place the turkey in it, creating a possible fire hazard. Be careful raising the bird out of the oil. Use a thermometer to check for a reading of 165°F.  Don't forget to give yourself plenty of room. Keep the fire extinguisher handy as water won't put out a grease fire.
SANITIZING YOUR KITCHEN AFTER A TURKEY-COOKING MARATHON: Wash everything that may come in contact with raw turkey juices (treat it like chicken). Most sprays are relatively effective, but it is better to spray the counters thoroughly, wipe with a towel, then let the sanitizer air dry.
For more information about the UH Conrad N. Hilton College of Hotel and Restaurant Management, visit
http://www.hrm.uh.edu/.
---