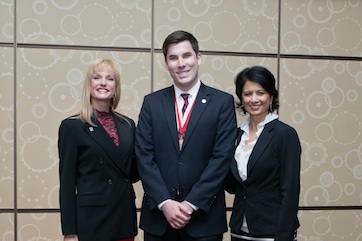 A new voice for University of Houston System (UHS) students will be heard during the next academic year.
During its June 17 special meeting, the UHS Board of Regents welcomed the newest student regent, Benjamin P. Wells. Wells, a UH Law Center student, was appointed by Texas Gov. Rick Perry to serve a one-year term. During the meeting, he was sworn in by board chair Nelda Luce Blair and presented with an official Regents medallion and pin. He replaces previous student regent Gage A. Raba, whose term expired in May.
"As a native Houstonian, I've seen the growth of both UH and the system universities," Wells said. "It's amazing to see this Tier One research powerhouse and the other system campuses that serve the diverse communities of Houston. Houston has been called the 'city of the future,' and I think that the system institutions are the 'universities of the future.' I am truly honored to be here and look forward to representing all of the UHS students."
At the UH Law Center, Wells is pursuing a juris doctor degree. Outside of his busy class schedule, he is active in several student organizations and activities. He competes in the UH Law Center Moot Court Team and is a member of the Student Bar Association and Intellectual Property Student Organization. Wells is an online editor for the Houston Journal of International Law. He has served as a judicial intern for the Honorable Eva Guzman of the Supreme Court of Texas and a law clerk for the Texas Attorney General's Antitrust Section. He received his Bachelor of Science in anthropology from Southern Methodist University.
In 2005, Texas Gov. Rick Perry signed legislation directing each public university's board of regents to include one non-voting student member. In 2007, the governor signed legislation creating a student representative position on the Coordinating Board.
For more details on the UH System and the UH System Board of Regents, visit http://www.uhsa.uh.edu/.
###
ABOUT THE UNIVERSITY OF HOUSTON SYSTEM
The University of Houston System is a comprehensive system of higher education institutions serving to further the intellectual capital and economic strength of the Gulf Coast region. The UH System includes the University of Houston, a nationally recognized Tier One public research university; the University of Houston-Downtown, a four-year undergraduate university expanding into graduate programs; the University of Houston-Victoria, a four-year university with undergraduate and master's level degree programs; and the University of Houston- Clear Lake, an upper-division and master's level institution. The system also includes three branch campuses, UH-Clear Lake Pearland, UH System - Northwest and UH Sugar Land, as well as a multi-institution teaching center, UH System Cinco Ranch. In addition, the System owns and operates Houston Public Media (HPM). HPM comprises KUHF-FM, Houston's National Public Radio station; KUHA-FM, Houston's 24-hour classical music station; and KUHT-TV, the nation's first educational television station. To learn more about the UH System, visit http://www.uhsa.uh.edu/.
---