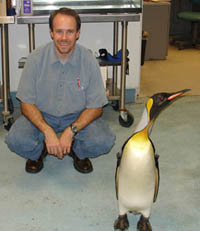 Max Kurz, assistant professor in the UH Department of Health and Human Performance, poses with one of the stars of his research program--a King penguin from Moody Gardens in Galveston. Kurz is researching the locomotion of penguins.
QuickTime Video

Run time: :15 seconds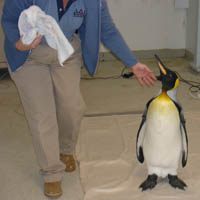 A King penguin looks to Moody Gardens Assistant Curator Diane Olsen for directions as it participates in a University of Houston Health and Human Performance research project on locomotion. The project is in collaboration with Moody Gardens.

If you're not set up for streaming video audio, It's as simple as downloading



a free tool that allows you to view and listen to all kinds multimedia content over the Internet.
Instructions Adobe Acrobat (PDF File) for QuickTime set up.
Download Adobe Acrobat Reader.