Robert Johnson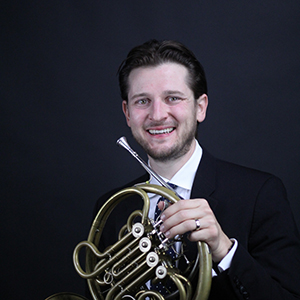 Affiliate Artist
e-mail: robertejohnson@mac.com 
office phone: (713) 446-8365
address: 120 School of Music Bldg, Houston, TX 77204-4017
Robert Johnson enjoys a growing career as an orchestral and chamber musician, soloist, and teacher of horn. Before joining the Houston Symphony in 2012 as Associate Principal Horn, Mr. Johnson was Assistant Principal/Utility Horn of the Cincinnati Symphony and Pops Orchestras, Principal Horn of both the Dayton Philharmonic and Richmond Symphony, and Fourth Horn of the Honolulu Symphony. He has also performed with the Houston Grand Opera, IRIS Orchestra, Rochester Philharmonic, Saint Louis Symphony, San Antonio Symphony, and as a Guest Principal Horn with the Los Angeles Philharmonic at Disney Hall, The Philadelphia Orchestra on SiriusXM's Symphony Hall, and the Saint Paul Chamber Orchestra. Mr. Johnson has performed as a Concerto Soloist with the Dayton Philharmonic, Kinetic New Music Ensemble, Houston Symphony, New World Symphony, Texas Music Festival, at Chicago's Midwest Band and Orchestra Clinic, and nationwide as a recitalist and chamber musician. In the summers, Mr. Johnson has performed with the AIMS, Aspen, Cascade, Colorado, Strings, and Tanglewood Music Festivals, as well as the Perlman Music Program and Sun Valley Summer Symphony. He can be heard performing on numerous recordings, commercials, and soundtracks made with the Cincinnati Symphony and Pops Orchestras, Dayton Philharmonic, Nashville String Machine Studio Orchestra, the Rice Horn Crew, and the Houston Symphony. During the 2017-2018 season, Mr. Johnson performs chamber music and as soloist in Benjamin Britten's Serenade for Horn, Tenor, and Strings, Brass Trio Faculty Recitals both at the University of Houston and the James Turrell Live Oak Skyspace, Beethoven's Septet with the Greenbriar Consortium, and Strauss' Don Quixote for Sextet at the Texas Music Festival.
In the Fall of 2013, Mr. Johnson joined the faculty of the Moores School of Music as an Affiliate Artist at the University of Houston, thus fulfilling a long-held dream of expanding his teaching to the collegiate level. Also a faculty member at the Texas Music Festival, he is in demand to lead masterclasses and lectures nationwide, most recently at the Colburn School in Los Angeles and in South America for the Filarmónica Joven in both Paipa and Medellín, Colombia. Mr. Johnson's previous students have enjoyed regular acceptance and appointment to a multitude of prestigious universities, conservatories, awards, summer music festivals, and professional ensembles. Acceptances include the Banff Centre for the Arts, Boston University's Tanglewood Institute, Carnegie Hall's National Youth Orchestra of the United States, Juilliard's Kovner Fellowship Grant, Interlochen Arts Camp and Academy, prize winner in the Siegfried's Call Engelbert Schmidt Horn Competition, Yamaha's Young Performing Artist Program, as well as the Brevard, Domaine Forget, Eastern, Hot Springs, Lucerne, Music in the Mountains, Pacific, Sarasota, and Texas Music Festivals. Collegiate acceptances include Boston, Carnegie Mellon, DePaul, Indiana, Northwestern, Rice, and Roosevelt Universities, the Colburn, New England, Oberlin, and San Francisco Conservatories, as well as the University of Cincinnati-College Conservatory of Music, Eastman, and Manhattan School of Music, Peabody Institute, and The Juilliard School. His students have won auditions, held positions and regularly counted performances with a number of professional ensembles, including the Baton Rouge Symphony, Boise Philharmonic, City Music Cleveland, Hawaii Symphony, Houston Ballet Orchestra, Houston Grand Opera, Houston Symphony, Israel Chamber Orchestra, Louisiana Philharmonic Orchestra, Mobile Symphony, North Carolina Symphony, Orquesta Filarmónica de Boca del Río, and the San Antonio Symphony, among others. 
A graduate of Rice University's Shepherd School of Music, he studied with William VerMeulen and received further training as a fellow with the New World Symphony. Mr. Johnson is a lifetime member of the International Horn Society and has authored and photographed for The Horn Call magazine. An outspoken advocate for men's infertility, he has been the subject of and contributed to articles in Psychology Today and the New York Times. He is married to flutist and teacher Ariella Perlman, with whom he joyfully chases their twin toddler boys, Ezra and Reuben, all while changing new baby Avner's diapers.