2018 International Piano Festival

AS OF 1/31/18: ABBEY SIMON'S PERFORMANCE ON FEBRUARY 1 HAS BEEN CANCELLED DUE TO ILLNESS. ALL OTHER INTERNATIONAL PIANO FESTIVAL EVENTS WILL CONTINUE AS SCHEDULED.
The University of Houston's Moores School of Music presents the 35th International Piano Festival, a thrilling series of recitals and master classes featuring the greatest performers in the world. Distinguished nonagenarian and festival founder, Abbey Simon, opens a weekend that also features recent Moores School graduate and silver medal winner of the recent Cliburn Competition, Kenny Broberg, Italian pianist Alessio Bax, and Discovery Artist Nadejda Vlaeva.
February 1-4, 2018

Artists
Alessio Bax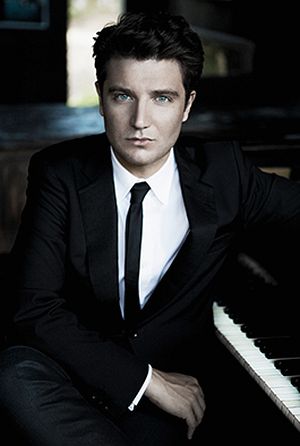 "…Alessio Bax is clearly among the most remarkable young pianists now before the public."  - Gramophone "Editor's Choice"

Combining exceptional lyricism and insight with consummate technique, Alessio Bax is without a doubt "among the most remarkable young pianists now before the public" (Gramophone). He catapulted to prominence with First Prize wins at both the Leeds and Hamamatsu International Piano Competitions, and is now a familiar face on four continents, not only as a recitalist and chamber musician, but as a concerto soloist who has appeared with more than 100 orchestras, including the London and Royal Philharmonic Orchestras, Dallas and Cincinnati Symphonies, NHK Symphony in Japan, St. Petersburg Philharmonic with Yuri Temirkanov, and the City of Birmingham Symphony with Sir Simon Rattle.
After inaugurating a new three-year appointment as Artistic Director of Tuscany's Incontri in Terra di Siena festival in summer 2017, Bax launches Chamber Music Society of Lincoln Center's 2017-18 season in company with his wife and fellow pianist, Lucille Chung. Further highlights of his full season include a pair of high-profile U.S. duo recital tours with violinist Joshua Bell and flutist Emmanuel Pahud, respectively; UK solo recitals at London's Wigmore Hall and the Leeds Piano Festival; collaborations with U.S. orchestras from the Minnesota Orchestra to the North Carolina Philharmonic, on concertos by Gershwin, Grieg, Rachmaninov, Saint-Saëns, and Schumann; return engagements in Yerevan with the Armenian Philharmonic and in Hong Kong; and Signum Classics' release of his recording of Beethoven's "Emperor" concerto with the Southbank Sinfonia, paired with rarely heard solo works by the master composer.
The 2016-17 season saw Bax return to the Vancouver Symphony for MacDowell's Second Piano Concerto with Bramwell Tovey, and step in at the eleventh hour to play Brahms's Second Piano Concerto with the Cincinnati Symphony under Sir Andrew Davis, in what proved "the most exciting debut in recent memory" (Cincinnati Enquirer). He also gave three performances at the Wigmore Hall, including his solo recital debut, which aired live on BBC Radio 3, and a duo recital with his regular collaborator, Berlin Philharmonic concertmaster Dashin Kashimoto, by way of a coda to their extensive Asian tour. Other highlights of recent seasons include Mozart with the Los Angeles Chamber Orchestra under Hans Graf; Rachmaninov with London's Southbank Sinfonia led by Vladimir Ashkenazy; his Minnesota Orchestra debut under Andrew Litton; a return to the Dallas Symphony for Barber under Jaap van Zweden; season-opening appearances with the Colorado Symphony; and concerts at L.A.'s Disney Hall, Washington's Kennedy Center, and New York's Carnegie Hall. In 2009, the pianist was awarded an Avery Fisher Career Grant, and four years later he received both the Andrew Wolf Chamber Music Award and Lincoln Center's Martin E. Segal Award, which recognizes young artists of exceptional accomplishment.
Bax is a staple on the international summer festival circuit, and has performed at the Verbier Festival in Switzerland; England's International Piano Series and Aldeburgh and Bath festivals; the Risør Festival in Norway; and the Moritzburg Festival, Ruhr Klavier-Festival, and Beethovenfest Bonn in Germany. In the U.S., he makes regular appearances at New York's Bard Music Festival, the Great Lakes Chamber Music Festival, the Bravo! Vail festival, Mimir Chamber Music Festival, Minnesota's Beethoven Festival, Seattle Chamber Music Festival, Music@Menlo, Santa Fe Chamber Music Festival, Bridgehampton Chamber Music Festival, and Kentucky's Chamber Music Festival of Lexington. He has given recitals at New York's Lincoln Center and other major music halls around the world, including those of Rome, Milan, Bilbao, Madrid, Paris, London, Tel Aviv, Tokyo, Seoul, Hong Kong, Buenos Aires, Mexico City, and Washington, DC. As a chamber musician, Bax has collaborated with Emanuel Ax, Sol Gabetta, Steven Isserlis, Nicholas Phan, Paul Watkins, Jörg Widmann, and the Emerson String Quartet, among many others.
Bax's celebrated discography for Signum Classics includes Beethoven's "Hammerklavier" and "Moonlight" Sonatas (a Gramophone "Editor's Choice"); Bax & Chung, a duo disc with Lucille Chung that includes Stravinsky's original four-hand version of the ballet Pétrouchka as well as music by Brahms and Piazzolla; Alessio Bax plays Mozart, comprising Piano Concertos K. 491 and K. 595 with London's Southbank Sinfonia and Simon Over; Alessio Bax: Scriabin & Mussorgsky (named "Recording of the Month … and quite possibly my recording of the year" by MusicWeb International); Alessio Bax plays Brahms (a Gramophone "Critics' Choice"); Bach Transcribed; and Rachmaninov: Preludes & Melodies (an American Record Guide "Critics' Choice 2011"). Recorded for Warner Classics, his Baroque Reflections album was also a Gramophone "Editor's Choice."He performed Beethoven's "Hammerklavier" Sonata for maestro Daniel Barenboim in the PBS-TV documentary Barenboim on Beethoven: Masterclass, available as a DVD boxed set on the EMI label.
Alessio Bax graduated with top honors at the record age of 14 from the conservatory of Bari, his hometown in Italy, where his teacher was Angela Montemurro. He studied in France with Francois-Joël Thiollier and attended the Chigiana Academy in Siena under Joaquín Achúcarro. In 1994 he moved to Dallas to continue his studies with Achúcarro at SMU's Meadows School of the Arts, where, with Lucille Chung, he is now the Johnson-Prothro Artist-in-Residence. He also serves with Chung as co-artistic director of Dallas' Joaquín Achúcarro Foundation, created to cultivate the legacy of the Basque pianist and to support young pianists' careers. A Steinway artist, Bax resides in New York City with Chung and their three-year-old daughter, Mila. Outside the concert hall he is known for his longtime obsession with fine food; as a 2013 New York Times profile noted, he is not only notorious for hosting "epic" multi-course dinner parties, but often spends his intermissions dreaming of meals to come.
Photo credit: Lisa-Marie Mazzucco

Kenny Broberg
"He drew the audience in and didn't let go until the last quiet note. Liszt wrote symphonies for the piano; Broberg's interpretation was symphonic in tone, color and sound. What a way to conclude not only his recital, but the entire solo part of the competition...the audience cheered him on stage four times!" — Culture Spot LA
A native of Minneapolis, 23-year-old pianist Kenny Broberg won the silver medal at the Fifteenth Van Cliburn International Piano Competition for performances that showed "an imaginative shaping of themes, revelation of inner voices, and an unfailing sense of momentum" (Texas Classical Review).
His 2017–2018 debut season as Cliburn medalist will include a recital tour in Hawaii, a return to his alma mater, the University of Houston, for its annual International Piano Festival, and orchestra and recital engagements in Denver, New Orleans, West Palm Beach, and other cities across the United States. In Europe, Mr. Broberg appears with the Rye Arts Festival and Hastings Philharmonic in the United Kingdom, and in recital in Italy. His debut solo album will be released by Decca Gold in August, as part of his Competition prizes.
Also a prize winner of the Hastings, Sydney, Seattle, and New Orleans International Piano Competitions, Mr. Broberg has previously performed as soloist with the Royal Philharmonic, Minnesota, Sydney Symphony, Seattle Symphony, Dallas Chamber, Fort Worth Symphony, and the Louisiana Philharmonic Orchestras, among others, working with conductors Ludovic Morlot, Carlos Miguel Prieto, Leonard Slatkin, Nichola Milton, and Nicholas McGegan. His solo, chamber, and concerto performances have been broadcast on NPR and ABC (Australia) radio, and several of his performances at the 2016 Sydney International Piano Competition were included on CDs released on the Universal Music Australia label.
The first musician in his family, Mr. Broberg started piano lessons at age 6, when he was first fascinated by his mother's upright—a wedding gift from her parents. He studied for nine years with Dr. Joseph Zins before entering the University of Houston's Moores School of Music, where he earned a Bachelor of Music degree with Nancy Weems in 2016. He currently resides in Parkville, Missouri, under the guidance of 2001 Cliburn Gold Medalist Stanislav Ioudenitch at Park University.
A hockey and baseball athlete in high school, he still enjoys watching and playing sports, in addition to listening to jazz and reading.
Abbey Simon

Abbey Simon has been hailed as a super-virtuoso whose appearances in the concert halls of the world are eagerly anticipated not only by music lovers, but also by professional musicians who come to hear him spin his own particular magic. He is recognized as one of the grand masters of the piano.
Boston Globe critic Richard Dyer wrote, "Simon's recital offered more than a glimpse into the fabled golden age of piano playing…His virtuosity is marked not only by speed, power, lightness and accuracy but also by intricate interplay of voices and lambent colors." And critic Scott MacClelland reported from the West coast "when they've written the final chapter on great pianists of the 20th century, the name Abbey Simon will be included. Indeed, that name might well mark the first chapter on 21st-Century pianists as well."
Through the years, critics have hailed Simon's mastery and noted that his playing has its roots in the great pianists of the past. Improvising at the piano at the age of three, he had natural perfect pitch and began taking lessons at the age of five. After studying with David Saperton, the son-in-law of celebrated pianist Leopold Godowsky, Saperton took him to play for the great pianist Josef Hofmann. At the age of eight, Simon was accepted by Hofmann as a scholarship student at the Curtis Institute where he trained with fellow classmates Jorge Bolet and Sidney Foster, among others.
Upon graduation from Curtis, Simon went on to win numerous awards. He made his official debut in New York's Town Hall as winner of the prestigious Naumburg Award. Following this success he performed at Carnegie Hall a number of times before his debut tour to Europe. His success in Europe was so great that he did not return to the U.S. for some 12 years.
He has been the recipient of the Federation of Music Clubs Award, the National Orchestral Association Award, and a Ford Foundation Award. Following his debut in Europe, he received the Harriet Cohen Medal and the Elizabeth Sprague Coolidge Award.
Simon's recordings for Philips, EMI, HMV, and Vox make him one of the most recorded classical artists of all time. He has recorded all the concertos of Rachmaninoff, the complete works of Ravel, and Schumann's Carnaval and Fantasy. His Chopin collection encompasses some 20 disks.
Abbey Simon has served on the faculties of such noted schools as Indiana University and the Juilliard School. Simon currently holds a Cullen Distinguished Professorship at the University of Houston's Moores School of Music, where he has been a member of the faculty since 1977. Recently, Abbey Simon was presented in recital on the "Naumburg Looks Back" series in Carnegie's Weill Recital Hall.
Nadejda Vlaeva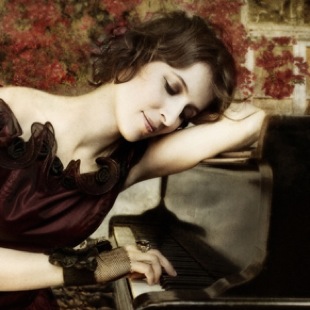 "…a sense of elegance, a subtle touch, and fleetness of fingers, all of which Ms. Vlaeva displayed with abandon. She has the fluidity and ease to conquer all the difficulties the composer presents." - ConcertoNet.com

Nadejda Vlaeva's playing has been acclaimed wherever she has appeared. Her overwhelming musicality, poetic nature, and electrifying virtuosity have garnered accolades from many world-famous musicians. Lazar Berman called her talent "God-given"; Maestro Hans Graf observed that "her musicality and the depth of her interpretation amazed me," and Arnold Steinhardt, leader of the Guarneri String Quartet, praised her as "one of those people of extraordinary ability whom we hope for but rarely see."
Ms. Vlaeva has given solo recitals and appeared with orchestras throughout Europe, Asia and North America. She has been invited to numerous music festivals, including the Bortkiewicz Festival and the Northern Musical Evenings festival in Ukraine, Husum Rarities of Piano Music Festival in Germany, the Chopin Festival in Kosovo, Evmelia festival in Greece and she has performed in many prestigious concert halls such as Carnegie's Zankel Hall, the Rose Hall at Lincoln Center, the Concertgebouw in The Netherlands, and the Oriental Arts Center in Shanghai. She has been a guest artist at several Universities where she has performed and given master-classes, and she has served on competition juries in Colorado, Hawaii, North Carolina, Winnipeg, Calgary and other North American cities. She recently performed Bortkiewicz's Piano Concerto No. 2 for the Left Hand in the Ukraine followed by a nine concert tour of China and Japan.
Nadejda Vlaeva is a Hyperion Recording Artist, and was the first pianist to record the complete Bach Transcriptions of Camille Saint-Saëns ["positively stunning," BBC Music Magazine Instrumental CD of the Month]. The CD's opening track inspired the award winning short animation movie "Ouverture" that premiered at the Lincoln Center Film Festival in New York. Vlaeva received the Grand Prix 'Liszt' du Disque for her "Piano Music of Liszt" CD. Her "A Treasury of Russian Romantic Piano" CD was described as "truly inspired," "exquisite," knockout performances," "extremely well-played," and "unfailingly sympathetic and musical" in Gramophone, Clavier, American Record Guide, International Record Review, and International Piano, respectively. Her latest CD, "Piano Music of Sergei Bortkiewicz" was a Musicweb Recording of the Year ("absolutely first class") and contained several premieres. In addition to her internationally released CDs, she recorded soundtrack music for the documentary film "In Search of Cezanne" produced by Academy Award winner Allan Miller.
Ms. Vlaeva has had the honor to premiere many important works and discoveries. The American composer Lowell Liebermann composed his Nocturne No. 9 for Ms. Vlaeva, which she premiered at the Husum Rarities of Piano Music festival. The following year, Mr. Liebermann composed his Variations on a Theme of Schubert for Ms. Vlaeva, which she premiered at Merkin Concert Hall in New York City. She has also given the North American premiere of the then recently discovered Piano Sonata No. 2 by the unduly neglected Ukrainian Romantic composer Sergei Bortkiewicz. When some additional works by Bortkiewicz were recently discovered, Ms. Vlaeva was asked to premiere those. She has also premiered several works by the 19th-century Russian composer Vladimir Drozdoff at the request of Drozdoff's granddaughter.
Vlaeva has been a frequent guest at "The EG Conference" where she has collaborated with BBC Planet Earth and with the violinist Joshua Bell. Ms. Vlaeva is a strong advocate of music from her own country and frequently performs works by Bulgarian composers. As part of a piano duo with the pianist Ivajla Kirova she recorded works by Vladigerov and Raichev/Krushev.
Nadejda Vlaeva was born in Sofia, Bulgaria. At age 15 she won First Prize at the Liszt competition in Lucca, Italy. Among other prizes and awards earned by Ms. Vlaeva are Third Prize at the International Liszt Competition in Budapest, and the Yamaha Award for the best interpretation of Brahms in Weimar. Ms. Vlaeva currently resides in New York City with her husband and daughter. She is the co-founder of the Pegasus Piano Series at Mana Contemporary.
Nadejda Vlaeva is a Yamaha Artist.
Photo credit: Lisa-Marie Mazzucco