Finding the ERP3 Training Rooms
Where is ERP3? | Where are rooms 241, 242?
---
Where is the UH Energy Research Park, and building number three?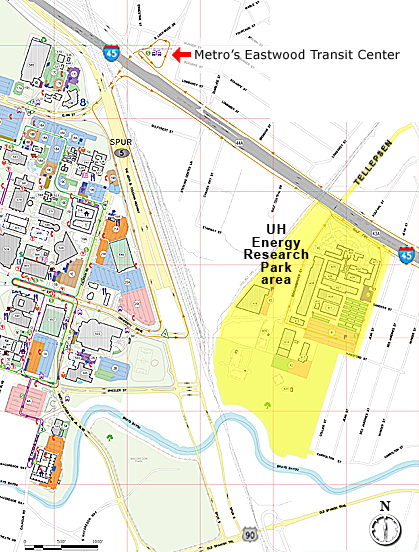 The UH Energy Research Park complex (ERP) is located a short driving distance off the central UH campus, with its main entrance and exit off I‑45 (near Telephone and Tellepsun).
UH Energy Research Park
5000 Gulf Freeway
Houston, Texas 77204
See UH Maps for additional location information. Please also be aware of some long-term on-going construction involving key highways around the UH campus area; see: 
Houston TransStar Traffic; Houston TranStar Construction
[search for: IH‑45 GULF].
The UH shuttle service runs between campus and ERP. Campus pickup/dropoff points are near either the Student Center South or PGH; ERP pickup/dropoff points are near ERP3, at various points along the student parking areas, and in front of ERP1; also see shuttle stops on map, following.
Both the Student Center and PGH routes stop at Metro's Eastwood Transit Center. For UH routes and real-time shuttle bus locations visit UH Cougartrax at http://cougarline.doublemap.com/map/.  Please Note: due to on-going area freeway construction, the shuttles may need to follow detour routes, which may change as construction progresses. Be sure to select the appropriate, current route when visiting the Cougartrax site. For general information about hours of operation and shuttle frequency please review the UH Parking and Transportation site's Cougar Line information.
UH-ERP Building Three
ERP3 (aka UH Bldg. 403) is the first building on your right as you enter the main drive off of I‑45 (UH Entrance 23).
UH Energy Research Park Building 3 parking options include those lots available behind Building 3 (UH tags required where appropriate): 
visitor parking: public, metered [$]
handicap-designated
- at front of the metered parking area, near bldg.3
- at corner of ungated parking, near bldg.9
faculty/staff ungated
economy
Also, while the parking areas in front of Building 1 may be available (via UH Entrance 22), please be aware that there is a security fence which may force individuals who park close to Building 1 to traverse through the complex (through Building 1).
---
Where are rooms 241 and 242?
The computer training rooms in ERP3 can be found near the red star on the following Bldg. 3 floorplan/map.
These rooms are on the second floor, mid-way down the long main hallway, past the vending machines and skywalk/hallway which leads over to Building 2. An elevator is available from inside ERP3's main, south entrance.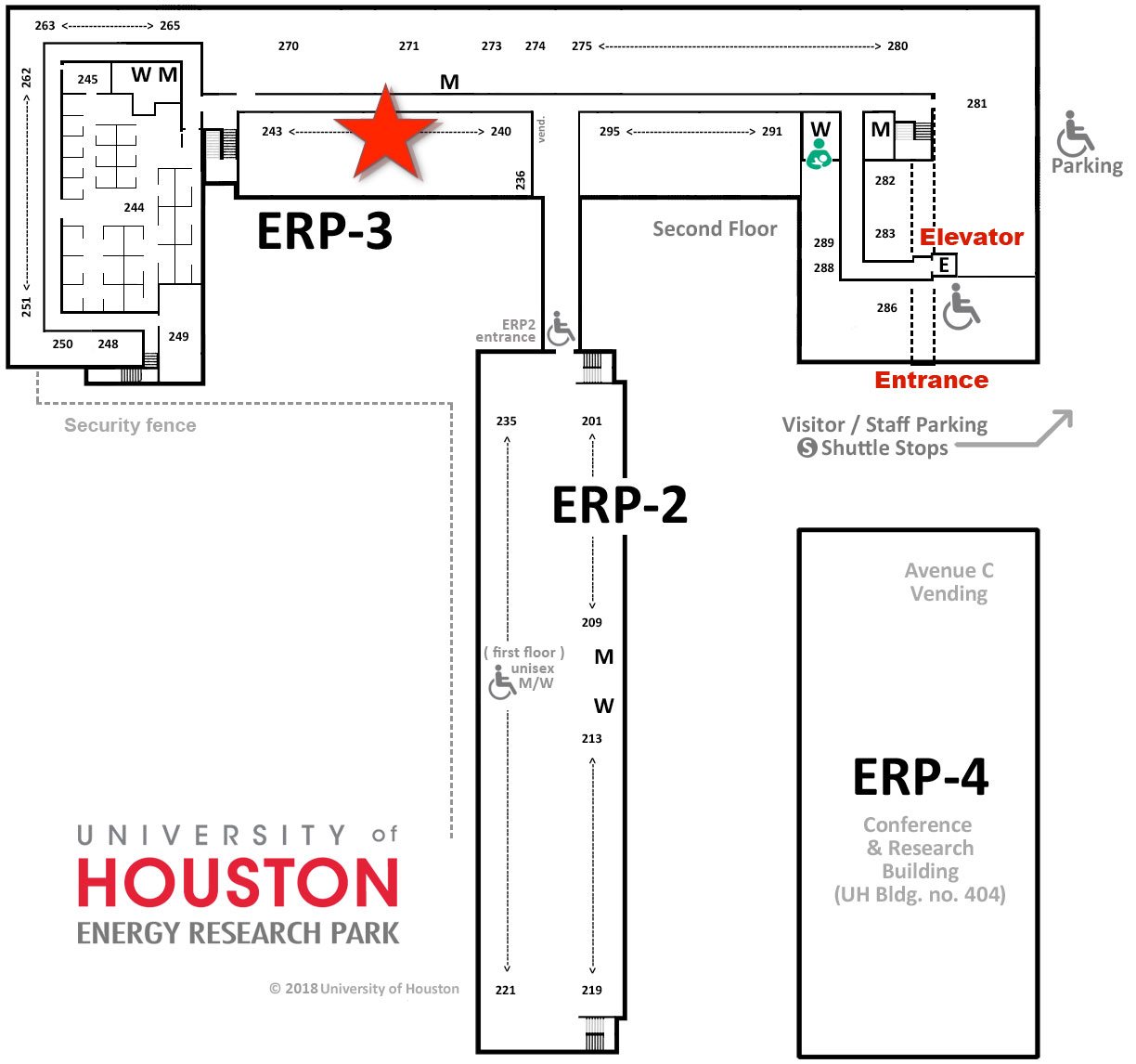 Did you know?
• The room numbering for ERP buildings two and three is somewhat unusual.
They were originally numbered as all one building. Not only that, they are numbered circumferentially.
Thus, room "one" is closest to the skywalk-side stairwell entrance for ERP2, with room numbers increasing down that side of the hallway into the teens, then coming back up the other side of the hall into the 30s. Numbering then jumps the "skywalk" to start over in the 40s in the middle of ERP3. The numbering pretty much continues circumferentially around ERP3 from there, culminating in the highest room numbers back in the middle of building three - right across the hallway from the lowest numbers.
• In ERP Building 4 [Conference & Research Building - ERP4 (404)] there is an Avenue C vending system.
Coffee. Food. Snacks. Beverages. [$, card, and/or set up an account]

• There is a handicap-accessible, unisex restroom mid-way down the hallway on the first floor of ERP2; and there is a lactation-privacy location in the women's restroom nearest the elevator on the second floor of ERP3.
---
For more information about the Energy Research Park itself (aka Technology Bridge), visit the UH website's UH-ERP and Technology Bridge pages.