Join a Meeting Using Skype for Business Web App
Watch a Lync Web App video!
Skype for Business (SFB) Web App is almost identical to the meeting experience offered by the full version of SFB. If you received a Meeting Invitation for a SFB Meeting and you are a student, vendor, contractor, guest of UH, or simply don't have SFB on your computer - download and install SFB Web App to experience a Lync Meeting in a web browser. To experience full audio and video in a meeting, use SFB Attendee.
SFB Web App is a browser-based version of SFB that contains all of the SFB in-meeting features except for desktop sharing, computer audio and video. A phone must be used for audio. Microsoft Silverlight is required. If Silverlight is not on your computer, it will download and install during the SFB Web App installation.
Features of the SFB Web App include:
Dial-in and dial-out ("Call me") audio conferencing
Detailed meeting roster
Multi-party instant messaging (IM)
Desktop and program sharing, including giving control to participants (program sharing not available for Macintosh)
Collaboration features, including a whiteboard, poll and file sharing (whiteboard and poll not available for Macintosh)
SFB Web App requires Microsoft Silverlight 4.0 (or later) browser plug-in. If Silverlight is not installed, you are prompted for installation. Desktop and program sharing features require a SFB Web App plug-in. The first time you initiate a sharing session, a prompt appears to download the required sharing plug-in.
Before your first meeting, run the meeting readiness program to determine if you have the required plug-ins installed. In a Meeting Invitation, click First Online Meeting and follow the instructions. If necessary, you will be prompted to download and install all missing plug-ins in preparation for your first online meeting.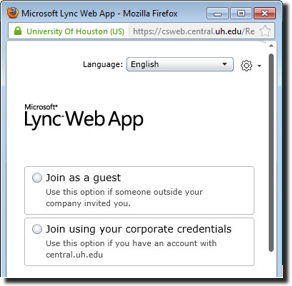 Open a SFB Meeting Invitation.
Click Join Online Meeting or copy and paste the meeting URL into a web browser.
On the Lync page that appears, click Join the meeting using your web browser.
In the Lync Attendee screen that appears, select one of the following:

Join as a guest if you are a student, not affiliated with UH or not yet migrated to Lync.
Join using corporate credentials if you are a faculty or staff member.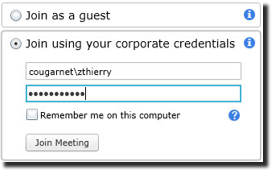 If you select corporate credentials, enter cougarnet\ followed by your CougarNet ID in the first field and your CougarNet password in the second field.
Click Join.
SFB Web App does not provide meeting audio. A grayed phone handset next to a person's name means meeting audio is not being accessed.
To access meeting audio, click the Phone button. Choose between two audio options: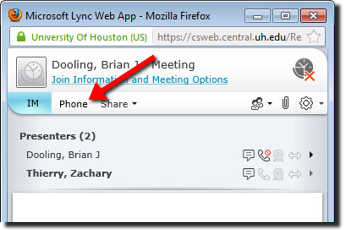 Enter your telephone number in the field provided and click Call Me.
Dial-in to the meeting using the phone number and Conference ID provided by SFB Web App.
For Lync related questions or problems, send email to LyncSupport@uh.edu.