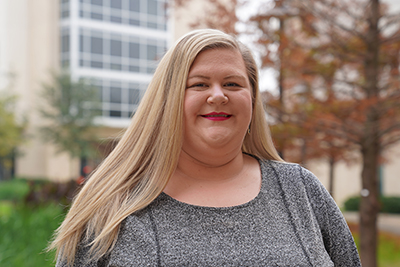 Amy Fitzjarrald, Program Coordinator for Retention & Student Success for Student Housing and Residential Life, was recently selected to participate in the 2019 James C. Grimm National Housing Training Institute (NHTI) June 3-6 at Texas Christian University in Fort Worth, Texas. 
The NHTI provides a thorough and intensive professional development experience for professionals with three to seven years of full-time experience who are looking to further their careers in housing. Participants meet and interact with other colleagues, establish mentor relationships with experts in the field, create professional development plans, and gain skills and competencies needed to meet the current and future demands of the profession. 
Prior to joining the University of Houston in 2016, Amy earned a Bachelor of Arts in communication from the University of Illinois at Urbana-Champaign, where she worked at the Illinois Leadership Center for two years.  She also studied abroad in Istanbul, Turkey during the summer of 2009.  Amy went on to earn her Master of Education in higher education at Iowa State University.  There she oversaw the campus tutoring program as a graduate assistant and worked on international scholar check-ins at the International Students and Scholars Office. Amy then moved back to Illinois and worked as a Residence Hall Coordinator at Illinois State University for three years. She also began her doctoral program in Educational Administration and Foundations while at Illinois State University and is currently preparing her dissertation proposal. Amy has also sailed as a Resident Director on Semester at Sea during one of the final summer voyages. 
When asked how she felt about this opportunity, Amy said, "I'm honored to have been selected to participate in NHTI and am excited to learn from the cohort coaches and my peers." 
She added, "Thank you to the SWACUHO region for providing a partial scholarship for me to be able to attend and to SHRL for supporting my professional development." 
Please join us in congratulating Amy Fitzjarrald on being accepted into the 2019 James C. Grimm National Housing Training Institute.