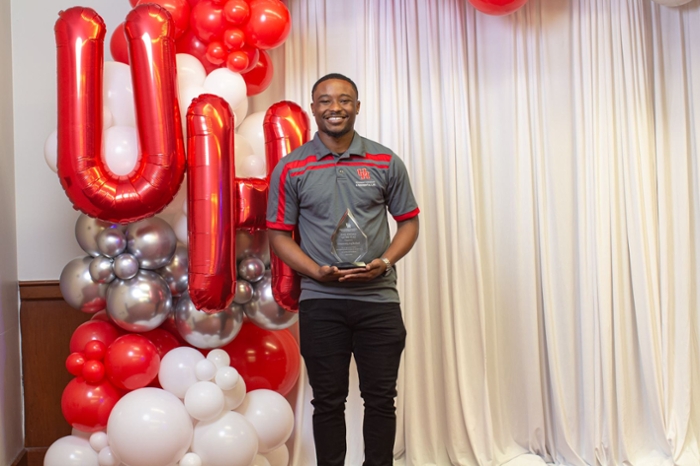 Student Housing & Residential Life (SHRL) hosted the annual SHRLies Awards Ceremony in the Student Center Houston Room on Wednesday, April 26.
Each spring, SHRL professional staff recognize student team members for their service and engagement efforts throughout the academic year. Students were awarded individual and program honors based on nominations from peers and unit team members. Graduating seniors were also presented with department cords to commemorate their time on staff while attending the university.
SHRL professional staff were on hand to serve up a variety of delicious desserts and pastries to attendees. More than 250 people were in attendance for the ceremony.
Planning for this year's event got underway in mid-fall with seven staff volunteers working together to cover a number of tasks, including event setup, awards and certificates, awards presentation, photography and videography, catering and more. Chloe Felton-Mims, SHRL housing services manager, served as the chair of the SHRLies Planning Committee and says the experience was a rewarding one.
"I admire how everyone works together to support their co-workers, supervisors, the department, and the entire student housing community. The SHRLies Awards ceremony is needed to show our student staff and student leaders that we all appreciate all their challenging work and ethic of care."
Student staff are an integral part of the housing experience here at the University of Houston, with more than 300 students working to program and assist residents in seven residential communities. Over the course of the 2022-2023 academic year, SHRL student staff hosted programmatic activities focused on academic support resources, mental health and well-being, sense of belonging, cultural observances, and social engagement. Don Yackley, assistant vice president for student affairs - SHRL, shares that SHRL's success in providing a great experience for residents is connected to the efforts of student team members.
"The SHRLies is an important tradition, as it recognizes and appreciates our outstanding student leaders who have worked hard and made tremendous positive impacts for our residential communities."
For a snapshot of this year's SHRLies Awards Ceremony, visit the SHRL YouTube page.