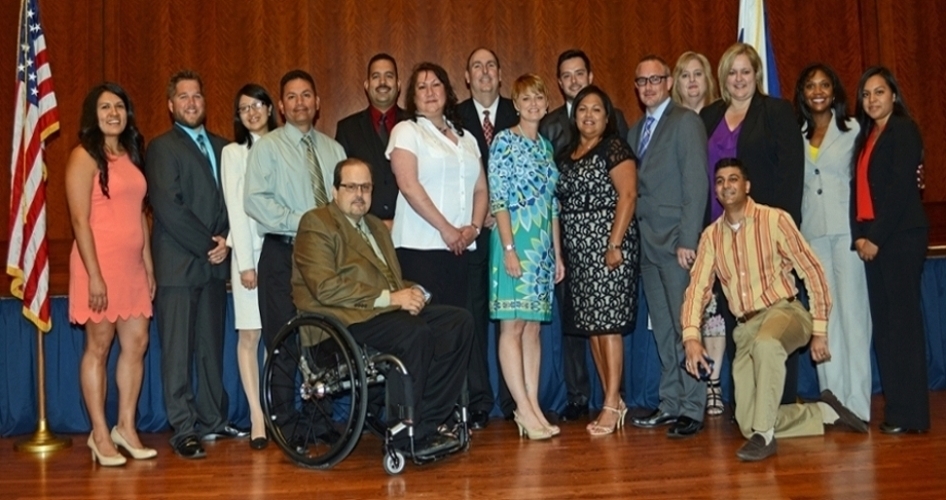 2015 CPM graduates with Instructor Gautam Nayer and Program Manager Diana Benitez
Alumni

  

      

| | | |
| --- | --- | --- |
| Name | Position | Location |
| Kenith Adcox | Chief of Police | La Porte Police Department |
| Stephen Ashley | City Administrator | City of Spring Valley Village |
| Pete Bacon | Assistant Chief of Police | Webster Police Department |
| Mike Baker | Assistant Chief of Police | Cypress-Fairbanks ISD |
| Diana Benitez | Program Manager | University of Houston |
| Roxanne Benitez | City Secretary | City of Spring Valley Village |
| Nicole Bowen | Recreation Center Supervisor | City of Pearland |
| Raphael Brown | Grant Manager | City of Houston |
| Kellie Buchanan | Manager | The Goodman Corporation |
| Timothy Buck | Lieutenant | Galveston Police Department |
| Darren Chambers | Lieutenant | Harris County Sheriff's Department |
| Juan Chavez | Community Development Office Supervisor | City of Pearland |
| Donald Curry | Public Works Superintendent | City of Baytown |
| Matt Daeumer | Lieutenant | La Porte Police Department |
| Rhonda Daugherty | Finance Director | City of West University |
| Jeremy Edwards | Assistant Director-Development | MD Anderson |
| Rosalyn Epting | Director of Parks & Recreation | City of La Porte |
| Jesus Favela | Drainage Foreman | City of Baytown |
| Paula Favors | City Secretary | City of Wharton |
| Julie Fox | Data Analyst | Shell Global Solutions |
| Byron Frankland | Captain Patrol Division | Galveston Police Department |
| Thomas Fullen | City Administrator | City of Hunter Creek Village |
| Anas Garfaoui | Planning & Zoning | City of Katy |
| Ramiro Garza | Assistant Superintendent | City of Houston |
| Yesenia Garza | Human Resources Generalist | City of Pearland |
| Tracylynn Garcia | Assistant City Secretary | City of Tomball |
| Michelle Graham | Parks and Recreation Director | City of Pearland |
| Raymond Graham | Lieutenant | Webster Police Department |
| Eric Hammond | Park Supervisor | City of Pearland |
| Kevin Harvill | Assistant Director | City of Baytown |
| Jeffrey Heyse | Captain | Galveston Police Department |
| Kevin Hilyard | Traffic Foreman | City of Baytown |
| Jennifer Huhn | Municipal Court Manager | City of Pearland |
| Rene Ibarra | Deputy Director of Public Works | City of Friendswood |
| Maria Jackson | City Secretary | City of Missouri City |
| Chris Jarmon | Assistant to the City Manager | City of Beaumont |
| Paula Johnson | Pollution Control Coordinator | City of Baytown |
| Michael Kinlaw | Foreman | City of Baytown |
| Sarah Korpita | Parks & Recreation Coordinator | City of Navasota |
| Yusuf Langelier | Street Division Foreman | City of Baytown |
| Mark LeBlanc | Assistant Director of Public Works | City of Baytown |
| Tomika Lewis | City Secretary | City of Stafford |
| Vernon Lewis | Assistant City Controller | City of Houston |
| Young Lorfing | City Secretary | City of Pearland |
| Valerie Luna-Pena | Director of Constitute Services | City of Houston |
| Terry Lynch | Chief of Police | Wharton Police Department |
| Christopher Mainka | Program Manager | University of Houston |
| Jill Matzig | Superintendent | City of Baytown |
| Dave McCorquodale | Assistant to City Administrator | City of Montgomery |
| Roberto Medina | Senior Staff Analyst | City of Houston |
| Brenda Miller-Fergerson | Director of Human Resources | City of Kemah |
| Gareth Morgans | Director of Communications | The Office of Council Member David Robinson |
| Christopher Orlea, PhD | Parks & Facilities Superintendent | City of Pearland |
| David Oyler | Coordinator | City of Baytown |
| Ron Parker | Assistant Chief of Police | La Porte Police Department |
| Emily Peltier | Accounting Specialist | City of Friendswood |
| Paige Powell | Director of Operations | Air Alliance Houston |
| Phillip Rehak | Retired | Retired |
| Patricia Riffel | Deputy Director Admin Services/Court | City of Friendswood |
| Roy Rodriguez | Public Works Superintendent | City of Baytown |
| Junru Roland | Assistant City Manager/Chief Financial Officer | City of Alvin |
| Kevin Rooney | Sergeant Criminal Investigation | Willis Police Department |
| Sadie Rucker | Executive Assistant | Texas Senate |
| Ismael Segundo | Director of Public Works | City of Jersey Villages |
| James Stewart | Sergeant | Galveston Police Department |
| Cecil Stroud | Captain of Support Services | Galveston Police Department |
| Marisa Vazquez | Senior Code Enforcement | City of Pearland |
| Alicia Vela | Fiscal Services Manager | City of Galveston |
| Rene Vela | Vice & Narcotics | Galveston Police Department |
| Cynthia Ward | City Secretary | City of Waller |
| Lynder Watson | Accounting & Financial Analyst | Rice University |
| Todd Weidman | Fire Chief | City of La Marque |
| Verdis Wilson | Auditor Supervisor | City of Houston |
| Sarah Wishahy | Imaging Contractor | LINN Energy, LLC |
| Cristen Wood | Human Resource Generalist | City of Pearland |
| Michelle Yi | City Treasurer | City of Spring Valley Village |
---
Spotlight
Michelle Graham
Michelle Graham started her career with the City of Pearland as a supervisor in Parks & Recreation, and she became its Director in 2009. Michelle has recently taken on a new role as the City of Pearland's Human Resources Director.
She holds a bachelors degree in Communication from Sam Houston State University and a Masters of Science degree in Recreation and Leisure Studies with an emphasis in Therapeutic Recreation from Southern Connecticut State University. Michelle obtained her Certified Public Manager designation in June 2015.
---
Alumni News
Promotions
CPM graduates Michelle Graham and Chris Orlea receive City of Pearland promotions. Read the full story.