Making Sense of It All November 11, 2020
2020 has been a decade long.  Last week lasted a year.  And, someone hid the leftover Halloween candy I've been binge eating for comfort. 
I'm counting on this week being better. Speaking of counting, with the results of the Presidential election finally announced, I'm also counting on our people working to come together. It is time.
As we face the difficult future, let's follow the beautiful suggestion of President-Elect Biden and "Spread the faith".
Important special events
To help deconstruct the election from a national viewpoint, the Hobby School's Elizabeth D. Rockwell Center on Ethics and Leadership hosted Kara Swisher, a New York Times opinion writer and host of the podcast on power, "Sway." She is the tech influencer everyone listens to. Watch the replay of the exhilarating conversation.  
This is part of the Hobby School's Dr. Richard Gelwick Endowed Lecture Series. I moderated this together with an invited guest interviewer, Emily Ramshaw, the co-founder and editor-in-chief of The 19th News, which is "a nonprofit, nonpartisan newsroom reporting on gender, politics and policy". She's a former editor-in-chief of the Texas Tribune.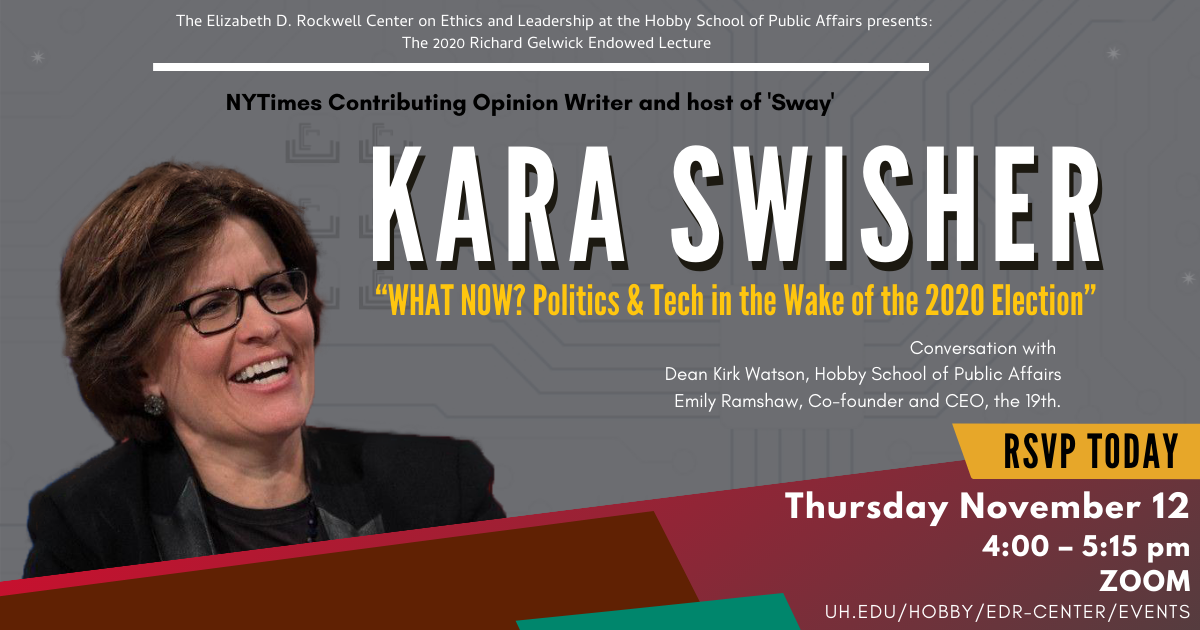 Hobby Hour
We had a candid discussion on the historic 2020 election and previewed what Texas and the next legislature can look forward to at the November 2020 Hobby Hour. Guests included iconic political scientist Richard Murray, the Hobby School's Renée Cross, Alexa Ura from the Texas Tribune, and Gromer Jeffers of the Dallas Morning News. View discussion here. 
On the horizon we have the Dec. 16 Hobby Hour event at noon that will feature State Senator Carol Alvarado, Democrat Caucus Chair, and State Senator Paul Bettencourt, Republican Caucus Chair, to give us a preview of the upcoming 87th state legislative session.
Two important opinion pieces
Two of my op-eds related to the elections were printed last week. One was an op-ed in the Houston Chronicle that focused on what our state legislature and leaders should take to heart for the upcoming legislative session based on what Texas voters expressed at the polls.
Also, the Austin American-Statesman posted my op-ed on the voting tsunami that happened in Texas these past few weeks, despite all the hurdles, and how that must lead to voting reforms for the state.
Not sure it's important, but it's neat
The Fall 2020 University of Houston Magazine came out last week. It has a feature that you might find interesting. And the pictures are pretty good.
Stay safe, happy and healthy 
Kirk Watson
Founding Dean, Hobby School of Public Affairs