New Staffing in Career Development, Administration and Recruitment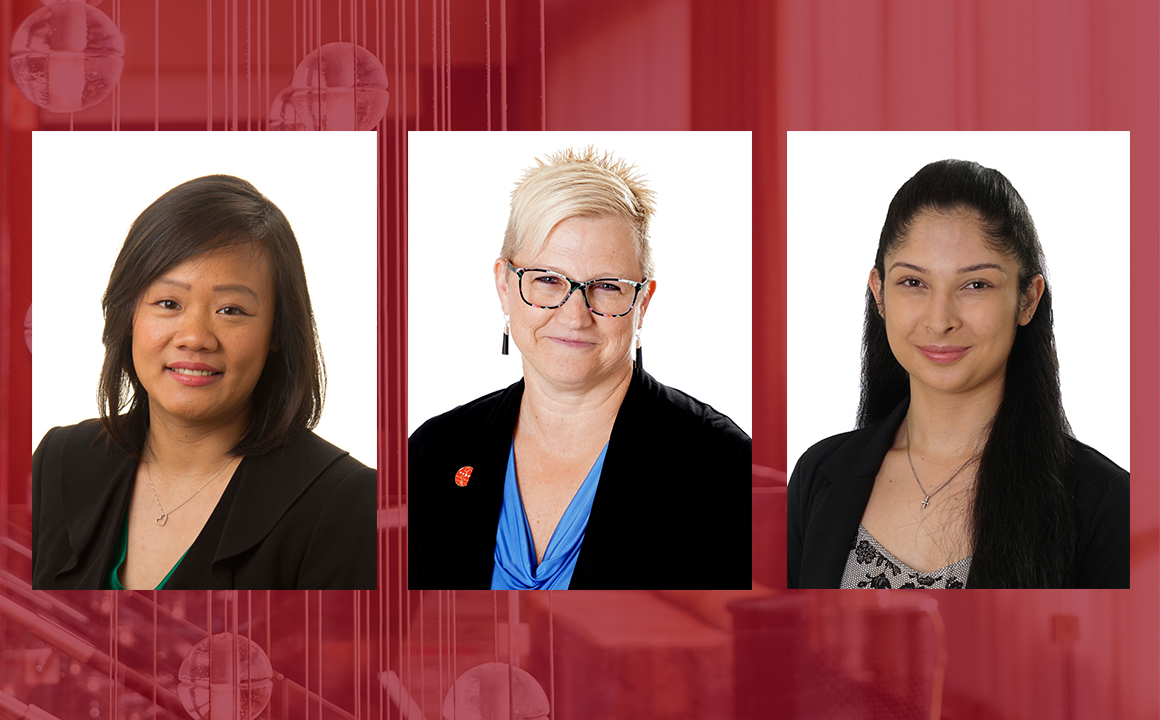 Two new staff members have joined Hilton College, and one received a promotion. From left, they are, Gloria Ratliff, director of career development; Wendy Evans, executive assistant to Dean Dennis Reynolds; and Desa Rae Dominguez, recruitment manager for Hilton College-San Antonio.
Gloria Ratliff
Ratliff was promoted to director of career development this past August after serving as our career counselor and internship coordinator for nearly three years. In that role, she was instrumental in assisting the College with the development of our Career Fair Management course, and for the increase in our placement numbers and international internships.
"The best part of my position has always been when students update me that they have successfully secured a job or an internship," she said. "It is always great to know that our students are enjoying their career journey, and that they want to share their excitement with me."
Given how closely she has worked with students and hiring employers during her tenure, Ratliff said the transition to her new role has felt like a natural progression. Always full speed ahead, she has never missed a beat in leading her student management team that planned and executed Fall Career Fair, which was held on Oct. 17.
"This is a very exciting time in my career, and our students make this the best job in the world," Ratliff said. "I look forward to gaining additional skills, to building upon the College's amazing reputation, and to our new curriculum rollout that is focused on professional development."
Wendy Evans
Evans joined the College in September and brings nearly 20 years of administrative experience in higher education to her new role as Dean Reynolds' right hand and manager of the Dean's Office. She comes to us from Lone Star College, where she wore many hats, having served as program manager, administrative assistant, project manager, information analyst and communication administrator. Beyond her office duties, Evans is looking forward to getting to know our students and is confident she can help to make a difference in their lives.  
"When I started college, I was a first-generation, non-traditional student who worked full time, had a family with two young kids and three businesses to run," she said. "I truly understand the struggles that students may face, and I'm here to support them throughout their journey."
It hasn't taken long for Evans to settle into her new position, and she's looking forward to making the most of it. 
"Since day one I have felt at home," she said. "My work motto is if you enjoy what you do, you will never work a day in your life. I'm excited to really start contributing to this great Hilton College community!" 
Desa Rae Dominguez
At Hilton College-San Antonio, Dominquez is poised to increase enrollment with her unique skillset. She has a communications degree, and came to the College in July with hospitality experience from the Alamo City's Eilan Hotel & Spa. With her natural ability for forging connections, she has taken on the role of staff advisor for the program's Student Ambassadors and in just a few months, has greatly increased the program's social media presence.
"San Antonio is such a special place for hospitality, and the jobs and events help shape the culture of the city. Being able to work with a school that contributes to career advancement in the industry is an incredible opportunity I couldn't get anywhere else," she said. "It has been wonderful assisting and tracking students through the 'enrollment funnel,' as well as working on transfer outreach and activities, and getting to know the Ambassadors."
Best of all, Dominquez said she is loving her job.
"The people I get to work with are amazing and they inspire me to work harder and learn more," she said. "Also knowing I'm able to help current and future students get closer to their goals is awesome."
(Story & Photos: Pearl Cajoles)
Posted on Oct. 17, 2019