Alumnus Rallies Community in Wake of Santa Fe Shooting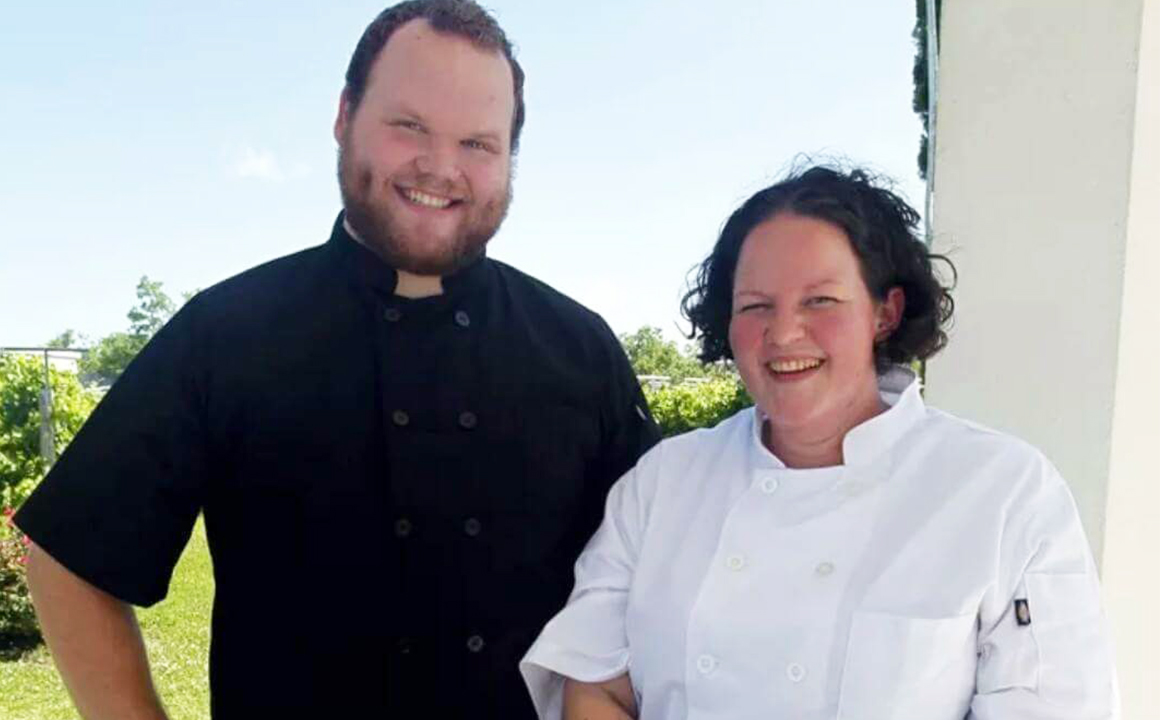 On the morning of May 18, Chef Tyler Henderson ('17) woke up to news of a school shooting that hit too close to home. As he checked his social media feeds, he learned a gunman had fired a spray of bullets into the halls of Santa Fe High School, leaving 10 people dead and 13 injured.
Compelled to help, Henderson wasted no time in organizing a fundraiser for the victims' families. He and a former colleague, Chef Mary Bass (above with Henderson), mobilized a network of food trucks that raised more than $4,000 less than 24 hours after the shooting.   
Santa Fe, about 35 miles southeast of Houston, has a special place in Henderson's heart. From 2013 to 2017, while also taking classes at Hilton College, he worked in the kitchen of Haak Vineyards & Winery, a 10-minute drive from the high school. There, he served as sous chef to Bass and was promoted to executive chef within a year.
During his time at the winery, Henderson got to know many Santa Fe residents, including students from the high school who worked part-time as dishwashers. Two of these students were inside the school when the shots were fired. A handful of Henderson's friends also had children who had been placed on lockdown after the shooting.
"My first instinct was to get down there as soon as possible," said Henderson, who was at home in Pearland when he heard the news. "Everyone was freaking out on social media, and I wanted to make sure everyone in Santa Fe was OK. I wanted to hug my dishwashers."
By noon, Henderson had arrived in Santa Fe, where he saw firsthand the gravity of the morning's events. Among lines of emergency vehicles, first responders and the media, hundreds of people had gathered across from the school, with many waiting to hear from their loved ones.
While looking for ways to help, Henderson learned that representatives from Texas First Bank wanted to host a prayer vigil behind the building at 6:30 that evening. With his industry connections and hospitality training, this would be his opportunity to make a difference. 
"My event planning background automatically kicked in," said Henderson, who currently teaches culinary arts at Alvin Community College. "Hundreds of people would be arriving that night, so why not get people from the food community to cook for a fundraiser? Someone also needed to take the lead in making sure there would be enough trash bins and Porta Potties."
He and Bass got on their phones and their social media channels to spread word about the fundraiser. Just a few hours later, six trucks had committed to help, ready to accept cash donations in exchange for food: Smokin D's BBQ Fusion, Nacho Nachos, Bernie's Burger Bus, Vienna Beef Hotdog Truck, The Shiver Shack and Kona Ice Galveston Bay Area. The League City Lions Club donated bottles of water and hot dogs, and H-E-B donated meat and other supplies.
"People would come for a hotdog and leave $20. They filled our tip jars and money bags, and all proceeds went to the families of the victims," Henderson said. "We also received online donations from about 100 people who couldn't come to the event." 
Henderson said his motivations were driven simply by his desire to help a community in mourning. He took the lead in a time of tragedy by doing what he knows best – bringing people together by breaking bread.  
"I've always been taught to carry a big heart and to always treat others with kindness," he said. "After the shock and grief, I hope people will remember the incredible sense of community in Santa Fe, and the amazing people and businesses who dropped everything just to help. Texas handled it very well."
Note: If the name Chef Tyler Henderson sounds familiar, he is the only (former) Hilton College student to have ever appeared on "Chopped," or any other Food Network cooking show. He made it all the way to the final round. Henderson is also the culinary force behind Plate, a fine-dining restaurant that he opened in Durango, Colorado before graduating from Hilton College in Fall 2017. This fall, he and Chef Mary Bass will once again work together in the kitchen after the opening of Katie's Seafood House in Galveston.
(Story: Pearl Cajoles | Photo: Courtesy of Tyler Henderson)
Posted on July 20, 2018