Hotel Marketing Students Explore the Big Apple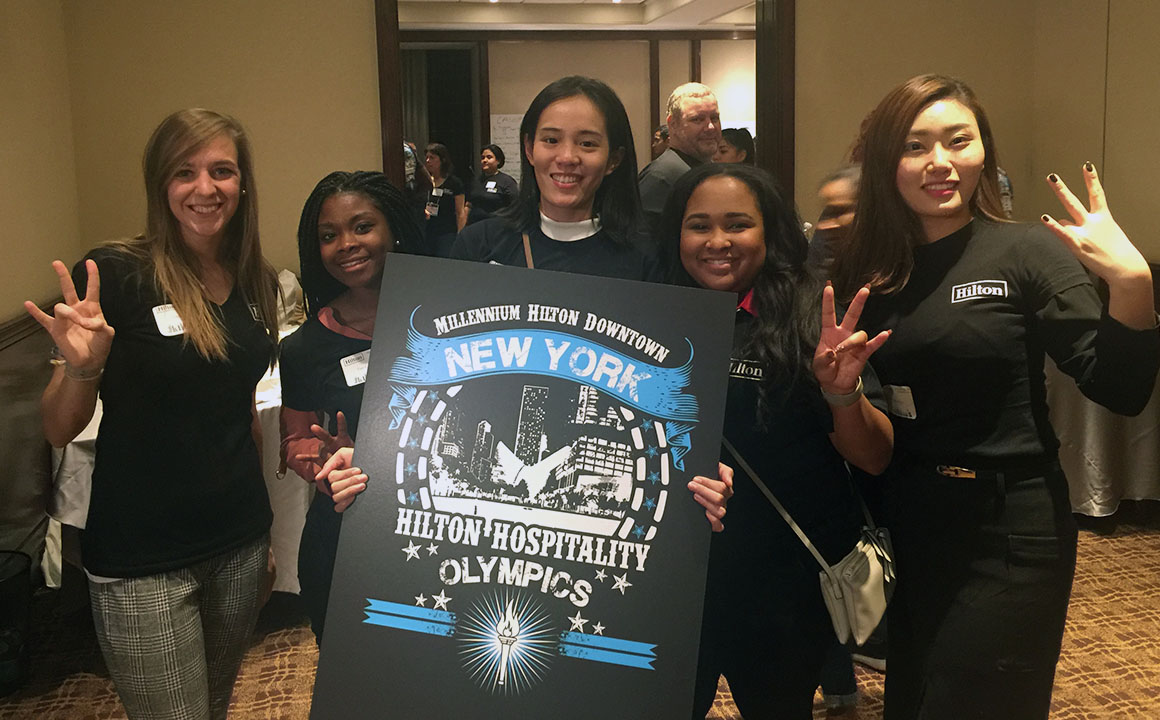 Through the Hotel Marketing New York Style experience, 23 Hilton College students explored the city that never sleeps, made important connections and learned a lot about hospitality in the process. 
"There is no better place to learn about hotels than in one of the top tourist destinations in the world," said Dr. Carl Boger, who has been teaching the class for more than a decade. To accommodate a larger group of students this year, Dr. Boger was accompanied by Lecturer Cathy Cheatham.
The class took place Nov. 10-14, and was held in conjunction with HX: The Hotel Experience. Thousands of hotel and restaurant owners, educators and industry executives attend this annual convention and trade show, which this year featured more than 10,000 square feet of exhibit space. As part of the class, students attended seminars and spoke to exhibitors to learn about the latest trends and technologies from all areas of the industry.
"The experience gives them a chance to examine the entire supply chain," Dr. Boger said. "There are a lot of things students may not think about when running a hotel – it's not just the obvious food and beverage, but all your supplies from top to bottom. Some of them, your guests will never see."
Also held each year during HX is the Hilton Hospitality Olympics, which gives students the chance to showcase their skills in categories such as bed making, mixology, banquet table setting, and front desk customer service role playing. Hilton College was once again invited to attend the event, which was held at the Millennium Hilton New York Downtown.
Sarah Jane Herbert, Tori Coleman, Kunyi Ma, Kristina Martin and Meijia Pan, (pictured above from left), represented the College, and each was placed on separate teams with students from other hospitality schools. The results? Our students snagged top prizes, with Kunyi's team winning bronze and Meijia's team taking home the gold.  
Aside from attending HX, students toured the New York Marriot Marquis Times Square and the Plaza Hotel, where they met with management teams from each property to get an insider's look at hotel operations. Of course, a visit to New York isn't complete without taking in the sights and sounds of the city, so a scavenger hunt was also on the agenda.
After exploring Times Square, Central Park and China Town, everyone reconvened with their instructors for dinner at Caffe Palermo in Little Italy, which Dr. Boger said is a contender for having the best cannoli in the city.
Before returning to Houston, the students attended the Hilton College and New York Alumni Association Mixer, featuring guest speaker Olympic gold medalist and Head Coach of UH Track and Field Leroy Burrell ('94). The event was one of the most successful mixers to date, with 55 alumni, students, faculty and staff in attendance.
Held at The View Restaurant & Lounge inside the New York Marriot Marquis, guests enjoyed amazing views of Times Square, buffet-style fare and a chocolate fountain. Most importantly, students had the opportunity to make valuable connections with some of the most successful Hilton College alumni in the area.  
Hotel Marketing New York Style takes place each fall, and is open to all Hilton College students at the undergraduate and graduate level. Dr. Boger recommends it to anyone interested in the hotel and lodging industry.
"New York City is home to the world's most amazing hotels, and it's one of those cities that you need to visit at least once," he said. "This class may be for just a few short days, but you'll remember it for the rest of your life."
(Story: Pearl Cajoles | Photos: Courtesy of Cathy Cheatham)