Vintage Wine Tasting Honors Fred Parks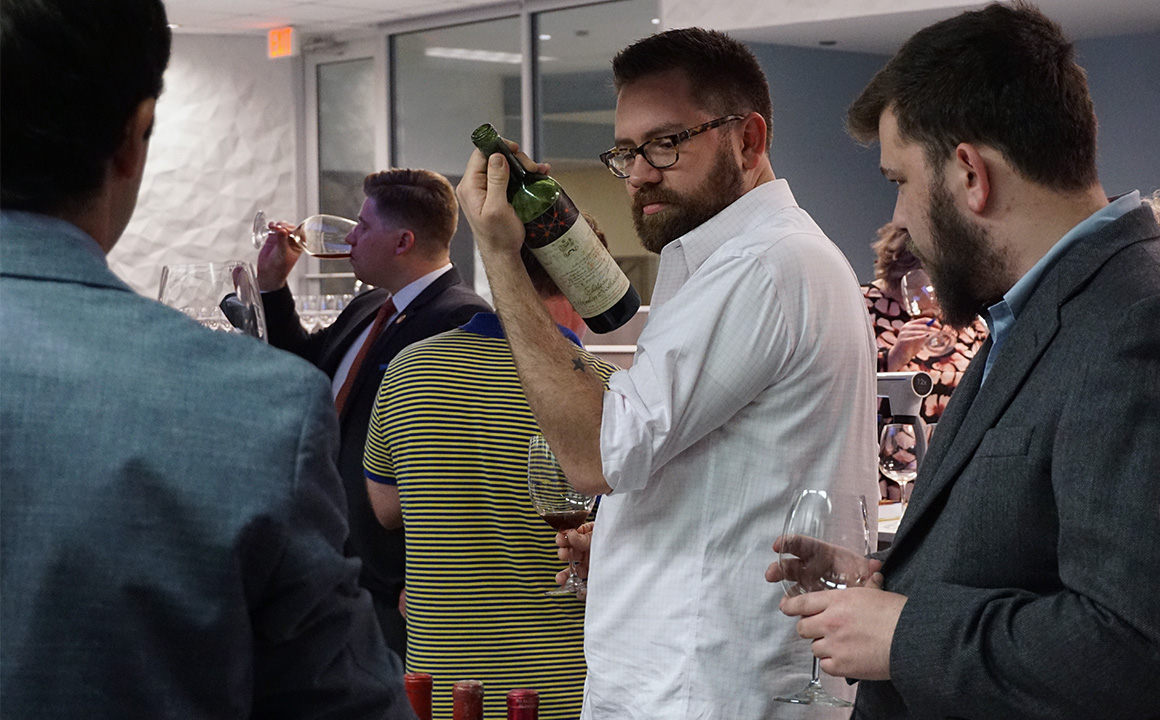 How often do you get to taste a bottle of wine from 1918? On Nov. 1, a select group of industry professionals, master sommeliers and wine directors gathered at the Spec's Beverage & Food Appreciation Laboratory for a wine tasting in honor of Hilton College benefactor Fred Parks.
Parks was a celebrated Houston trail lawyer, philanthropist and wine enthusiast who donated much of his impressive collection to Hilton College in 1994. These wines became the foundation of the College's Fred Parks Wine Cellar. Director of the Beverage Management Program and Fred Parks Wine Cellar, Dr. Chris Taylor, said the event also served to highlight wines from the College's collection.
Event attendees included: Jim McClellan, Fred and Mabel R. Parks Foundation; John Rydman, Spec's Wine, Spirits & Finer Foods; Amanda Hu ('13, MS '16) and Karri Norton, Southern Glazer's Wine & Spirits; David Keck, Goodnight Hospitality; Jack Mason and Steven McDonald, Pappas Bros. Steakhouse; Jeremy McKnight, Republic National Distributing Company (RNDC); Dale Robertson, Houston Chronicle; and Justin Vann, Public Services Wine & Whiskey, pictured above.
The wine tasting featured a dozen vintages from mid-century to the early 1900s of all five First Growth Bordeaux – Château Lafite Rothschild, Château Mouton Rothschild, Château Latour, Château Margaux and Château Haut-Brion. There was also an unlabeled Burgundy Dr. Taylor believed to be a Domaine de la Romanée-Conti La Tâche.
"These were the best selections from our entire collection," said Dr. Taylor. "These were definitely wines to experience, not wines to drink."
To assist with the event, Dr. Taylor invited graduate students Sean McNeely of Camerata at Paulie's, Devin Tinney of Pappas Bros. Steakhouse and Jose Zuniga of Ibiza Food & Wine Bar.
"These students are extremely passionate about wine, and they were deserving of the chance to participate in this once-in-a-lifetime event," Dr. Taylor said.
And was our resident wine expert correct about that mystery bottle? To everyone's excitement, the unlabeled Burgundy was, indeed, a Domaine Romanée-Conti La Tâche… from 1953!
"We would have never known had we not opened the bottle and examined the cork," said Dr. Taylor. "The entire experience was amazing."
And how did these rare vintages impress the other experts in the room? Houston Chronicle wine columnist Dale Roberston sums up his experience in this article.
(Photo & Story: Pearl Cajoles)