teachHOUSTON Celebrates New Graduates and Successes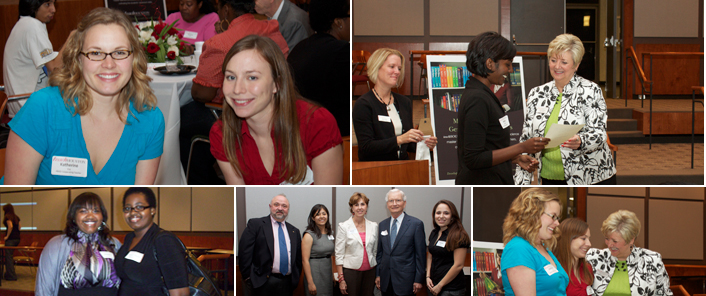 On May 13th, 2010, the  teachHOUSTON Program held its 2nd Annual teachHOUSTON Celebration.  teachHOUSTON is a joint initiative of the College of Natural Sciences and Mathematics and the College of Education providing secondary teacher certification preparation for math and science MAJORS.  It is the University of Houston's strategic response to our community's critical shortage of high quality high school math and science teachers.
Attendees from the UH community and the program's district partners shared in highlighting the scholarly achievements of the program's outstanding students.  teachHOUSTON would like to congratulate all of the students honored at the event and would especially like to applaud our graduates:
Fall 2009

Spring 2010

Ying Chen - Math, B.S.
Mariam Afzal - Biology, B.S.
Radha Jayakumar - Biology, B.S.
Sara Barber - Math B.S.
 
Lauren Davis - Biology, B.S.
Jacqueline Ekeoba - Biology, B.S.
Holly Gambini - Math, B.A.
Vivian Nguyen- Biology, B.S
Congratulations and keep up the good work!

THANK YOU FOR JOINING OUR STUDENTS AND FACULTY IN CELEBRATING THIS YEAR'S SUCCESSES OF THE teachHOUSTON PROGRAM.