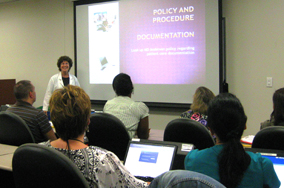 Doctoral Alum Lorene Payne has been selected as this year's regional Teaching Excellence Award winner by Nursing Spectrum.  Dr. Payne's success was featured in the September issue of Nurse Week magazine.  Dr. Payne will advance into the final stage of the competition against other regional winners for the esteemed title of National Nurse of the Year. Currently, Dr. Payne serves as a Senior Nursing Instructor at the University of Texas MD Anderson Cancer Center where her colleague and nursing director, Tina DeCoteau, nominated her for this prestigious award.
The Path to the Pride
Her diverse experiences, including 10 years of teaching in a community college and various positions in health care settings, helped her earn the honor.  However, Payne credits the doctoral education in Curriculum and Instruction for preparing her for the essential knowledge and skills needed for her career.  During her doctoral training, her proposal for a nursing textbook, The Nursing Student's Guide to Clinical Success, was accepted by a publisher.  "It was such a blessing to have the book proposal accepted, but the publisher would not wait until I completed my dissertation," Payne said.  Payne believes that the laborious task of completing a book and dissertation at the same time could not have been possible without the support of her dissertation committee and husband. 
Before earning her Education Doctorate in Curriculum and Instruction from the University of Houston, she completed a Master of Science Degree in Nursing from the University of Phoenix and a Bachelor of Science in Nursing from the University of Michigan.
"I can honestly say that working as a nurse and a nurse educator I have appreciated every job I've had.  Nursing is a profession that allows humbling intimacies with strangers; every day you can touch a life." Payne observed.  "And nursing education continues that joy - passing on the profession to the next generation of nurses.  That's the purpose of my nursing textbook, The Nursing Student's Guide to Clinical Success.  I wanted to share approaches to becoming a competent and caring nursing professional."
Memories of UH
Although Payne is complimentary of her entire dissertation committee, Dr. Lee Mountain made special contributions to her experience.  For example, a graduate seminar she taught about publishing enabled students to create real journal articles, abstracts and book proposals during the course.  Payne said, "It is not simply a course where publishing is discussed.  It is a course where manuscripts are submitted and often subsequently published.  Dr. Mountain takes pride in every one of them.  I refer to her as the sun and the moon - she illuminates how to publish (the sun) but basks in the glow of her students' publications (the moon)."
Payne carries many warm memories from her doctoral studies at UH.  Some of her favorites include:
Discussing the opening paragraphs of her work with her fellow peers in her publishing seminar.
Attending UH Coogs games with her husband.  Dr. Payne remains a dedicated supporter of UH athletics and will miss watching Case Keenum pick apart a defense this season.
Successfully completing comps.
Experiencing her book proposal accepted by a publisher.
Dressing in doctoral regalia for the final graduation.
A Winning Record
In addition to the Nursing Spectrum Teaching Excellence award and inclusion in the national competition, Payne has been honored in a variety of ways.  In 2007, she received the Rosetta and Lewis Memorial Award through the Good Samaritan Foundation, which provided financial support for her doctoral studies.  Through her work as a Major in the Texas Medical Rangers, she received the Commanding General's Certificate of Commendation in 2006.  She also received the Commanding General's Certificate of Commendation in 2006 when she served as a Major in the Texas Medical Rangers. The Texas Medical Rangers provide licensed public health support and technical support expertise in response to large scale disasters.
In addition, she received the Adjutant General's Excellence Award in 2010 for her work during Operation Lone Star.   Operation Lone Star is a humanitarian mission serving people in South Texas where volunteers provide medical services for two weeks each summer.  The operation also serves as training for local and state officials for coordinating emergency response. 
Passion for Life
Dr. Payne lived and worked in 27 different cities throughout the US before finally deciding to settle in Houston with her family.  "There are things to treasure about each location," Payne explains.  "The people in Michigan demonstrated Midwestern friendliness; California was a time of professional growth; and Colorado's Rocky Mountains were a testament to the hand of God.  My kitchen window looked out on Pike's Peak.  Houston has brought me my wonderful husband, the doctorate degree and the Secular Franciscans.  It doesn't get better than that!"
Payne and her family are also devout Catholic Christians who believe that secular Franciscans are regular people living in the world as married or single, doing their jobs and raising their families like everyone else.  However, "one blessed" difference is that they have professed into the Franciscan Order.  "We are one of the family of Franciscans all over the world.  We are Catholic Christians and support each other in trying to follow the Gospel as we go through our lives in this world.  Franciscan spirituality is of joy, humility, poverty and simplicity."
Payne's husband is a native Texan who loves Houston and is also a UH alum.  The couple currently resides in the Museum district where they appreciate their daily walks around the area.  They find it especially fun to walk around Hermann Park where they feed the turtles and visit the zoo.