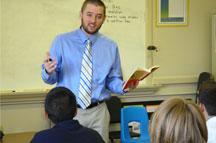 Impressed by his genuine enthusiasm for education and commitment to creative practices in the classroom, state and national judges rated UH College of Education and Teacher Education graduate Jason Spencer among the top student educators in the nation.
Spencer, who received the 2009 Texas Student Teacher of the Year award from the Texas Directors of Field Experiences, also was selected as the National Student Teacher of the Year by the National Association of Teacher Educators/Kappa Delta Pi.
The awards recognize Spencer for his abilities in lesson planning, leadership, presentation skills and his promise to succeed as an educator.  Spencer attributes his success to his effort to find new and inventive ways to reach students in the classroom. "I feel that in my pursuit of this achievement, I attempted to break away from the classroom norms," he said. "We can no longer expect the students of the 21st century to feel a sense of belonging in a 20th century classroom."
As a student in the College of Education's Teacher Education Program, Spencer learned the latest research-based strategies for teaching. He was able to successfully employ those strategies as a student teacher.
"His enjoyment while teaching is so evident, this allows the students to see that he really wants to help them to reach their goals," said Eileen Westerman, QUEST 3 director of student teaching and internship. "When students can see that their teacher really cares about them, they tend to care about learning and will rise to meet their full potential."
Laveria Hutchison, chair of the Department of Curriculum & Instruction, echoed Westerman's praise of Spencer's teaching style. "Jason has been an exceptional teacher candidate because he has been able to translate instructional theory, methods and ideas into productive and creatively designed teaching," Hutchison said. "His teaching style excites students and allows them to become critical thinkers."
Spencer, who graduated in 2009, is now an English teacher at the Mirabeau B. Lamar High School in Houston.