iSMART Grant Enables Teachers to Earn an Online Degree for Free!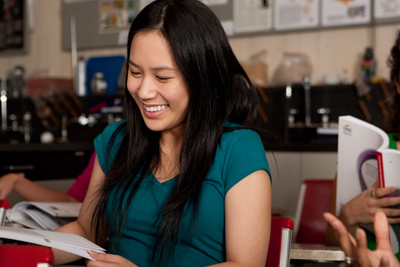 A unique online master's degree program for Texas middle school science and math teachers is in the works thanks to a $3 million grant from the Greater Texas Foundation.
The Integrated Science, Math and Reflective Teaching (iSMART) program, through the University of Houston's College of Education, is designed to improve science and math instruction by presenting opportunities to incorporate the two subjects and to develop the leadership skills of teachers as they collaborate with their online classmates.
The funds will be distributed over six years and will support the tuition for four groups of 25 teachers.
"This program takes strong teachers from across the state and rewards them with a free graduate program," said Dr. Jennifer Chauvot, assistant professor of math education and one of three faculty members developing the curriculum. "They will learn models of teaching that show how the subjects can be integrated, develop curriculum they can incorporate into their teaching, and learn from each other so that they can be leaders on their campuses."
The concept for iSMART originated from the Greater Texas Foundation, which specified that the program needed to be completely online and be integrated for both math and science teachers.
"We were told to think outside the box and use the criteria given to us, and the program was formed," Chauvot said. "We have done a lot of research of how middle-grade students aren't doing as well as they should, so we want to work with teachers to improve learning for the children."
The program will begin in the summer of 2010, and students will be chosen through a competitive application process.
Participating teachers must have at least three years of experience and meet UH requirements for graduate admission.
Please visit the College of Education iSMART program for more information and how to apply.