College of Education Fall 2010 Graduation Ceremony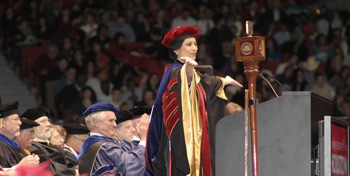 The College of Education honored graduates at the Fall 2010 Graduation Commencement.  The event was held at Hofheinz Pavilion on Friday December 17th 2010.  President Renu Khator (pictured left), Dean Wimpelberg and Regent Welcome W. Wilson, Sr. greeted and congratulated each one of our students as they walked across the stage. 
Among those who participated from the College of Education were students receiving doctoral, master's and undergraduate degrees.  There were also many undergraduates who received honors. 
Below is a slide show of our College of Education graduates before and during the ceremony.  You may also view a video of the entire Commencement.
Please enjoy!
Note: Slide Show works best in Firefox, Chrome and Internet Explorer 9.