Students Launch Careers through Community Service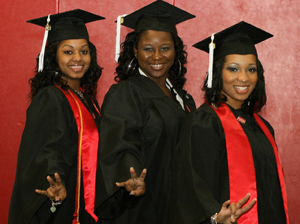 For three Human Development and Family Studies (HDFS) students—Stephanie Coleman, Jessica Hightower, and Ashley Jackson— a powerful internship experience provided a window into their professional futures and an opportunity to apply what they'd learned in the classroom to real-life settings. That internship provider was Early Childhood Intervention Services (ECI), a statewide program for families with children with disabilities and developmental delays.
"There is this opportunity to work with children in a setting besides a teaching/school environment," says Coleman, who interned as Service Coordinator for ECI. The interns were surprised to see so many children with medical diagnoses, so many different degrees of developmental delay, and the range of populations that need ECI services. Aside from interacting with kids and preparing paperwork and documents for parents, the students had various responsibilities supervised by the Early Intervention Specialists they shadowed. They benefited from sharing with legislators and district managers about ECI and the services provided, as well as contacting families and providing them with information to contact legislators about ECI.
All three students agreed that their HDFS coursework prepared them for their internship experience. The Community Resource class equipped them with the skills they needed to meet with service providers and become familiar with resource training. In HDFS 3350 and 4319 they were educated about development, so when working with kids and talking to the facilitators, they were knowledgeable about what to look for and what to discuss. Jackson praises the HDFS curriculum, "I realized afterwards how helpful these classes were." Coleman adds, "I realized how the courses and the work all tied together."
All three interns aspire to work at ECI after they graduate. Says Hightower, "I'm glad that we had the opportunity and hands-on experience. I was able to see what all my options are and decide if this is what I really want to do." She decided it was: "I'd like to work for ECI, maybe as a Crisis Intervention Specialist within the school district." Additionally, all three hope to pursue graduate school at the University of Houston—Coleman and Hightower in Social Work and Jackson in Counseling.
These three students emerged from their internships confident in their knowledge of career options in their fields, the networking skills they practiced and contacts they developed while interns, and their preparation for their future careers. As Coleman affirms, "It helped to confirm that this is the right degree for me and it also gave me maturity in professional settings."