DELPS Doctoral Student Mayen Udoetuk Presents at the First Year Experience Conference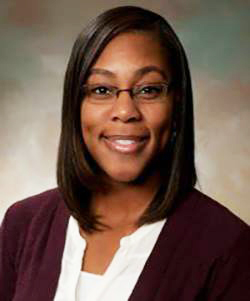 Mayen Udoetuk, a Professional Leadership - Special Populations doctoral student at the University of Houston, College of Education (UH COE) recently presented her research on the long-term effects of provision admission programs at the 2016 First Year Experience Conference in Orlando, Florida.
The First Year Experience Conference focuses on forums where higher education professionals can share experiences, concerns, and research related to supporting students in their first year of college. Welcoming graduate and undergraduate students from around the nation, the conference aims to create an engaging community where delegates are given the opportunities to grow personally and professionally.
Udoetuk's presentation was titled Bridging the Gap: Long-Term Effects of Provision Admission Programs. As part of her job as program manager for the Sea Aggies Involved in Learning (SAIL) Provisional Admission program, Udoetuk has first-hand experience in her subject matter.  "Provisionally admitted students are often at risk for low academic performance, low one-year retention, and low graduation rate," said Udoetuk. "Through a previous study, we found positive effects when including a Living Learning Community to support the Summer Provisional Program."
Udoetuk holds a B.S. in Chemistry, an M.Ed. in Educational Psychology, and will soon graduate from the College of Education with her doctorate in Professional Leadership-Special Populations.