Lyle McKinney Receives Emerging Scholar Award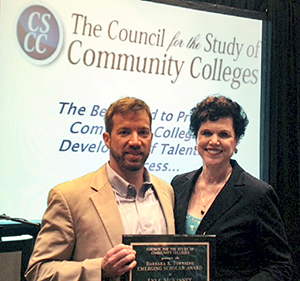 Higher Education professor Lyle McKinney is the recipient of the Barbara K. Townsend Emerging Scholar Award from the Council for the Study of Community Colleges (CSCC).  He received the award at a luncheon that took place on April 10, 2015 during the CSCC annual conference in Fort Worth Texas. 
The Barbara K Townsend Emerging Scholar award recognizes "a new scholar for outstanding theoretical and/or applied research that contributes to the professional body of knowledge about community college; demonstrated excellence in teaching, advising and/or mentoring; and, integration of knowledge to teaching and service." The award is given in each year to recognize excellence in research.
College of Education doctoral student Moumita Mukherjee worked closely with McKinney on several of his research projects. "He is an excellent mentor and advisor," said Mukherjee. "He has helped me to enhance my research skills and knowledge about higher education and community college research."
McKinney serves as one of a small number of core faculty in the College of Education's Higher Education and Cultural Studies Program and is the key expert in the area of financial aid and the community college context.
"Lyle thrives as an excellent teacher and an outstanding scholar who seeks to systematically understand the connections of financial aid and community college student success," added Catherine Horn, associate professor, Educational Leadership and Policy Studies. "As an instructor, he engenders strong academic expectations within an environment that also safely allows for open and complex dialogue."
McKinney has developed new measures and new ways of conceptualizing the effects of performance based funding formulas on specific student populations in Texas. His work has tremendous potential for positive policy change not only in the state of Texas but in other states currently using or considering implementation of performance based funding.
CSCC is the premiere professional organization serving as the interdisciplinary home for university-based researchers, community college practitioners, and graduate students collectively engaged in furthering scholarship on the community college enterprise.