COE CITE Lab Officially Enters the 2010 Spirit Bell Challenge!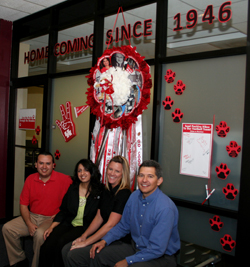 Staff in the College of Education are showing their Homecoming spirit by entering the 2010 Spirit Bell Challenge.  Their creation, a giant homecoming mum, is on display in the FAST team's office windows (333-FH).  
The Spirit Bell Challenge,sponsored by the UH Alumni Association and the UH Staff Council, is an opportunity for faculty and staff to show off their Cougar spirit by decorating their office suites for Homecoming. This year's theme is Live the Pride, Through the Decades. The winning office suite will be presented with the Cougar Spirit Bell trophy and will be announced during the Homecoming football game. Judging will take place Thursday−Friday, Nov. 11–12.
Pictured right are members of the CITE Lab's Fast Team, who organized the project.  From left, they are Daniel Pineda, Velvette Laurence, Michelle Plair and Tim Rosas.
The petals of the CITE Lab's mum have specific photos, events, and dates that make them UH proud.  The images rotate from color print to black and white. The color prints represent current events. The black and white prints represent the past.  Features include:
Our USA Football Conference win in 2006
Our first football Championship win in 1952
First UH President Edison Oberholtzer in 1927
Current UH President Renu Khator 2007
Farish Hall built, in 1970
Our first hockey team in 1940
Ezekiel W. Cullen building built 1950
First live Shasta in 1947
Basketball Player Hakeem Olajuwon, who played at UH in 1980
Registration photo from 1939
Center of the mum with a stuffed cougar and a UH cowbell
Streamers of the mum have UH and COE pens, and supportive cheers
UH colors used throughout.
Cougar hand sign
On the top windows other facts are listed: Our first homecoming game at UH was in 1946.
Paw prints on the windows have more interesting facts, such as:
Our first UH radio station was in 1950.
UH was first a Junior College in 1927.
First UH student newspaper was published in 1928
The UH system was established in 1977.
First Commencement was in 1935.
First Homecoming was in 1946.
A Spirit board is available to help support our homecoming game and football team.  If you have time, stop by, take a look, and sign the spirit board.  The CITE Lab thanks everyone for their wonderful support! 
Please visit the UH Homecoming 2010 Homepage for a Schedule of Events and much more -  Live the Pride!!!