Back-to-School: In Her Own Words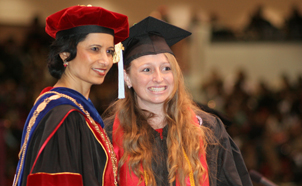 Ivy: Start of school year opens doors to adventures in learning
Return to classrooms offers teachers, kids new paths for future
August 23, 2013
As the summer months come to an end, one thing dominates the mind of every parent and student: "Back to school."
Whether it is elementary, high school or even college, August is the month when everyone gears up for the return to classes.
Not so for me. My personal "back to school" started more than a month and a half ago, the day I accepted my first teaching job as a fourth-grade math, science and social studies teacher. Since then, I have committed my life completely to "back to school" and all the adventures the new school year will bring.
Those outside our profession may think that preparing for the new year is all about decorating and rearranging our classroom. I would love to tell you I have spent all my time buying supplies to decorate my classroom, but it is simply not the case.
Instead, I have been developing myself professionally. I have spent most of my summer months with my nose stuck in teacher-preparation books highlighting our field's newest research so that I can walk into the classroom as the best educator I can possibly be.
I also have been carefully examining my school's data from previous years. Data showing achievement trends drive our decisions for students; as a first-year teacher, I need to know the successes and struggles of my students so that I can properly support them and help them reach their dreams.
I may sound like I have it all together, but I have my struggles as well. As a first year teacher - or anyone trying their hand at anything for the first time - being in a new environment is daunting. I've already had the infamous nightmare of being late on the first day, getting lost on my way to the classroom and opening the door to a disaster.
But I remind myself that this same fear and anxiety will be walking through my classroom door 25 times over that first morning in the form of those timid students who probably will be just as nervous.
The beauty is that we will overcome these fears together. This anxiety is faced in every classroom, in every school, in every district, in every college all over the world, and yet, it is something so remarkable: Here will enter 25 students whom I will have the privilege and opportunity to teach for 180 school days; students whom I will observe, nurture and develop into a community that is limited only by their imagination.
To sit back and truly understand that idea is absolutely beautiful, which leads me into other hopes for the new year. If my students take away anything from my classroom this year, may it be these three concepts.
1 One, that they realize they too are life-long learners. I want to instill in them the same notion I received when I was in school to inspire them to become everything they want to be in life and much more.
1 Two, question the world and its possibilities. Every technological advance, every change ever made was because of someone's curiosity and question.
1 Lastly, and probably most important, to be a lifelong learner and to think critically.
My students need to realize that they truly hold the key to their lives. It is their mind, their determination and their imagination that truly matter. Like Dr. Seuss says, "Oh, the things you can think, if YOU only try."
As a new teacher, I have hopes, dreams, fears and struggles as I begin my next journey in life. However, to me, it all boils down to my belief of what teaching truly is. Teaching is not about the standards or testing, but it is about instilling those three concepts in our youth. They are our future. Without them we cannot move forward.
This article was originally published in the Houston Chronicle (subscription required): http://www.houstonchronicle.com/opinion/outlook/article/Ivy-Start-of-school-year-opens-doors-to-4753812.php.
Ashley Pietzsch Ivy is a December 2012 graduate of the College of Education, University of Houston.