Innovative Online Therapy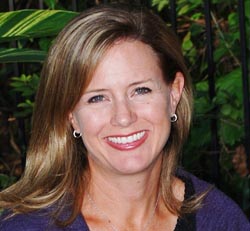 When Dr. Suzanne Mouton-Odum agreed to appear on a talk show to discuss her research, she was still a graduate student interested in tricholotillomania, a relatively obscure disorder. Trichotillomania (or "trich") is an impulse-control disorder characterized by the repeated urge to pull out body hair. Although excited to share information about her research with trich, Dr. Mouton-Odum had no grand expectations about her short interview. However, when she returned to her office, Dr. Mouton-Odum had 80 phone calls from hair pullers seeking help and hoping to be heard. She understood then how intense a need there was in the community for treatment.
"People were driving from all over," she says. "There was a need to provide something to people who don't have access to providers."
Ultimately, Dr. Mouton-Odum developed the website www.stoppulling.com with two colleagues. The program offers online treatment to people who have limited access to treatment or who may not seek it because of embarrassment about their disorder.
Participants are treated in the privacy and convenience of their homes. The program now serves thousands of people in more than 40 countries who could not otherwise have gotten treatment."
This innovative program led to Dr. Mouton-Odum's work on www.stoppicking.com, a similar online self-help resource, which helps people with skin-picking disorders.
In February 2009, she released "Stay Out of My Hair! Parenting your Child with Trichotillomania," which gives an overview of the most current information available on the disorder, strategies for managing parents' emotions and reactions to a child's hair pulling and techniques for helping children understand and successfully manage hair pulling behavior.
Dr. Mouton-Odum is a licensed psychologist in private practice in Houston who dedicates most of her clinical time to treating individuals with trich and skin-picking disorders. She received her Bachelor of Arts from The University of Texas at Austin, a Master of Arts from Trinity University and a Doctorate in Counseling Psychology from the University of Houston. She has been in practice in Houston since 1995.
Dr. Mouton-Odum is trained in cognitive-behavioral therapy, meaning she helps people identify problematic thoughts and behaviors, and then assists them in changing these to be more adaptive. The therapy tends to be solution-focused, with specific goals outlined up front. She is also the past president of the Houston Psychological Association and a former member of the Board of Trustees of the Texas Psychological Association. She has served as the president of The Texas Psychological Foundation and is the vice president of PsycTech, Ltd., a privately held company that develops interactive self-help applications for behavioral problems.