Faculty Honored at UH Faculty Excellence Awards Ceremony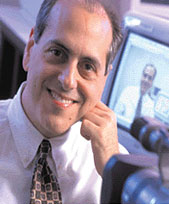 Bernard Robin, Associate Professor in the Department of Curriculum and Instruction at the College of Education was recently honored at UH's Faculty Excellence Awards ceremony where he received a Teaching Excellence Award for Innovation in Instructional Technology. This award is given to tenured- or tenure-track faculty in recognition of outstanding achievement in teaching using innovation in instructional technology. The recipient is honored with a trophy and a $5,000 prize.
Dr. Robin's technology courses focus on educational uses of a variety of multimedia tools including, digital storytelling, video, and photography. He supports student learning in the areas of online curriculum design and technology integration and frequently works with public school students and teachers, as well as other university educators to help them integrate technology into their classrooms. Dr. Robin and his graduate students have collaborated with the Museum of Fine Arts, Houston, the University of Houston's Blaffer Art Gallery, KUHF, Houston Public Radio and KUHT, Houston Public Television on the design and development of large-scale educational web sites.
Dr. Robin has a long-standing interest in the uses of emerging technologies in educational settings, and has published articles and book chapters as well as conducted professional presentations, seminars and workshops in this area. His most recent work has focused on the use of digital storytelling and digital video as powerful technology tools for classrooms from K-12 through higher education. The founder and former executive editor of the Texas Journal of Distance Learning, he is the co-author of The Educator's Guide to the Web.