First teachHouston Grad Commands His Own Classroom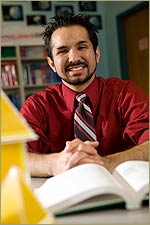 His friends call him Ricky, but he is also known as Mr. Garcia.
Ricky Garcia became teachHOUSTON's first graduate when he received his math degree from the University of Houston in May. In Fall 2009 he began his career as a high school math teacher in Fort Bend County.
Explaining algebra equations to ninth-graders may not sound like a dream job, but for Ricky, teaching math is a dream come true. A Santa Fe High School valedictorian with vast opportunities before him, he knew early on that he wanted to leave his mark through the students he educated.
Eager to get a head start on his teaching career, Ricky joined teachHOUSTON's inaugural class in spring 2007.
"I knew I wanted to teach, so why not start now?" he said.
Thanks to teachHOUSTON's integrated degree plan, Ricky was able to begin his teacher training and get hands-on classroom experience at local schools while completing his math degree.
Ricky knows he will make tens of thousands of dollars less than most of his math department classmates, so he understands how precious each scholarship dollar is. Thanks to financial assistance from teachHOUSTON as well as other scholarships, he graduated from UH debt-free.
Standing in front of a class to teach a lesson was a little intimidating at first, but now he looks forward to taking charge of his own classroom.  "It gets easier the more you do it, and teachHOUSTON is a unique opportunity to get real teaching experience," Garcia said.
Learn more about teachHOUSTON