UH BOUNCE Program Earns Grant to Promote Mindfulness in Youth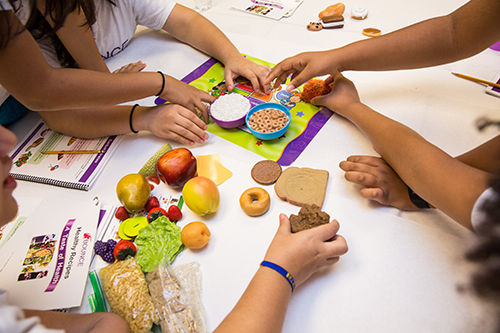 Posted November 14, 2017 — The BOUNCE healthy lifestyle program at the University of Houston College of Education has been awarded a $75,000 grant from the Aetna Foundation for an innovative program to promote mindful eating and exercise among minority adolescents and adults.
Youngsters and their families will learn, for example, to focus more on their food – on the texture and the taste – and to recognize the feeling of fullness or the increased energy that comes from physical activity.
"The generous grant from the Aetna Foundation will allow us to apply the powerful concept of mindfulness as we work to encourage healthy habits as part of our mission to combat the epidemic of childhood obesity," said Norma Olvera, founder and executive director of BOUNCE and a professor of health at the UH College of Education.
The grant is part of the Aetna Foundation's Cultivating Healthy Communities program, which recently awarded more than $2 million in grants to 25 nonprofit organizations in 14 states to advance the foundation's mission to improve health at the local level.
The grantees were chosen based on the strength of their strategies to improve the health of their communities in at least one of five areas: healthy behaviors, community safety, built environment, social/economic factors and environmental exposures.
"The Aetna Foundation is committed to addressing the social determinants of health in order to reduce health disparities," said Dr. Garth Graham, president of the Aetna Foundation. "By identifying community-specific challenges, and unique ways to combat them, this year's grantees are a shining example of organizations who strive to make a measurable and positive local health impact. We are honored to contribute towards the great work they are doing in pursuit of health equity."
The Aetna Foundation is the independent charitable and philanthropic arm of the health care company Aetna.
Nationally, about one-third of children and adolescents are overweight and nearly one-fifth are obese. Research indicates that low-income Hispanic and African American youth are particularly at risk for obesity.
The new UH program, called the BOUNCE Mindful Wellness Challenge, will involve Hispanic and African American youth, ages 9 to 14, and their parents. They will participate in a 12-week after-school program that includes lessons on mindful eating as well as kickboxing and fitness yoga sessions that incorporate mindfulness. The program is expected to serve about 200 adolescents and their parents.
In addition, BOUNCE's new Nutrition Ambassador Program, also funded by the Aetna Foundation grant, will involve mindful eating workshops and cooking demonstrations. The workshops, which will be held with bilingual instructors at schools, health fairs and community centers, will serve an estimated 2,400 Hispanic and African American parents.
While the practice of mindfulness appears increasingly popular among adults, the concept is not widespread as part of programs targeting childhood obesity. Olvera plans to evaluate the effectiveness of the program in hopes that best practices can be shared across country.
"As a young child, sometimes you use food not for nourishment but for comfort," Olvera said. "That starts very early in your life, like when you cry and your mom gives you a bottle right away or cooks you something to make you feel better. We want to encourage more mindful, healthy habits early on."
—By Ericka Mellon
—Photo by Scott Dalton
About the Aetna Foundation
The Aetna Foundation is the independent charitable and philanthropic arm of Aetna (NYSE:AET). As a national health foundation, we promote wellness, health, and access to high-quality health care for everyone. This work is enhanced by the time and commitment of Aetna employees, who volunteered 430,000 hours in 2016 alone. For more information, visit www.aetna-foundation.org.