GLYCOGEN METABOLISM
Glycogen = Polymer of glucose with α (1

à

4) linkage for the linear chain and, for every 8-14 residues, α (1

à

6) linkage for a branch (Fig. 15-2).

As 100-400 Å diameter

cytoplasmic

granules containing up to 120,000 glucose units.

Highly branched, permits rapid degradation through simultaneous release of glucose units from the end of each branch.

Liver and muscle are two major storage sites.
GLYCOGEN BREAKDOWN (or Glycogenolysis)
1. Glycogen Phosphorylase
(

Glu

)

n

+ Pi → G1P + (

Glu

)

n-1

where (

Glu

)

n

= initial glycogen molecule

For each cycle, the glucose unit that is released

must be at least 5 units from a branch point

.

Catalyzes the rate-limiting step in glycogen breakdown.
2. Glycogen Debranching Enzyme (Fig. 15-6)
Seeks out a shortened branch with only 4 glucose units.

Transfers the last 3 units to the 4-OH group at the end of another longer branch.

Hydrolyzes off

the α

(1 → 6) linkage of the last glucose unit at the branch point, and releases it as a free glucose. About 10% of glycogen degradation products are free

Glu

.
3. Phosphoglucomutase
Requires trace amount of Glucose-1

,6

-bisphosphate for catalysis.

G-1,6-bisP + Enz

⇌

G6P + Enz-P

Enz-P + G1P

⇌

Enz + G-1,6-bisP
-----------------------------------------------------------
GLYCOGEN SYNTHESIS
1. UDP-Glucose Pyrophosphorylase
G1P + UTP

⇌

UDP-glucose + PPi

(

ΔG°' ~ 0 kJ• mol-

1

)
Would be readily reversible. Requires inorganic

pyrophosphatase

to push the reaction to the right.
2. Glycogen Synthase
3. Branching Enzyme (Fig. 15-11)
Seeks out a linear chain with at least 11 units of glucose in length from the branching point.

Transfers the terminal chain segment with ~ 7 units of glucose to the C6-OH group of a glucose unit in the same or a different chain.

This acceptor chain must beat least 4-unit long from an existing branching point.
REGULATION
1. Allosteric  (Fig. 15-13)
Allosteric

enzyme: (1) has an active site and at least one separate

effector

site; (2) the binding of an activator or an inhibitor to an

effector

site results in a conformational change of the enzyme, (3) the conformational change induced by the activator leads to enzyme activation whereas the conformational change induced by the inhibitor leads to enzyme inactivation.
Glycogen

Phosphorylase

:

Activator:AMP

Inhibitor: ATP, G6P,

Glu
Results in enhanced activity of Glycogen

Phosphorylase

and inhibition of Glycogen Synthase. Favors glycogen breakdown.
2. Covalent Modification (Protein Phosphorylation & Dephosphorylation

(A) Phosphorylase a and b
Phosphorylase

a and

b both exist in either the inactive T or the active R conformation (Fig. 15-13). Under physiological conditions,

phosphorylase

a is

mostly in the R conformation whereas

phosphorylase

b is mostly T. Hence

phosphorylase

a is

more active than

phosphorylase

b.

Only the T form of

phosphorylase

b can be

phosphorylated

, resulting in the transformation to

phosphorylase

a in the T, and in turn, the R conformation.
     (B) Summary of Cascade Regulation  (replacing Figs. 15-20, 21)
 <![if !vml]>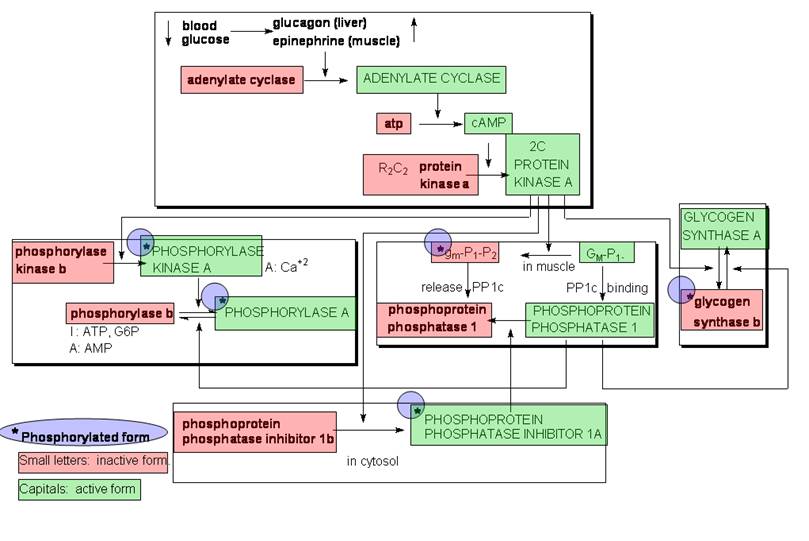 <![endif]>