DSA News
July 31, 2023
The Division of Student Affairs is pleased to announce the promotion of Torrence Douglas to the position of Associate Director of Employer Development and Relations in the University Career Services (UCS) department.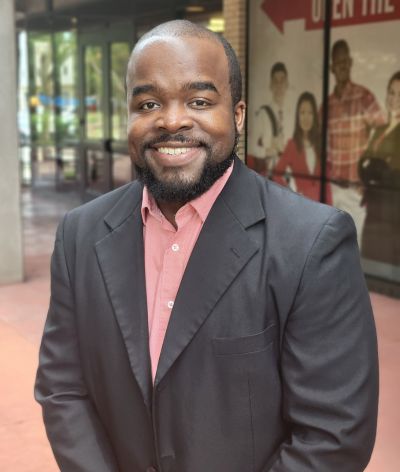 Torrence Douglas joined the University of Houston in July 2022 as the Sr. Recruiting Manager and has since demonstrated exceptional dedication and expertise in his role. His efforts and achievements have significantly impacted the building of essential employer relationships, expanded student networks, and enhanced employer engagement opportunities for our students.
In his new role, Torrence will take on a greater strategic role, overseeing the development and management of key employer relationships. His primary focus will be on enhancing employer brand awareness and expanding internship and employment opportunities that align with the University Career Services' strategic vision.
Torrence said, "I am excited and inspired by both the work we are doing to re-imagine career services at the University of Houston (UH), in addition to supporting the journey of UH talent and our students. In this role, I will continue the pathway to developing meaningful relationships between employers, the campus community, and collaborate in a way that is fulfilling and productive. At University Career Services, it is wonderful to be on a team that embraces and supports the values of connection and collaboration. Go Coogs"!
As Associate Director of Employer Development and Relations, Torrence will collaborate closely with internal senior staff to develop and implement assessment metrics that inform overall strategic decisions and operations. He will be at the forefront of leading the Employer Development Relations team, ensuring the coordination of effective on-campus and off-campus activities.
Furthermore, Torrence will work with the Associate Director of Career Counseling and the Assistant Director of Alumni Career Services to establish and strengthen University-wide internships and employee recruitment initiatives. His efforts will create an environment that fosters professional success for our students and facilitates their transition into the workforce.
One of Torrence's key responsibilities will be to assist internal employers in establishing a strong presence and brand on campus. He will actively create marketing opportunities to promote employer events and postings, facilitating meaningful connections between employers and our talented student body. Additionally, Torrence will collaborate closely with employers to design and develop internships and various experiential opportunities, ensuring students are well-equipped to thrive in their chosen careers.
"We are excited to promote Torrence Douglas to the position of Associate Director of Employer Development and Relations. His experience, passion, and dedication to supporting our students' career success make him a natural fit for this role. Torrence's promotion is a testament to his exceptional contributions to the University of Houston community, and we are confident that he will excel in his new position," said Dr. Monica Thompson, interim associate vice chancellor/vice president and executive director of university career services.
Please join us in congratulating Torrence Douglas on his promotion and continued success in his journey with University Career Services.