DSAES News
July 21, 2022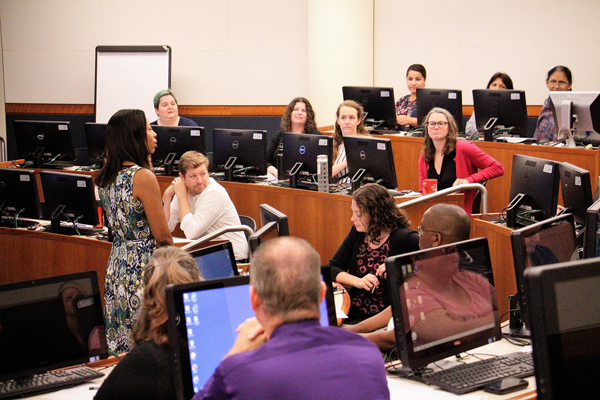 On Thursday, June 29 the UH Libraries hosted their inaugural Diversity Day in partnership with the Center for Diversity and Inclusion (CDI). This day-long experience provided UH Libraries faculty and staff with diversity education workshops aimed at increasing participant's knowledge around the multiple diversities that exist. Participants left with an enhanced understanding of how to utilize the diversity present at the University of Houston in order to create more inclusive spaces across campus.
"Insuring a culturally competent workplace is our goal and we're really pleased to have the Center for Diversity and Inclusion facilitate this workshop," stated UH Libraries Dean, Lisa German.
The UH Libraries Committee on Diversity and Inclusion (CODI) was formed in October 2016 and has since been dedicated to educate and train library employees at every level to be more conscience and aware of the multitude of aspects surrounding diversity.
"We want to ensure our working climate is comfortable for everyone and that we interact with all people in a respectful, welcoming, and inclusive manner," stated Foreign Languages and Ethnic Studies Librarian and Chair of CODI, Andrea Malone.
The workshops were facilitated by Niya Blair, Director of the Center for Diversity and Inclusion and Adria Terry, Diversity Education Coordinator and were developed to enhance participants understanding of how to embrace diversity in order to effectively engage and work with diverse populations.
"The Center for Diversity and Inclusion was pleased to be a part of this experience. By providing this opportunity to UH Libraries faculty and staff, CDI continues to reiterate that diversity is a shared responsibility and it is vital that we all strive to create inclusive spaces on campus," stated Niya Blair.